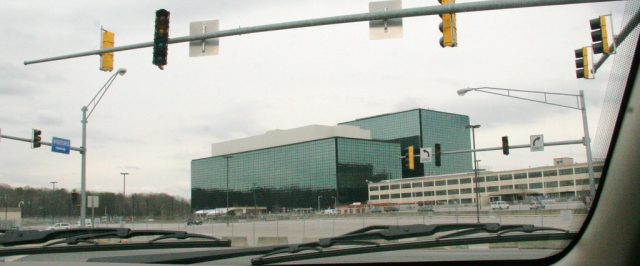 NSA Headquarters in Fort Meade, MD.
One organization's data centers hold the contents of much of the visible Internet—and much of it that isn't visible just by clicking your way around. It has satellite imagery of much of the world and ground-level photography of homes and businesses and government installations tied into a geospatial database that is cross-indexed to petabytes of information about individuals and organizations. And its analytics systems process the Web search requests, e-mail messages, and other electronic activities of hundreds of millions of people.
No one at this organization actually "knows" everything about what individuals are doing on the Web, though there is certainly the potential for abuse. By policy, all of the "knowing" happens in software, while the organization's analysts generally handle exceptions (like violations of the law) picked from the flotsam of the seas of data that their systems process.
I'm talking, of course, about Google. Most of us are okay with what Google does with its vast supply of "big data," because we largely benefit from it—though Google does manage to make a good deal of money off of us in the process. But if I were to backspace over Google's name and replace it with "National Security Agency," that would leave a bit of a different taste in many people's mouths.
Read 31 remaining paragraphs | Comments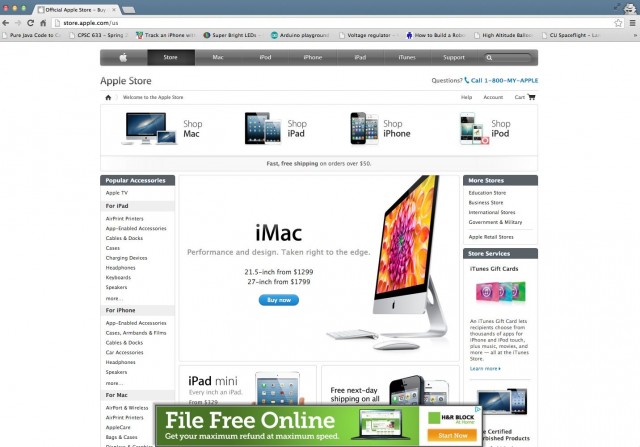 The ghost of Steve Jobs will not be pleased to see this.
Zack Henkel
Robert Silvie returned to his parents' home for a Mardi Gras visit this year and immediately noticed something strange: common websites like those belonging to Apple, Walmart, Target, Bing, and eBay were displaying unusual ads. Silvie knew that Bing, for instance, didn't run commodity banner ads along the bottom of its pristine home page—and yet, there they were. Somewhere between Silvie's computer and the Bing servers, something was injecting ads into the data passing through the tubes. Were his parents suffering from some kind of ad-serving malware infection? And if so, what else might the malware be watching—or stealing?
Around the same time, computer science PhD student Zack Henkel also returned to his parents' home for a spring break visit. After several hours of traveling, Henkel settled in with his computer to look up the specs for a Mac mini before bedtime. And then he saw the ads. On his personal blog, Henkel described the moment:
But as Apple.com rendered in my browser, I realized I was in for a long night. What I saw was something that would make both designers and computer programmers wince with great displeasure. At the bottom of the carefully designed white and grey webpage, appeared a bright neon green banner advertisement proclaiming: "File For Free Online, H&R Block." I quickly deduced that either Apple had entered in to the worst cross-promotional deal ever, or my computer was infected with some type of malware. Unfortunately, I would soon discover there was a third possibility, something much worse.
The ads unnerved both Silvie and Henkel, though neither set of parents had really noticed the issue. Silvie's parents "mostly use Facebook and their employers' e-mail," Silvie told me, and both those services use encrypted HTTPS connections—which are much harder to interfere with in transit. His parents probably saw no ads, therefore, and Silvie didn't bring it up because "I didn't want [them] to worry about it or ask me a lot of questions."
Read 30 remaining paragraphs | Comments
Cyberoam, a maker of appliances designed to secure sensitive networks, said it has issued an update to fix a flaw that could be used to intercept communications sent over the TOR anonymity network.
Cyberoam issued the hotfix on Monday to a variety of its unified threat management tools. The devices, which are used to inspect individual packets entering or exiting an organization's network, previously used the same cryptographic certificate. Researchers with the TOR network recently reported the flaw and said it caused a user to seek a fake certificate for thetorproject.org when one of the DPI (or deep packet inspection) devices was being used to monitor his connection.
"Examination of a certificate chain generated by a Cyberoam DPI device shows that all such devices share the same CA certificate and hence the same private key," TOR researcher Runa A. Sandvik wrote in a blog post published last Tuesday. "It is therefore possible to intercept traffic from any victim of a Cyberoam device with any other Cyberoam device—or to extract the key from the device and import it into other DPI devices, and use those for interception." Someone commenting on the post went on to publish the purported private key used by the Cyberoam certificate.
Read 3 remaining paragraphs | Comments