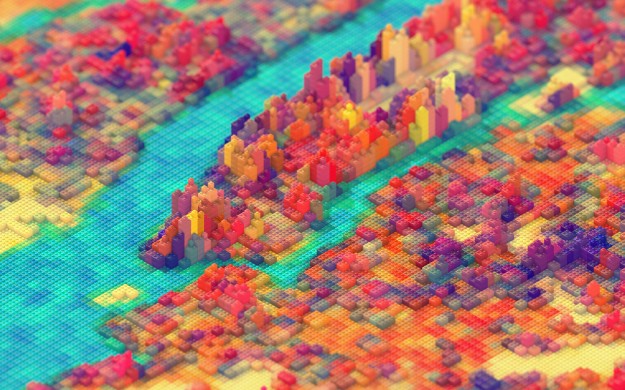 I'm not sure what these digitally rendered Lego blocks by JR Schmidt represent, other than the geography of New York, but the image sure is pretty. This may or may not also have to do with me loving everything Lego.
Designing a building is like picking one suit for all four seasons. Hard enough in moderate climes, it's especially tricky in the far north, where conditions swing annually between endless daylight and frigid dark. In more than 500 photographs, 'Nordic Light' (Thames & Hudson, 256 pages) by Henry Plummer catalogs the range of elegant solutions that contemporary architects in Sweden, Denmark, Norway and Finland have deployed to keep the cold out while letting the light in. The glass curtain walls beloved of other strains of modernism are often impractical due to the expense of heating. Thus the 50 buildings that Mr. Plummer documents—some museums and civic buildings but mostly churches, which for reasons of symbolism encourage a thoughtful, subtle treatment of light—tend to use discrete windows shaped like strips, slashes or portholes. Paradoxically, some of the structures that result, like the austere but soothing shiplike chapel in Turku, Finland, are shut nearly as tight as the whitewashed bunkers of the Greek islands. But where the latter's dazzlingly reflective exteriors keep excess sun out, uniform interiors like the blond pine of the Turku chapel serve to diffuse and sustain what light does enter. This effect is also on display in a beautiful spread of the Grundtvigs Church in Copenhagen (1940), whose Gothic ribs and vaults are rendered modern by the repetitively modular material from which they're constructed. The yellow-tan glaze of the church's five million bricks imparts a honeyed tinge to the light that fills the sanctuary. Elsewhere, in a shot of the Männistö Church in Kuopio, Finland, sunlight reflecting off painted baffles casts swaths of green onto the chapel walls. Such indirect illumination is prominent throughout—attempts, perhaps, to evoke even in winter the filmy glow of summer nights when the sun shines from below the horizon.
-The Books Editors



Horten Headquarters, Copenhagen, Denmark.

Saint Henry's Chapel, Turku, Finland.

Grundtvigs Church, Copenhagen, Denmark.

Myyrmäki Church, Vantaa, Finland.

Grundtvigs Church, Copenhagen, Denmark.