Researchers have unearthed a decade-long espionage operation that used the popular TeamViewer remote-access program and proprietary malware to target high-level political and industrial figures in Eastern Europe.
TeamSpy, as the shadow group has been dubbed, collected encryption keys and documents marked as "secret" from a variety of high-level targets, according to a report published Wednesday by Hungary-based CrySyS Lab. Targets included a Russia-based Embassy for an undisclosed country belonging to both NATO and the European Union, an industrial manufacturer also located in Russia, multiple research and educational organizations in France and Belgium, and an electronics company located in Iran. CrySyS learned of the attacks after Hungary's National Security Authority disclosed intelligence that TeamSpy had hit an unnamed "Hungarian high-profile governmental victim."
Malware used in the attacks indicates that those responsible may have operated for years and may have also targeted figures in a variety of countries throughout the world. Adding intrigue to the discovery, techniques used in the attacks bear a striking resemblance to an online banking fraud ring known as Sheldon, and a separate analysis from researchers at Kaspersky Lab found similarities to the Red October espionage campaign that the Russia-based security firm discovered earlier this year.
Read 5 remaining paragraphs | Comments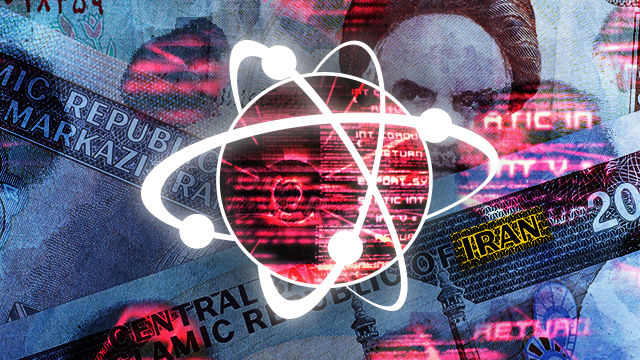 Aurich Lawson
Researchers have uncovered a never-before-seen version of Stuxnet. The discovery sheds new light on the evolution of the powerful cyberweapon that made history when it successfully sabotaged an Iranian uranium-enrichment facility in 2009.
Stuxnet 0.5 is the oldest known version of the computer worm and was in development no later than November of 2005, almost two years earlier than previously known, according to researchers from security firm Symantec. The earlier iteration, which was in the wild no later than November 2007, wielded an alternate attack strategy that disrupted Iran's nuclear program by surreptitiously closing valves in that country's Natanz uranium enrichment facility. Later versions scrapped that attack in favor of one that caused centrifuges to spin erratically. The timing and additional attack method are a testament to the technical sophistication and dedication of its developers, who reportedly developed Stuxnet under a covert operation sponsored by the US and Israeli governments. It was reportedly personally authorized by Presidents Bush and Obama.
Also significant, version 0.5 shows that its creators were some of the same developers who built Flame, the highly advanced espionage malware also known as Flamer that targeted sensitive Iranian computers. Although researchers from competing antivirus provider Kaspersky Lab previously discovered a small chunk of the Flame code in a later version of Stuxnet, the release unearthed by Symantec shows that the code sharing was once so broad that the two covert projects were inextricably linked.
Read 24 remaining paragraphs | Comments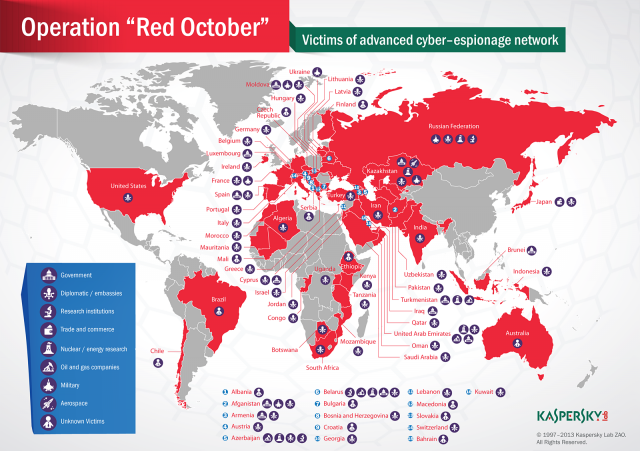 Researchers have uncovered an ongoing, large-scale computer espionage network that's targeting hundreds of diplomatic, governmental, and scientific organizations in at least 39 countries, including the Russian Federation, Iran, and the United States.
Operation Red October, as researchers from antivirus provider Kaspersky Lab have dubbed the highly coordinated campaign, has been active since 2007, raising the possibility it has already siphoned up hundreds of terabytes of sensitive information. It uses more than 1,000 distinct modules that have never been seen before to customize attack profiles for each victim. Among other things, components target individual PCs, networking equipment from Cisco Systems, and smartphones from Apple, Microsoft, and Nokia. The attack also features a network of command-and-control servers with a complexity that rivals that used by the Flame espionage malware that targeted Iran.
"This is a pretty glaring example of a multiyear cyber espionage campaign," Kaspersky Lab expert Kurt Baumgartner told Ars. "We haven't seen these sorts of modules being distributed, so the customized approach to attacking individual victims is something we haven't seen before at this level."
Read 13 remaining paragraphs | Comments