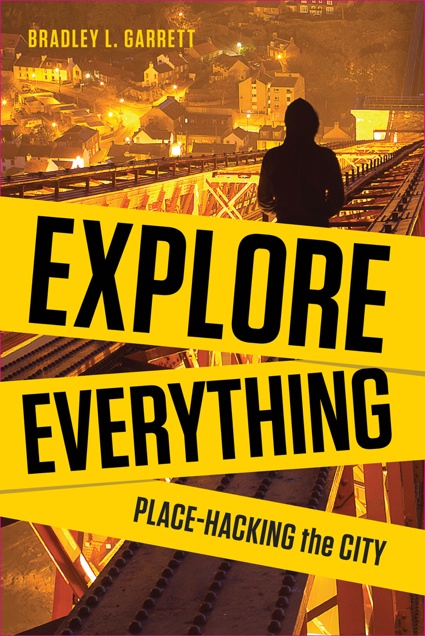 Publisher Verso writes: It is assumed that every inch of the world has been explored and charted; that there is nowhere new to go. But perhaps it is the everyday places around us--the cities we live in--that need to be rediscovered. What does it feel like to find the city's edge, to explore its forgotten tunnels and scale unfinished skyscrapers high above the metropolis? Explore Everything reclaims the city, recasting it as a place for endless adventure.
Plotting expeditions from London, Paris, Berlin, Detroit, Chicago, Las Vegas and Los Angeles, Bradley L. Garrett has evaded urban security in order to experience the city in ways beyond the boundaries of conventional life. He calls it 'place hacking': the recoding of closed, secret, hidden and forgotten urban space to make them realms of opportunity.
Explore Everything is an account of the author's escapades with the London Consolidation Crew, an urban exploration collective.
The book is also a manifesto, combining philosophy, politics and adventure, on our rights to the city and how to understand the twenty-first century metropolis.
An anonymous reader writes "Patrick Wyatt, one of the developers behind the original Warcraft and StarCraft games, as well as Diablo and Guild Wars, has a post about some of the bug hunting he's done throughout his career. He covers familiar topics — crunch time leading to stupid mistakes and finding bugs in compilers rather than game code — and shares a story about finding a way to diagnose hardware failure for players of Guild Wars. Quoting: '[Mike O'Brien] wrote a module ("OsStress") which would allocate a block of memory, perform calculations in that memory block, and then compare the results of the calculation to a table of known answers. He encoded this stress-test into the main game loop so that the computer would perform this verification step about 30-50 times per second. On a properly functioning computer this stress test should never fail, but surprisingly we discovered that on about 1% of the computers being used to play Guild Wars it did fail! One percent might not sound like a big deal, but when one million gamers play the game on any given day that means 10,000 would have at least one crash bug. Our programming team could spend weeks researching the bugs for just one day at that rate!'"
Read more of this story at Slashdot.