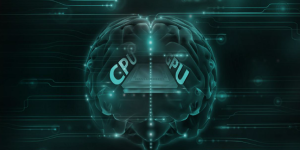 AMD
AMD wants to talk about HSA, Heterogeneous Systems Architecture (HSA), its vision for the future of system architectures. To that end, it held a press conference last week to discuss what it's calling "heterogeneous Uniform Memory Access" (hUMA). The company outlined what it was doing, and why, both confirming and reaffirming the things it has been saying for the last couple of years.
The central HSA concept is that systems will have multiple different kinds of processors, connected together and operating as peers. The two main kinds of processors are conventional: versatile CPUs and the more specialized GPUs.
Modern GPUs have enormous parallel arithmetic power, especially floating point arithmetic, but are poorly-suited to single-threaded code with lots of branches. Modern CPUs are well-suited to single-threaded code with lots of branches, but less well-suited to massively parallel number crunching. Splitting workloads between a CPU and a GPU, using each for the workloads it's good at, has driven the development of general purpose GPU (GPGPU) software and development.
Read 21 remaining paragraphs | Comments
An anonymous reader writes "Patrick Wyatt, one of the developers behind the original Warcraft and StarCraft games, as well as Diablo and Guild Wars, has a post about some of the bug hunting he's done throughout his career. He covers familiar topics — crunch time leading to stupid mistakes and finding bugs in compilers rather than game code — and shares a story about finding a way to diagnose hardware failure for players of Guild Wars. Quoting: '[Mike O'Brien] wrote a module ("OsStress") which would allocate a block of memory, perform calculations in that memory block, and then compare the results of the calculation to a table of known answers. He encoded this stress-test into the main game loop so that the computer would perform this verification step about 30-50 times per second. On a properly functioning computer this stress test should never fail, but surprisingly we discovered that on about 1% of the computers being used to play Guild Wars it did fail! One percent might not sound like a big deal, but when one million gamers play the game on any given day that means 10,000 would have at least one crash bug. Our programming team could spend weeks researching the bugs for just one day at that rate!'"
Read more of this story at Slashdot.
Information about Intel's next-generation processor architecture, codenamed Haswell, has been leaking steadily for some time, but presentations at today's Intel Developer Forum (IDF) are finally giving us details on what to expect from the fourth-generation Core processors when they launch in 2013.
Haswell is a "tock", in Intel parlance—a completely new processor architecture manufactured using the same 22nm process and "3D" tri-gate transistors as Ivy Bridge. As with Ivy Bridge, the bulk of Intel's attentions are focused on improving graphics performance and reducing power consumption—while Haswell's optimizations will definitely make it faster than Ivy Bridge at the same clock speeds, CPU performance definitely took a back seat during Intel's Haswell-oriented keynote today.
The CPU: modest improvements in a power-efficient package
Much about Haswell's architecture is similar to Ivy Bridge in many ways: key technologies like Turbo Boost and Hyperthreading are still in play, and the instruction pipeline and L1 and L2 cache sizes remain the same.
Read 13 remaining paragraphs | Comments