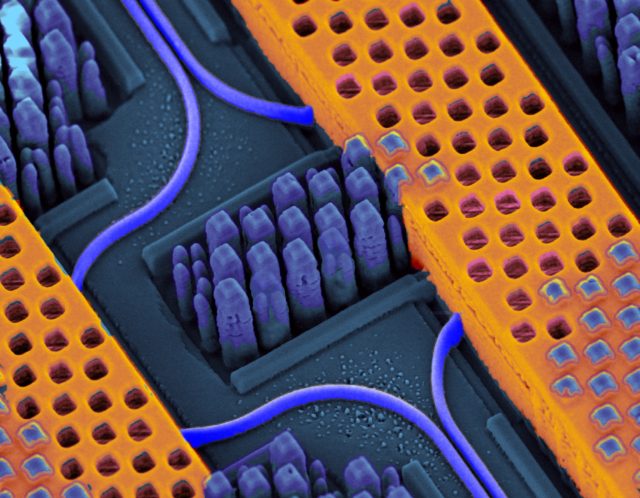 IBM's integrated silicon nanophotonics transceiver on a chip; optical waveguides are highlighted here in blue, and the copper conductors of the electronic components in yellow.
IBM Research
IBM has developed a technology that integrates optical communications and electronics in silicon, allowing optical interconnects to be integrated directly with integrated circuits in a chip. That technology, called silicon nanophotonics, is now moving out of the labs and is ready to become a product. It could potentially revolutionize how processors, memory, and storage in supercomputers and data centers interconnect.
Silicon nanophotonics were first demonstrated by IBM in 2010 as part of IBM Research's efforts to build Blue Waters, the NCSA supercomputer project that the company withdrew from in 2011. But IBM Research continued to develop the technology, and today announced that it was ready for mass production. For the first time, the technology "has been verified and manufactured in a 90-nanometer CMOS commercial foundry," Dr. Solomon Assefa, Nanophotonics Scientist for IBM Research, told Ars.
A single CMOS-based nanophotonic transceiver is capable of converting data between electric and optical with virtually no latency, handling a data connection of more than 25 gigabits per second. Depending on the application, hundreds of transceivers could be integrated into a single CMOS chip, pushing terabits of data over fiber-optic connections between processors, memory, and storage systems optically over distances ranging from two centimeters to two kilometers.
Read 5 remaining paragraphs | Comments
Researchers have developed a new technique for using multi-core chips more efficiently, significantly enhancing a computer's ability to build computer models of biological systems. The technique improved the efficiency of algorithms used to build models of biological systems more than seven-fold, creating more realistic models that can account for uncertainty and biological variation. This could impact research areas ranging from drug development to the engineering of biofuels.