In the years we've worked in Africa, TIME contract photographer Dominic Nahr and I have been to some pretty out-of-the-way places: Sudan, Somalia, the Ethiopian mountains, Congo. But I doubt we'll ever again go somewhere as off the map as Obo in southeastern Central African Republic. To reach Obo, you fly to CAR's capital Bangui, then for four more hours east over unbroken jungle, with almost no sign of life below. Once in Obo you find a town with no power, one road, one church, one hospital with one doctor, several thousand refugees, who have fled from as far away as the Democratic Republic of Congo to escape Joseph Kony's Lord's Resistance Army (LRA)—and one U.S. Special Operations base built out of palm thatch and grass.
Access to the Special Forces: nil, as expected. Access to the Ugandan army, who the Special Ops are assisting in their hunt for the LRA: nil, which was disappointing. But with close to 100 of its people abducted by the LRA and forced to become fighters, only to escape and return home years later, Obo turned out to be a treasure trove of information on one of the most mysterious and notorious rebel groups in the world.
It was also a revelation on another count. Hundreds of miles from anywhere, with nothing to eat but what they grew or caught, Obo was one of the most welcoming, most charming and—now that they had U.S. base on the edge of town to discourage attackers—the most peaceful places we've ever visited, proof, if ever it was needed, that a rich life can be measured in many more ways than mere money. In the evenings, Dominic would complain that he'd come to shoot a war and had ended up shooting a bucolic paradise. I think his beautiful pictures capture the place perfectly.
Read More: "The Warlord Vs. The Hipsters"
Alex Perry is TIME's Africa bureau chief. 
Dominic Nahr, a TIME contract photographer, photographed the Arab Spring in Egypt. Nahr is represented by Magnum.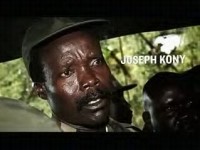 Why does it matter, if Invisible Children was funded by controversial donors? Two reasons – one, we can assume those donors thought IC aligned with their agenda – which is antagonistic to LGBT rights. Two, it fits an emerging pattern in which Invisible Children appears selectively concerned about crimes committed by Joseph Kony but indifferent to crimes, perhaps on a bigger scale, committed by their provisional partner, the government of Uganda – whose president shot his way into power using child soldiers, before Joseph Kony began using child soldiers. Like Kony, the government of Uganda was also indicted by the International Criminal Court in 2005, for human rights abuses and looting in the DRC Congo. Like Kony, the Ugandan army preys upon civilians and is currently accused, by Western human rights groups, with raping and looting in the DRC Congo, where it is hunting for Kony. In the late 1990s, Uganda helped spark a conflict in DRC Congo that, by the middle of the next decade it is estimated, had killed up to 5.4 million civilians, more than any conflict since World War Two.
http://blogs.alternet.org/speakeasy/2012/03/11/invisible-children-funded...

Baptism, Uganda
Jenn Warren (b.1980, USA) is a documentary and multimedia photographer based in Juba, Southern Sudan, specializing in humanitarian and development projects. Her work has been published in the Sunday Times Magazine, Rolling Stone, BBC News Online and AlJazeera, among others. Clients include a number of NGO and UN agencies, namely Médecins Sans Frontières, UNHCR, UNICEF, USAID, DFID, WFP/PAM, Save the Children, CARE, PSI, ICRC and Amnesty International. Jenn teaches photography, and is proficient in Arabic and American Sign Language. Her photography is exhibited and collected internationally.
About the Photograph:
"This photo is from a project I completed for The Kasiisi Project in Western Uganda. The Kasiisi Project supports rebuilding efforts for local schools in Kyanyawara and Kasiisi, an area near the border of the Democratic Republic of Congo that, until recently, was regularly attacked by LRA rebels. The program also supplies children's books and uniforms, offers secondary and university scholarships, and has been active in the community for over 15 years. In this photograph, a Kasiisi student is baptized in a tepid pond near the primary school. Religion plays a very important role in this rural community, and children frequently spend their afternoons and weekends at church socializing."