Here's Kevin Smith discussing his success as an independent, and rebutting critics who say that his go-it-alone strategy for his Red State (which is, by the way, excellent) was only possible because he'd made a name for himself:
Anyone that tells you "oh he could do it because he's Kevin Smith"—tell 'em horseshit, man. That's somebody who's trying to tell you "don't try, you can't try, he did it, he can do it, you can't do it." Don't listen to that shit man. Think of life and progress as a game—I always think of it in terms of a game of hockey. When you're skating with the puck towards the net there's always a motherfucker trying to hook you from behind, just to slow you up enough, 'cause nobody wants to see anybody succeed. So don't listen to that. When you hear somebody go "well of course he could do it, he's Kevin Smith"—those same assholes, before I did it, were like "it's never gonna work, it's dumb, he crazy". And then when it worked, they didn't go like "you know what? we were wrong"—instead they say "well only he could do it because he's Kevin Smith" and I say horseshit. Kevin Smith wasn't always Kevin Smith, nor was Kevin Smith the little kid that pulled the fucking sword from the stone.
Now am I going to say like, this is the only way it should ever be done forever? No but you're always looking for alternatives, because the old method doesn't so much work anymore. You can't just put a commercial on TV and expect a bunch of people to show up and see it at the movie theatres. They have too many choices. They can just stay home and surf porn on the internet. Why would you want to go see The Avengers when you can watch like three people having sex from the privacy of your own home? You're competing for attention, and in a world where you're competing for attention, you have to figure out ways to make it more interesting for the audience to come out. It's no longer enough to be like "here's the movie, come see it".
Techdirt's Mike Masnick relates this to Masnick's Law: "in any conversation about musicians doing something different to achieve fame and/or fortune someone will inevitably attempt to make the argument that 'it only worked for them because they are big/small and it will never work for someone who is the opposite,' no matter how much evidence to the contrary might be readily available."
Kevin Smith On Why You Don't Have To Be Kevin Smith To Try Innovative New Things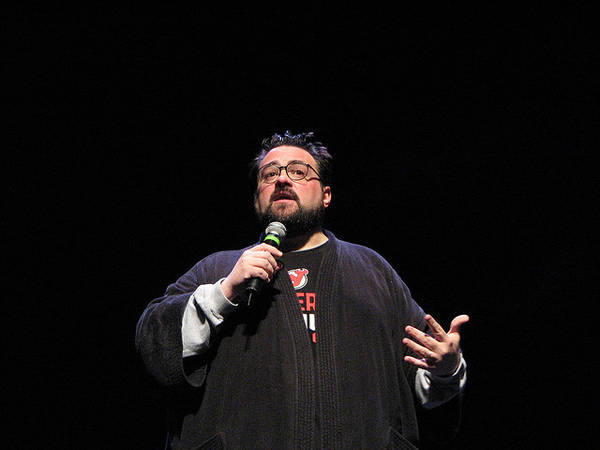 On CNN, Doug Gross has a good account of Kevin Smith's SXSW presentation on how he became a podcaster and weaned himself off the "heroin" of movie studio money, going direct to his fans instead for advertising, merch sales and sold-out houses when he toured. This being CNN, they've got a lot of [expletive] marks where Smith is saying "fuck" in his charmingly innocent way.
Smith said he decided to take advantage of his access to celebrities and gift of gab to launch a new project. And he deployed a technique he said has always served him well: do what you love and what you're good at, then figure out how to make money doing it.
And that led to "SModcast," a weekly podcast that he and friend/co-producer Scott Mosier launched in 2007 and do to this day.
It was free. But as its online audience grew, the opportunities to make money arose.
"People would tweet left and right: 'You put out so many free podcasts; how can I pay it back?' " said Smith, who has more than 2 million followers on Twitter. "I was like, 'Go buy a T-shirt' and they were like, 'Cool.' "
,p>
Then came paid advertising. (The first sponsor notoriously being adult product Fleshlight). Then a paid version of the podcast, "SModcost," which contains bonus features but no ads.
Filmmaker Kevin Smith: Podcasting saved my career
(Image: Kevin Smith in Vancouver, a Creative Commons Attribution (2.0) image from shaynekaye's photostream)