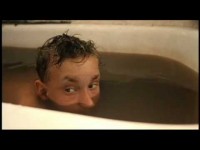 Gummo is a 1997 American independent drama written and directed by Harmony Korine. A directorial debut for Korine, the film stars Jacob Reynolds, Jacon Sewell and Chloe Sevigny. Rather than following a linear plot, the film is a series of seemingly unrelated vignettes depicting the hopeless, nihilistic lives of the residents of Xenia, Ohio, a small Midwestern town that had been previously struck by a devastating tornado. This is an alternate trailer by Mark Romanek. His music videos have garnered 19 MTV Video Music Awards, including Best Direction for Jay-Z's "99 Problems" in 2004. He has also won three Grammy Awards for Best Short Form Music Video.
Name- Tatum Shaw
Age- 31
Where are you from?- Originally from Cartersville, Ga. Been living in Portland, Or for the past seven years.
Your equipment- Contax G2
Influences and photographers you like- Juergen Teller, Malick Sidibe, Mark Romanek, William Eggleston, Viviane Sassen, Terry Richardson, Harris Savides, Ryan McGinley, Keith Davis Young, Katherine Squier, Missy Prince.
A little about you- I work as an advertising copywriter at Wieden Kennedy for clients such as Coca-Cola, Target, P&G, Nike. Advertising can get creatively frustrating, so photography allows me to have an un-fucked-with outlet. I started taking photography seriously about four years ago. Currently, I'm working on a few books I hope to have out early next year.
Flickr page
tatumshaw.com/

















ALL PHOTOS BY TATUM SHAW
Cibo Matto, "Sugar Water" (1996), directed by Michel Gondry.
Pitchfork's terrific list of the top 50 music videos of the 1990s.