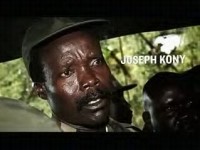 Why does it matter, if Invisible Children was funded by controversial donors? Two reasons – one, we can assume those donors thought IC aligned with their agenda – which is antagonistic to LGBT rights. Two, it fits an emerging pattern in which Invisible Children appears selectively concerned about crimes committed by Joseph Kony but indifferent to crimes, perhaps on a bigger scale, committed by their provisional partner, the government of Uganda – whose president shot his way into power using child soldiers, before Joseph Kony began using child soldiers. Like Kony, the government of Uganda was also indicted by the International Criminal Court in 2005, for human rights abuses and looting in the DRC Congo. Like Kony, the Ugandan army preys upon civilians and is currently accused, by Western human rights groups, with raping and looting in the DRC Congo, where it is hunting for Kony. In the late 1990s, Uganda helped spark a conflict in DRC Congo that, by the middle of the next decade it is estimated, had killed up to 5.4 million civilians, more than any conflict since World War Two.
http://blogs.alternet.org/speakeasy/2012/03/11/invisible-children-funded...
KONY 2012 from INVISIBLE CHILDREN on Vimeo.
"The next 27 minutes are an experiment," says the faceless narrator. "But in order for it to work, you have to pay attention."
That's the arresting introduction of Kony 2012, a viral documentary dedicated to stopping the war criminal Joseph Kony, head of the Lord's Resistance Army. Kony is infamous for kidnapping children and turning them into child soldiers, among other atrocities.
But he's not famous. That's what the documentary, and the ambitious viral campaign it spearheads, is trying to change. It's already attracted both a massive online audience — and a backlash.
The visually sophisticated documentary tells the story of the Lord's Resistance Army's brutal history in Uganda — it doesn't say much about Kony's flight to the Democratic Republic of Congo and Central African Republic — mostly through the eyes of Jacob, a child refugee whose brother was killed by the militia. At one point, the boy says he would prefer to die rather than to live in the world Kony has made. It hits like an emotional sledgehammer.
And that lays the foundation for the campaign the movie essentially advertises. The nonprofit group behind it, Invisible Children, supports President Obama's recent deployment of 100 military advisers to Uganda to help its army hunt Kony, a decision that required years of grassroots demands from humanitarian activists. In order to make sure the pressure keeps up, and Kony is ultimately arrested — this year — Invisible Children wants to plaster the cities of the world with red, visually striking KONY 2012 posters, stickers and t-shirts.
The video is essentially a plea to take the campaign viral in time for a planned action on April 20, in which Invisible Children hopes to mass-advertise KONY 2012 that night, globally, so the world will "wake up to hundreds of thousands of posters." Action kits containing stickers, posters, bracelets, information and t-shirts are going for a $30 donation on the group's website. And the filmmakers want to enlist celebrities, athletes and politicians for the campaign, everyone from Sen. John Kerry to Bono to Mark Zuckerberg.
Beyond the specifics of the action, the "experiment" the movie refers to is basically a test of global internet culture. It's an experiment in marshaling connectedness to stop atrocities. And that's what's earned KONY 2012 its fair share of critics.
There's no doubt the campaign has made an impact. In just two days, a documentary that's too long to be viewed casually has racked up over 4 million YouTube views and counting. The hashtag #stopkony is trending in the U.S. in a major way, and there's also #kony2012. The movie has co-signs ranging from Human Rights Watch to the rapper Waka Flocka Flame. "Arresting Joseph Kony will prove that the world we live in has new rules," the documentary promises, "that the technology that brings our planet together is allowing us to respond to the problems of our friends."
Not everyone thinks that's an unambiguously good thing.
While calling KONY 2012 "one of the most pervasive and successful human rights based viral campaigns in recent memory," the conflict blogger Mark Kersten argues the documentary is "obfuscating, simplified and wildly erroneous." Kersten takes it to task for ignoring the complexities of the U.S. military deployment, such as the demonstrated failures of earlier missions aimed at stopping Kony, and for neglecting to interview northern Ugandans who want peace at the cost of living with a free Kony.
"'Kony 2012,' quite dubiously, avoids stepping into the 'peace-justice' question in northern Uganda," Kersten writes, "precisely because it is a world of contesting and plural views, eloquently expressed by the northern Ugandans themselves." Other online critics have made similar points; one effectively accuses Invisible Children of lining its own pockets with donations.
It's way too early to know if the criticism will resonate, or if Invisible Children will respond. For now, the movement is unapologetically grandiose in its aspirations. "If we succeed," the documentary states, "we change the course of human history." The first step is ricocheting around the Internet. The second will be whether the world awakes on April 21 to unignorable KONY 2012 posters, banners, stickers and street art. The final step — stopping one of the world's most infamous war criminals — is far less certain.
See Also: