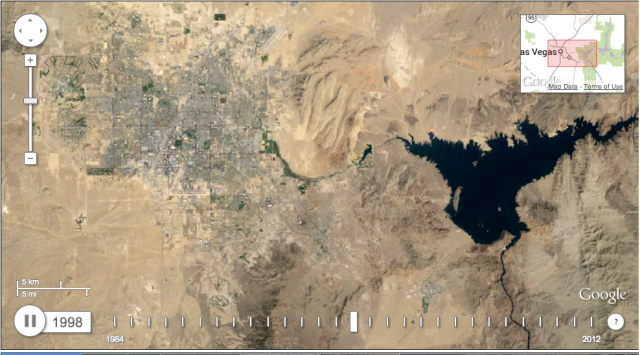 A frame of Timelapse's view of the growth of Las Vegas, Nevada.
This story has been updated with additional information and corrections provided by Google after the interview.
In May, Google unveiled Earth Engine, a set of technologies and services that combine Google's existing global mapping capabilities with decades of historical satellite data from both NASA and the US Geological Survey (USGS). One of the first products emerging from Earth Engine is Timelapse—a Web-based view of changes on the Earth's surface over the past three decades, published in collaboration with Time magazine.
The "Global Timelapse" images are also viewable through the Earth Engine site, which allows you to pan and zoom to any location on the planet and watch 30 years of change, thanks to 66 million streaming video tiles. The result is "an incontrovertible description of what's happened on our planet due to urban growth, climate change, et cetera," said Google Vice President of Research and Special Initiatives Alfred Spector.
Read 19 remaining paragraphs | Comments
NASA released a satellite image of the snow-covered Taklimakan Desert in western China on Thursday.
Jeff Schmaltz / NASA via AFP - Getty Images
This NASA MODIS Rapid Response Team image obtained November 4, 2011 shows dust as it blew over the Gulf of Alaska in early November 2011. The Moderate Resolution Imaging Spectroradiometer (MODIS) on NASA's Terra satellite captured this natural-color image on November 2, 2011. Blowing toward the south-southwest, the dust plume remains discernible for roughly 100 kilometers (60 miles). The dust emerges from the Copper River Valley, which zigzags through the glacier-rich Chugach Mountains. The slow movement of glaciers over bedrock grinds the rock into glacial flour. This fine sediment is easily lofted into the air by winds blowing through mountain valleys. This image also shows swirls of iridescent green in the waters along the shore. The bright green probably results from sediment and phytoplankton. Dust can fertilize phytoplankton, prompting big blooms, but the microscopic organisms also thrive in high-latitude seas especially near coastlines, without dust.
.