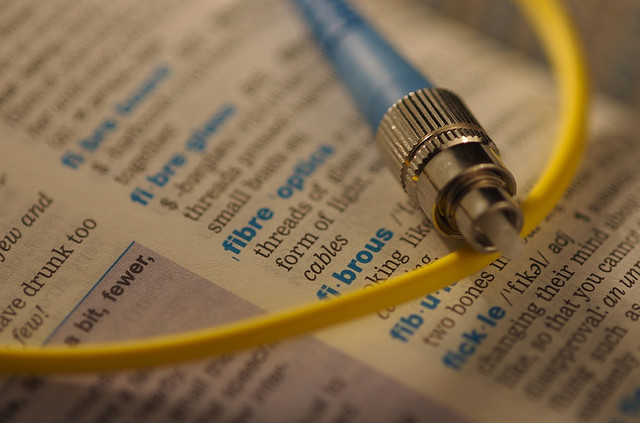 In the past few years, there have been a regular series of announcements about devices that cloak something in space. These typically bend light around the cloak so that it comes out behind the object looking as if it had never shifted at all. In contrast, there's just been a single description of a temporal cloaking device, something that hides an event in time. The device works because in some media different frequencies of light move at different speeds. With the right combination of frequency shifts, it's possible to create and then re-seal a break in a light beam.
But that particular cloak could only create breaks in the light beam that lasted picoseconds. Basically, you couldn't hide all that much using it. Now, researchers have taken the same general approach and used it to hide signals in a beam of light sent through an optical fiber. When the cloak is in operation, the signals largely disappear. In this case the cloak can hide nearly half of the total bandwidth of the light, resulting in a hidden transmission rate of 12.7 Gigabits per second.
The work started with the Talbot effect in mind, in which a diffraction grating causes repeated images of the grating to appear at set distances away from it. The cloaking device relies on the converse of this. At other distances, the light intensity drops to zero. The key trick is to convert the Talbot effect from something that happens in space to something that happens in time.
Read 6 remaining paragraphs | Comments
MrSeb writes "Electrical engineers and material scientists at MIT have created a fiber-borne laser that could be woven to form a flexible display that could project different 3D images in any number of directions, to any number of viewers. MIT's fiber is similar to standard telecoms fiber, but it has a tiny droplet of fluid embedded in the core. When laser light hits the fluid, it scatters, effectively creating a 360-degree laser beam. The core is then surrounded by layers of liquid crystal, which can be controlled like 'pixels,' allowing the laser light to escape from specific points anywhere along the length of the fiber. This means that you could have a display that shows one picture on the 'front' and another on the 'back' — or different, glasses-free 3D images for everyone sitting in front and behind. In the short term, the laser fiber is more likely to have a significant application in photodynamic therapy, an area of medicine where drugs are activated using light. Photodynamic therapy is one of the only ways to treat cancer in a relatively non-invasive and non-toxic manner. MIT's laser could be threaded into almost any part of the body, where the ability to produce pixels of laser light at any point along its length would make it a highly accurate device."
Read more of this story at Slashdot.