Robert Shults once slept on the streets, with the heavens as his only roof. Not long after, he wound up photographing scientists who study the stars.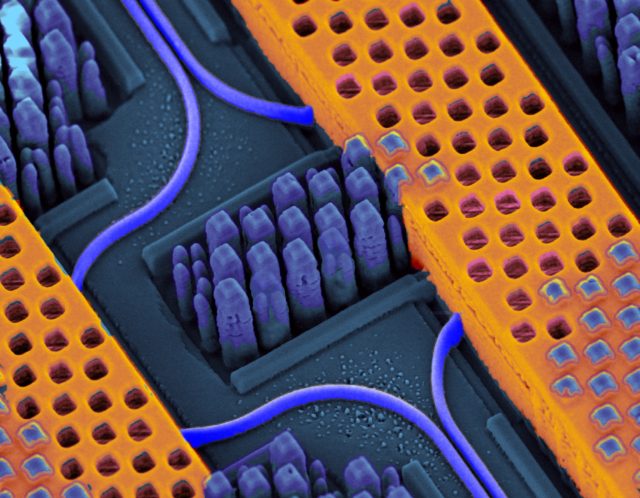 IBM's integrated silicon nanophotonics transceiver on a chip; optical waveguides are highlighted here in blue, and the copper conductors of the electronic components in yellow.
IBM Research
IBM has developed a technology that integrates optical communications and electronics in silicon, allowing optical interconnects to be integrated directly with integrated circuits in a chip. That technology, called silicon nanophotonics, is now moving out of the labs and is ready to become a product. It could potentially revolutionize how processors, memory, and storage in supercomputers and data centers interconnect.
Silicon nanophotonics were first demonstrated by IBM in 2010 as part of IBM Research's efforts to build Blue Waters, the NCSA supercomputer project that the company withdrew from in 2011. But IBM Research continued to develop the technology, and today announced that it was ready for mass production. For the first time, the technology "has been verified and manufactured in a 90-nanometer CMOS commercial foundry," Dr. Solomon Assefa, Nanophotonics Scientist for IBM Research, told Ars.
A single CMOS-based nanophotonic transceiver is capable of converting data between electric and optical with virtually no latency, handling a data connection of more than 25 gigabits per second. Depending on the application, hundreds of transceivers could be integrated into a single CMOS chip, pushing terabits of data over fiber-optic connections between processors, memory, and storage systems optically over distances ranging from two centimeters to two kilometers.
Read 5 remaining paragraphs | Comments
MrSeb writes "Electrical engineers and material scientists at MIT have created a fiber-borne laser that could be woven to form a flexible display that could project different 3D images in any number of directions, to any number of viewers. MIT's fiber is similar to standard telecoms fiber, but it has a tiny droplet of fluid embedded in the core. When laser light hits the fluid, it scatters, effectively creating a 360-degree laser beam. The core is then surrounded by layers of liquid crystal, which can be controlled like 'pixels,' allowing the laser light to escape from specific points anywhere along the length of the fiber. This means that you could have a display that shows one picture on the 'front' and another on the 'back' — or different, glasses-free 3D images for everyone sitting in front and behind. In the short term, the laser fiber is more likely to have a significant application in photodynamic therapy, an area of medicine where drugs are activated using light. Photodynamic therapy is one of the only ways to treat cancer in a relatively non-invasive and non-toxic manner. MIT's laser could be threaded into almost any part of the body, where the ability to produce pixels of laser light at any point along its length would make it a highly accurate device."
Read more of this story at Slashdot.