In today's pictures, people celebrate at a bonfire in Germany, athletes compete in an Ironman competition in France, Turkey's Trans Pride Parade gets in full swing, and more.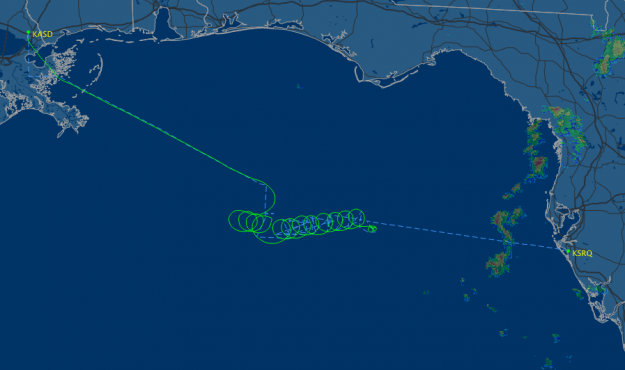 Live flight tracking site FlightAware shows destinations and current routes. It's everyday stuff for the most part, but around noon time today, a plane was circling above the ocean and crashed into the Gulf of Mexico.
The Air Force, which had dispatched fighter jets to monitor the twin-engine Cessna 421, reported it crashed about 12:10 p.m., said Lt. Cmdr. Christopher O'Neil, a Coast Guard spokesman. The aircraft had been circling over the Gulf about 200 miles south of Panama City, Florida, another spokesman, Chief Petty Officer John Edwards, told CNN.
The plane took off from Slidell, Louisiana, en route to Sarasota, Florida, with a single pilot on board, a Federal Aviation Administration source told CNN. It had been circling at an altitude of about 28,000 feet.
Whoa.
[via @DataJunkie]
Weather around the world was the story of the past week. Flooding and major storms around the world caused problems for many. A neighborhood is submerged by flood water from the Souris River Thursday, June 23, 2011 in Minot, N.D. Officials in North Dakota's fourth-largest city said Thursday they had done all they could to protect critical infrastructure from the rising Souris River as it headed toward a record flood.
U.S. first lady Michelle Obama (L) sits with former South African President Nelson Mandela at his home June 21, 2011 in Houghton, South Africa. The first lady, along with her daughters and mother, will be traveling in Africa from June 21 to the 26.
Rebel fighters fire a Grad rocket at the front line west of Misrata, Libya, Monday, June 20, 2011. Libya's government said a NATO airstrike west of Tripoli early Monday destroyed a large family compound belonging to a close associate of Moammar Gadhafi, killing at least 15 people, including three children. The alliance said the strike hit a "command and control" center.
A musician of Panama's Big Band orchestra, practices before a reenactment of a 1950 salsa hall as a tribute to famous late Puerto Rican musician Tito Puente in Panama City, Thursday, June 16, 2011. (AP Photo/Arnulfo Franco) #
Christian Riguccini of Australia competes during the Shark Island Challenge at Shark Island, near Cronulla on June 17, 2011 in Sydney, Australia. (Photo by Cameron Spencer/Getty Images) #
Belarusian school boys hold torches as they stand in front of one of the most important Soviet WWII war monuments marking the heroic resistance of the Red Army against the surprise German attack during a ceremony marking the 70th anniversary of Nazi invasion in the town of Brest, 360 kilometers (223 miles) southwest of Minsk, Belarus, early Wednesday, June 22, 2011. When Nazi Germany invaded the Soviet Union on June 22, 1941, the Brest Fortress defenders contained Nazi troops for a month. (AP Photo/Sergei Grits) #
This combination of 10 pictures put together in photoshop and taken on June 15, 2011 in the National Park of the volcano Teide (3718m of altitude) shows the moon during a total lunar eclipse, on the Spanish canary island of Tenerife. Astronomers in parts of Europe, Africa, Central Asia and Australia were hoping for clear skies on Wednesday to enjoy a total lunar eclipse, the first of 2011 and the longest in nearly 11 years. A total lunar eclipse occurs when Earth casts its shadow over the Moon. The lunar face can sometimes turn reddish, coppery-brown or orange, tinged by light from the Sun that refracts as it passes through our atmosphere. AFP PHOTO/ DESIREE MARTIN #
Children jump over concrete slabs of the Holocaust Memorial in central Berlin, Germany, Friday, June 17, 2011. (AP Photo/Markus Schreiber) #
A rickshaw puller wades through a water-logged street due to heavy rain in Dimapur in northeastern Indian state of Nagaland, Friday, June 17, 2011. (AP Photo/Sorei Mahong) #
People play in the sea against the backdrop of merchant ship MV Wisdom which ran aground at Chowpatty Beach in Mumbai, India, Friday, June 17, 2011. The ship went adrift after breaking loose while being towed from Colombo to Alang in Gujarat, for being broken as scrap. (AP Photo/Rajanish Kakade) #
David Gaviria (700) runs over Tomas Puerta (12) on the first lap of the Motorcycle Superstore.com SuperSport R1 race at Barber Motorsports Park, Saturday, June 18, 2011 in Birmingham, Ala. (AP Photo/The Birmingham News, Bernard Troncale) #
Heavy storm clouds darken the sky as rain and wind gusts blow over downtown Omaha, Neb., Monday, June 20, 2011. (AP Photo/Dave Weaver) #
In this June 20, 2011 photo provided by China's Xinhua News Agency, people transfer livestocks in Nubu township of Lanxi city, east China's Zhejiang Province. More than 40 miles (70 kilometers) of dikes are in danger of overflowing in an eastern Chinese province where floods have caused $1.2 billion in losses, authorities said Monday as the country neared a critical point in battling seasonal rains. Heavy rains pounded Zhejiang province over the weekend, and the level of a river that passes through Lanxi city has risen sharply, said Zhao Fayuan, deputy director of the provincial flood control headquarters. (AP Photo/Xinhua, Liang Zhen) #
In this handout from the Nelson Mandela Foundation, U.S. first lady Michelle Obama (L) sits with former South African President Nelson Mandela at his home June 21, 2011 in Houghton, South Africa. The first lady, along with her daughters and mother, will be traveling in Africa from June 21 to the 26. (Photo by Debbie Yazbek/Nelson Mandela Foundation via Getty Images) #
The sun illuminates clouds early Thursday morning June 16, 2011, behind a barn east of Salina, Kansas. Later in the morning thunder storms dropped heavy rain in the area. (AP Photo/Salina Journal, Tom Dorsey) #
In this photo taken Monday, June 20, 2011, children play on a swing n Haldia, about 55 kilometers (34 miles) from Allahabad, India. Young women and children rejoice the monsoon season by tying temporary rope swings on tree branches across many parts of India. (AP Photo/Rajesh Kumar Singh) #
People light candles near a church in memory of WW II victims, early morning, at the time the Nazi Germany attacked the Soviet Union 70 years ago, outside St.Petersburg, Russia, Wednesday, June 22, 2011. (AP Photo/Dmitry Lovetsky) #
Thai "Red Shirt" demonstrators gather during a "cursing" ceremony against the government and the rival party Wednesday June, 22, 2011 at the Erwan Shrine in downtown Bangkok, Thailand. The "Red Shirts" also gathered to remember those killed in last year's massive street protests against the government. (AP Photo/David Longstreath) #
An opponent to gay marriage holds a sign outside the Senate Chamber at the Capitol in Albany, N.Y., on Thursday, June 23, 2011. Dozens of gay couples are planning to converge on Albany Thursday to witness what would be a historic vote to legalize gay marriage in New York (AP Photo/Mike Groll) #
Hundreds of people take part in a synchronized mass exercise during a ceremony of a government campaign to promote physical exercises at Beijing's Olympic Forest Park in China, Thursday, June 23, 2011. (AP Photo/Alexander F. Yuan) #
A neighborhood is submerged by flood water from the Souris River Thursday, June 23, 2011 in Minot, N.D. Officials in North Dakota's fourth-largest city said Thursday they had done all they could to protect critical infrastructure from the rising Souris River as it headed toward a record flood. (AP Photo/The Grand Forks Herald, Christian Randolph) #
Indian weaver K. Saritha makes thread from silk yarn in a small scale factory at Gattuppal village, 65 kilometers (40 miles) from Hyderabad, in southern Indian state of Andhra Pradesh, Wednesday, June 22, 2011. India faces a shortage of 10,000 tons of silk per year, as a result it imports more than 8,000 tons from China every year recently, while it domestically produces around 22,000 tons of the staple, according to local newspapers and textile industry. (AP Photo/Mahesh Kumar A.) #
A Filipino boy stands behind a vehicle to keep from the cold wind in a heavy downpour in Manila, Philippines on Thursday June 23, 2011. Tropical Storm Meari will be set to make its presence known as it strengthens into a Category 1 typhoon sometime between Friday afternoon and Saturday morning. It will continue on its northwestward to the northeast of the Philippines. (AP Photo/Aaron Favila) #
Flood affected people queue up to collect relief material at a distribution center in Ghatal, about 100 kilometers (62 miles) north west of Kolkata, India, Thursday, June 23, 2011. Monsoon storms in eastern India have damaged homes and flooded parts of Kolkata, killing at least seven people.(AP Photo/Bikas Das) #
A model wears a creation by Belgian fashion designer Walter Van Beirendonck as part of his Spring/Summer 2012 fashion collection presented in Paris, Friday June 24, 2011. (AP Photo/Thibault Camus) #
An Egyptian and Japanese team of scientists use a pulley system to lift the first of 41 16-ton limestone slabs to reveal fragments of the ancient ship of King Khufu next to the Great Pyramid of Giza, Egypt, Thursday, June 23, 2011. Archaeologists have begun the excavation process of a 4,500-year old wooden boat encased underground next to the Great Pyramid of Giza, Egyptologists announced Thursday.(AP Photo/Khalil Hamra) #
Riot police huddle together after firing tear gas, as a lone man continues to hold up a sign protesting proposed constitutional changes, outside the National Assembly in central Dakar, Senegal Thursday, June 23, 2011. Senegalese police lobbed tear gas at thousands of protesters who amassed in the capital Thursday to oppose proposed changes to the constitution that critics said would benefit longtime president Abdoulaye Wade and his family. (AP Photo/Rebecca Blackwell) #
Flames are seen over homes in Sierra Vista, Ariz., on Thursday June 16, 2011. The elements are coming together to create dangerous fire conditions in southern and southeastern Arizona. The biggest wildfire in state history is closing in on a half million acres burned. (AP Photo/Arizona Daily Star, Greg Bryan) #
An Arab boy jumps into the Mediterranean sea from the ancient wall surrounding the old city of Acre, northern Israel, Sunday, June 19, 2011. (AP Photo/Ariel Schalit) #
Relatives of inmates of El Rodeo I and II penitentiaries cry outside the prisons compounds in Guatire, outskirts of Caracas, June 17, 2011. At least seven people were injured in a vast police operation aimed at taking control of El Rodeo I and II prisons, where in recent days, there were at least 22 killed in a gunbattle, government sources said. AFP Photo/Leo RAMIREZ #
Flood waters cover highway 159, Wednesday June 22, 2011, in Big Lake, Mo. near Rulo Neb. Missouri river flooding forced residents from Big lake earlier in the week. (AP Photo/Dave Weaver) #
U.S. first lady Michelle Obama is seen in silhouette as she speaks at Regina Mundi Church and addresses the Young African Women Leaders Forum in a Soweto township, Johannesburg, South Africa, Wednesday, June 22, 2011. (AP Photo/Charles Dharapak, Pool) #
People ride bicycles on the banks of river Ganges as monsoon clouds dot the sky in Allahabad, India, Wednesday, June 22, 2011. Monsoon rains that hits India usually from June to September are crucial for farmers whose crops feed hundreds of millions of people. (AP Photo/Rajesh Kumar Singh) #
Lightning streaks across the sky above a home Tuesday, June 21, 2011, in Saukville, Wis. (AP Photo/Jeffrey Phelps) #
A reveler carries a woman on his back as she reacts while he walks on the burning embers during the night of San Juan in San Pedro Manrique, Spain, Friday, June 24, 2011. (AP Photo/Alvaro Barrientos) #
Rebel fighters fire a Grad rocket at the front line west of Misrata, Libya, Monday, June 20, 2011. Libya's government said a NATO airstrike west of Tripoli early Monday destroyed a large family compound belonging to a close associate of Moammar Gadhafi, killing at least 15 people, including three children. The alliance said the strike hit a "command and control" center. (AP Photo/Hassan Ammar) #
A Eurofighter Typhoon performs its demonstration flight, on the first day of the Paris air show, at Le Bourget airport, Monday June 20, 2011.(AP Photo/Francois Mori) #
A reveler takes part in the Gay Pride Parade in Lisbon Saturday, June 18, 2011. (AP Photo/ Francisco Seco) #
Some 140 creations by Japanese hat artist Akio Hirata are displayed by designer Oki Sato during a hat exhibition at a Tokyo hall Saturday, June 18, 2011. (AP Photo/Itsuo Inouye) #
The pier of Puerto Arauco at Nahuel Huapi Lake is seen covered by sand and volcanic ash from the Chilean Puyehue-Cordon Caulle volcano in Villa La Angostura, southern Argentina, Friday, June 17, 2011. The volcano started erupting on June 4 after remaining dormant for decades. (AP Photo/Federico Grosso) #
Armed tribesmen loyal to Sheik Sadeq al-Ahmar, the head of the powerful Hashid tribe, guard inside the destroyed house of al-Ahmar in Sanaa, Yemen Thursday, June 16, 2011. Yemen's leader of nearly 33 years Ali Abdullah Saleh has held onto power in the face of massive protests demanding his ouster since February, though some of his top aides, military commanders, Cabinet ministers and diplomats have defected to the protesters' side in recent months. (AP Photo/Hani Mohammed) #
A tree stands in a field as rain clouds pass by near the eastern German city of Dresden on June 20.2011. Germany is experiencing very changeable weather of wet and sunny spells at the moment. AFP PHOTO / ARNO BURGI #