CloudFlare's CDN is based on Anycast, a standard defined in the Border Gateway Protocol—the routing protocol that's at the center of how the Internet directs traffic. Anycast is part of how BGP supports the multi-homing of IP addresses, in which multiple routers connect a network to the Internet; through the broadcasts of IP addresses available through a router, other routers determine the shortest path for network traffic to take to reach that destination.
Using Anycast means that CloudFlare makes the servers it fronts appear to be in many places, while only using one IP address. "If you do a traceroute to Metallica.com (a CloudFlare customer), depending on where you are in the world, you would hit a different data center," Prince said. "But you're getting back the same IP address."
That means that as CloudFlare adds more data centers, and those data centers advertise the IP addresses of the websites that are fronted by the service, the Internet's core routers automatically re-map the routes to the IP addresses of the sites. There's no need to do anything special with the Domain Name Service to handle load-balancing of network traffic to sites other than point the hostname for a site at CloudFlare's IP address. It also means that when a specific data center needs to be taken down for an upgrade or maintenance (or gets knocked offline for some other reason), the routes can be adjusted on the fly.
That makes it much harder for distributed denial of service attacks to go after servers behind CloudFlare's CDN network; if they're geographically widespread, the traffic they generate gets spread across all of CloudFlare's data centers—as long as the network connections at each site aren't overcome.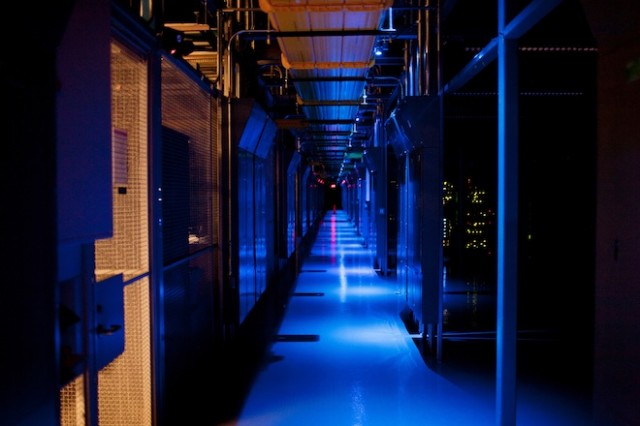 The inside of Equinix's co-location facility in San Jose—the home of CloudFlare's primary data center.
Photo: Peter McCollough/Wired.com
On August 22, CloudFlare, a content delivery network, turned on a brand new data center in Seoul, Korea—the last of ten new facilities started across four continents in a span of thirty days. The Seoul data center brought CloudFlare's number of data centers up to 23, nearly doubling the company's global reach—a significant feat in itself for a company of just 32 employees.
But there was something else relatively significant about the Seoul data center and the other 9 facilities set up this summer: despite the fact that the company owned every router and every server in their racks, and each had been configured with great care to handle the demands of CloudFlare's CDN and security services, no one from CloudFlare had ever set foot in them. All that came from CloudFlare directly was a six-page manual instructing facility managers and local suppliers on how to rack and plug in the boxes shipped to them.
"We have nobody stationed in Stockholm or Seoul or Sydney, or a lot of the places that we put these new data centers," CloudFlare CEO Matthew Prince told Ars. "In fact, no CloudFlare employees have stepped foot in half of the facilities where we've launched." The totally remote-controlled data center approach used by the company is one of the reasons that CloudFlare can afford to provide its services for free to most of its customers—and still make a 75 percent profit margin.
Read 24 remaining paragraphs | Comments