Mobile phone image copyright Oleksiy Mark
When it comes to mobile computing, many organizations either cringe at the fear of security risks or rejoice in the business potential. On one hand, mobile is revolutionizing business operations — improving operational efficiency, enhancing productivity, empowering employees and delivering an engaging user experience. On the other hand, sensitive data that used to be housed in a controlled environment of a company desktop or even laptop is now sitting in an employee's back pocket or purse.
In today's ultra-connected world, it can seem like threats are all around us. High-profile breaches and attacks from hacker groups have organizations of all sizes — from multinational enterprises to mom-and-pop shops — doubling down on security and making sure there aren't any cracks in their defenses. Mobile security doesn't have to be the Achilles' heel that leads to a breach. New, innovative solutions for securing mobile devices at the application level are rapidly hitting the market and the latest IBM X-Force report indicates that by 2014, mobile computing will be more secure than traditional desktops. Phones, tablets and other devices are a staple of the 21st century workplace and in order to fully embrace this technology, businesses must be certain they're well protected and secure.
Do You Know Where Your Data Is?
Tackling mobile security can seem like a daunting task. The IBM X-Force report also indicates a 19 percent increase in the number of exploits publicly released that can be used to target mobile devices. Making the task more challenging is the fact that — especially in the case of BYOD — the line between professional and personal data is more blurred on mobile platforms than anywhere before. According to Gartner, by 2014, 90 percent of organizations will support corporate applications on personal devices. This means that devices being used to connect with enterprise networks or create sensitive company data are also being used for social networking and to download mobile apps, leaving organizations with the predicament of how to manage, secure and patrol those devices. From the point of view of a hacker, a mobile device becomes an ideal target as it has access to the enterprise data as well as personal data that can be used to mount future attacks against your friends and colleagues.
Mobile apps are a great example of why mobile security tends to raise concerns among security professionals and business leaders. Employees install personal apps onto the same devices they use to access their enterprise data, but are not always careful or discriminating about the security of those apps — whether they are the real version or a manipulated version that will attempt to steal corporate data. According to a recent report by Arxan Technologies, more than 90 percent of the top 100 mobile apps have been hacked in some capacity. Some free mobile apps even demand access to an employee's contact list in order to function correctly. Just pause and think about that for a second. Would you give your entire contact list to a complete stranger? That's effectively what you are doing when you install many of these popular applications. If an organization takes a step back and really considers what employees are agreeing to, willingly or not, the results can be troublesome. So the challenge remains — how to get employees to recognize and understand just how vulnerable their mobile device can be to an enterprise.
Mitigating Mobile Risks: Why it's easier than you think
Mobile app security and device management do not have to be a company's security downfall. By employing intelligent security solutions that adapt to the requirements of a specific context, businesses can mitigate operational risk and unleash the full potential of mobility.
The key to mitigating security risks when it comes to mobile devices accessing enterprise data is access control. This may include passcode locks, data protection and malware and virus prevention. With that said, IT security priorities should focus on practices, policies and procedures, such as:
Risk analysis: Organizations must understand what enterprise data is on employee devices, how it could be compromised and the potential impact of the comprise (i.e. What does it cost? What happens if the device is lost? Is the data incidental or crucial to business?).
Securing the application: In the pre-mobile, personal computer era, simply securing the device and the user were sufficient. When it comes to mobile devices, we also need to think about securing the application itself. As a typical application is downloaded from a store, the end user really has no idea who built the application, what it actually does with your data or how secure it is. Corporate applications with sensitive data need to be secure in their own right.
Secure mobile access — authentication: Since mobile devices are shared, it's important to authenticate both the user and the device before granting access and to look at the context of the user requesting access based on factors like time, network, location, device characteristics, role, etc. If the context appears to be out of line with normal behavior, appropriate counter measures can be taken.
Encryption: Simply put, if the data is sensitive it needs to be encrypted both while at rest as well as while in motion on the network.
Once an enterprise has defined its security policy — establishing set policies/procedures regarding content that is allowed to be accessed on devices, how it's accessed and how the organization will handle lost/stolen devices that may contain business data — mobile technology solutions can help ensure that no opening is left unguarded.
So if security concerns are holding you back from "going mobile," rest assured — there are many companies that have embraced trends like "Bring Your Own Device" without sending their Chief Security Officers into a panic. As long as organizations take the right steps and continually revisit their security posture to ensure that every endpoint is secured and that the proper technology is in place, it really is possible to be confident about your mobile security strategy.
Caleb Barlow is part of the executive team in IBM's Security division. He manages three portfolios — Application Security, Data Security and Mobile Security. In addition to his day job, Caleb also hosts a popular Internet Radio show focused on IT Security with an audience averaging over 20k listeners per show.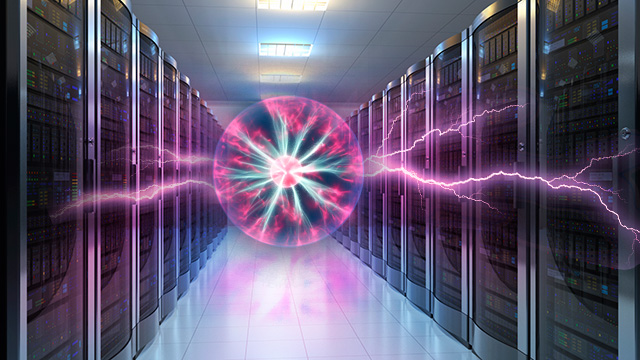 Aurich Lawson / Thinkstock
The corporate data center is undergoing a major transformation the likes of which haven't been seen since Intel-based servers started replacing mainframes decades ago. It isn't just the server platform: the entire infrastructure from top to bottom is seeing major changes as applications migrate to private and public clouds, networks get faster, and virtualization becomes the norm.
All of this means tomorrow's data center is going to look very different from today's. Processors, systems, and storage are getting better integrated, more virtualized, and more capable at making use of greater networking and Internet bandwidth. At the heart of these changes are major advances in networking. We're going to examine six specific trends driving the evolution of the next-generation data center and discover what both IT insiders and end-user departments outside of IT need to do to prepare for these changes.
Beyond 10Gb networks
Network connections are getting faster to be sure. Today it's common to find 10-gigabit Ethernet (GbE) connections to some large servers. But even 10GbE isn't fast enough for data centers that are heavily virtualized or handling large-scale streaming audio/video applications. As your population of virtual servers increases, you need faster networks to handle the higher information loads required to operate. Starting up a new virtual server might save you from buying a physical server, but it doesn't lessen the data traffic over the network—in fact, depending on how your virtualization infrastructure works, a virtual server can impact the network far more than a physical one. And as more audio and video applications are used by ordinary enterprises in common business situations, the file sizes balloon too. This results in multi-gigabyte files that can quickly fill up your pipes—even the big 10Gb internal pipes that make up your data center's LAN.
Read 34 remaining paragraphs | Comments