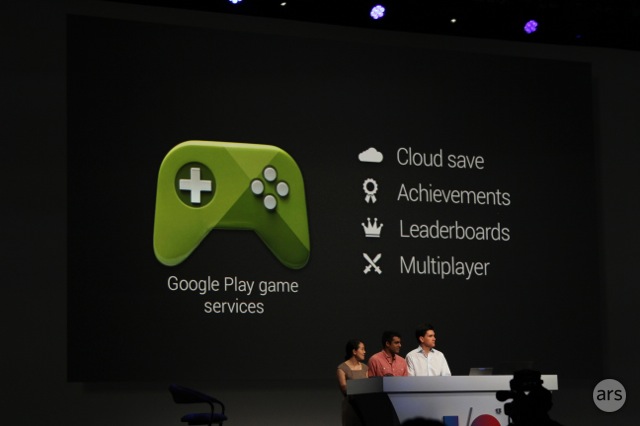 Mobile gaming can be a finicky thing. Not only does any title have to account for varying screen resolutions and multiplayer play, but with such a saturated device market, being able to take a game cross-platform entices both the developer and the player. For example, switching back and forth between iOS and Android can be difficult for some mobile gamers, especially if there are in-app purchases and achievements worth hoarding. As mobile ecosystems grow so do the users' needs.
Google apparently realizes this since the company is making big strides to ensure that game developers are on board with its mobile ecosystem. It's introduced a suite of APIs that will enable cloud saves, leaderboards, multiplayer game play, and achievements—all things that will benefit mobile gamers. "The opportunity that exists here is phenomenal for both developers and players looking for interesting and entertaining games," said Greg Hartell, product manager for Google Play game services. "What it's really about is creating a cross-platform environment that allows you to build a community of players across different screens."
At first glance, Google's Play game services appear to be a response to Apple's Game Center functionality. On iOS the Game Center is featured as a standalone application for players to check on achievements and hook up with friends to play a game. Game Center is also integrated into the games that support it. The Play game services work similarly: users log in with their Google Plus account on the titles that support it.
Read 9 remaining paragraphs | Comments
Enabling the API Lifecycle

Apigee Enterprise is a complete API platform, adding critical capabilities throughout the API lifecycle.
Proven by over 250 Enterprise Customers

Over 250 of the most successful retail, media, financial services and SaaS companies have selected Apigee.
Enterprise-class Technology

Apigee's industrial-strength networking technology meets the most demanding performance and scalability requirements.
Fits Your Model

Deploy Apigee Enterprise either in the cloud or as on-premise software.
Google's Page Speed testing tool, which recently went from a browser add-on to a web-based tool, now sports a new API. The Page Speed Online API allows outside applications to send URLs to Page Speed and get back a list of things the site developer can do to speed up the page in question.
If you'd like to try it, head over to the new documentation page and request an API key. Sample apps include using the Page Speed Online API to display suggestions for speeding up sites or even combining the API with the Google Charts API to show a visual breakdown of the page's resources.
For a more practical example of how the Page Speed Online API can help out your site, check out the latest version of the W3 Total Cache plugin for WordPress. If you're not already using W3 Total Cache in your WordPress installation, we highly recommend you install it, especially now that the plugin taps into the Page Speed API. W3 Total Cache now sends your pages to the Page Speed Online API and then offers Page Speed suggestions, right in the WordPress dashboard.
See Also: