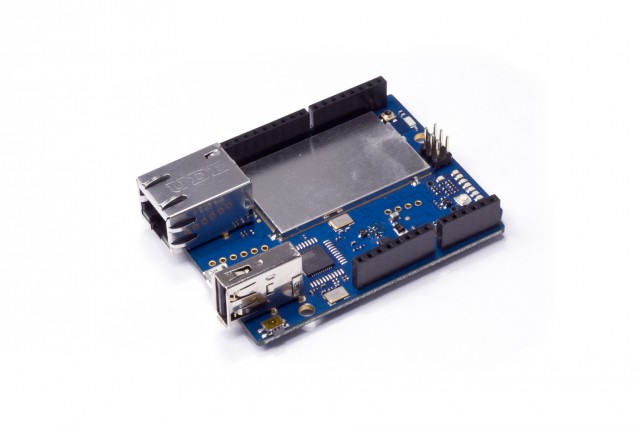 The Arduino Yún (Yún means "cloud" in Chinese.)
Arduino
At today's Bay Area Maker Fair, Arduino announced its newest board—the Arduino Yún. The board is an Arduino Leonardo running Linino, a Linux fork based on OpenWRT. The board is Wi-Fi capable, which Arduino hopes will encourage people to use the boards to make cloud-ready projects.
In an official statement the company explained: "Historically, interfacing Arduino with complex Web services has been quite a challenge due to the limited memory available. Web services tend to use verbose text-based formats like XML that require quite a lot or ram to parse. On the Arduino Yún we have created the Bridge library which delegates all network connections and processing of HTTP transactions to the Linux machine."
Earlier this week, another company called Spark Devices launched a similar idea on Kickstarter called Spark Core. That initiative puts forward a Wi-Fi capable board for Arduino projects that permits wireless programming and the ability to interface with Web services. The company originally asked for $10,000 and has since raised more than $300,000. (The campaign ends June 1.)
Read 2 remaining paragraphs | Comments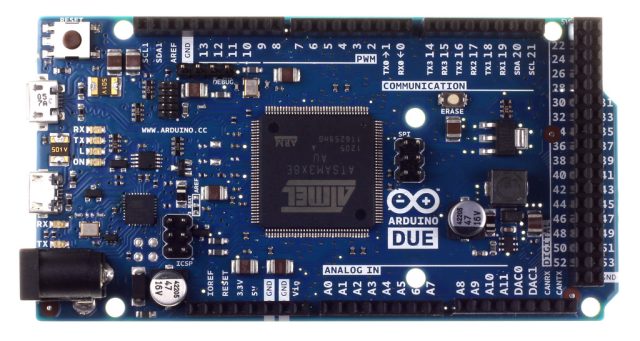 The Arduino Due.
Raspberry Pi has received the lion's share of attention devoted to cheap, single-board computers in the past year. But long before the Pi was a gleam in its creators' eyes, there was the Arduino.
Unveiled in 2005, Arduino boards don't have the CPU horsepower of a Raspberry Pi. They don't run a full PC operating system either. Arduino isn't obsolete, though—in fact, its plethora of connectivity options makes it the better choice for many electronics projects.
While the Pi has 26 GPIO (general purpose input/output) pins that can be programmed to do various tasks, the Arduino DUE (the latest Arduino released in October 2012) has 54 digital I/O pins, 12 analog input pins, and two analog output pins. Among those 54 digital I/O pins, 12 provide pulse-width modulation (PWM) output.
Read 64 remaining paragraphs | Comments
Deane Rimerman, of ReadWriteWeb, put together a top ten list of YouTube's most popular videos introducing the concepts behind the "internet of things" (basically sensors and microcontrollers connected to the internets). Our "Introduction of Arduino" video, from 2007, starring Bre Pettis and Joe Grand, is #2 on the list.
Here's a nice intro to the concept of the internet of things (#3 on their list):
[Thanks, Deane!]
Top 10 YouTube Videos About Internet of Things
More:
You can peruse our massive Arduino archives here
In the Maker Shed:


Make: Arduino
Read the Full Story » | More on MAKE » | Comments » |
Read more articles in Arduino |