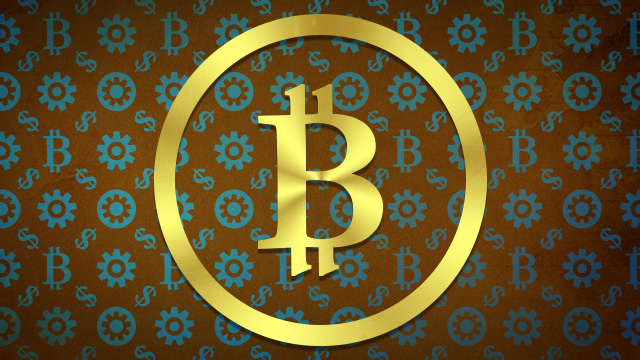 Aurich Lawson
This is the first in a two-part series exploring Butterfly Labs and its lineup of dedicated Bitcoin-mining hardware. In part one, we look at the company and the experiences customers have had with it. In part two, to be published on June 29, we share our experiences running a Bitcoin miner for a couple weeks. Spoiler alert: we made money.
The more I dig into Bitcoin, the stranger it gets. There's gray-market online gambling and Russian-operated futures markets—to say nothing of the virtual currency's wild ride over the last several months. It's full of characters with names like "artforz" and "Tycho," supposedly two of the largest Bitcoin holders out there. Of course, like most things Bitcoin, it's nearly impossible to know for sure.
While reporting on a Bitcoin-based gambling story earlier this year, I interviewed Bryan Micon, who works with a Bitcoin-based poker site called Seals With Clubs. (To continue the lack of information, Micon won't say who owns the site.) Micon has taken it upon himself to investigate what he believes are Bitcoin-related scams—such as the ill-fated Bitcoin Savings and Trust online bank—and he makes public pronouncements about them.
Read 43 remaining paragraphs | Comments
Apparently, I'm a Bitcoin miner now, and it looks like I'm actually pretty good at it. Ars is currently in possession of one of the elusive but very real Butterfly Labs Bitcoin Miners. It's a tiny little black box that fits in the palm of my hand, and it contains a specialized ASIC adept at chewing through SHA-256 cryptographic functions—exactly the kind of calculations necessary to bring more Bitcoins into the world. Turns out, it's very good at what it does: it computes hashes at the rate of about 5.3 billion per second.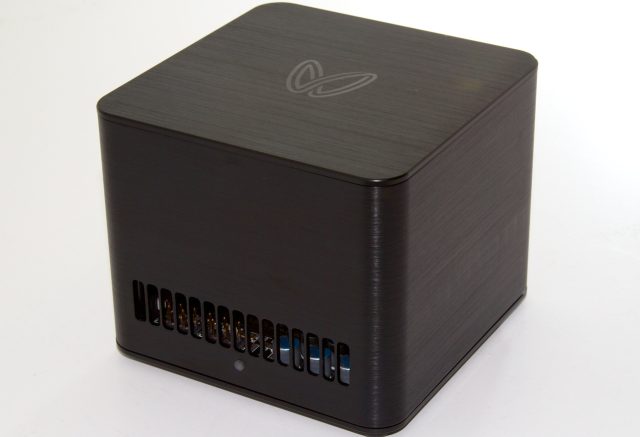 The Butterfly Labs Bitcoin Miner. Lee Hutchinson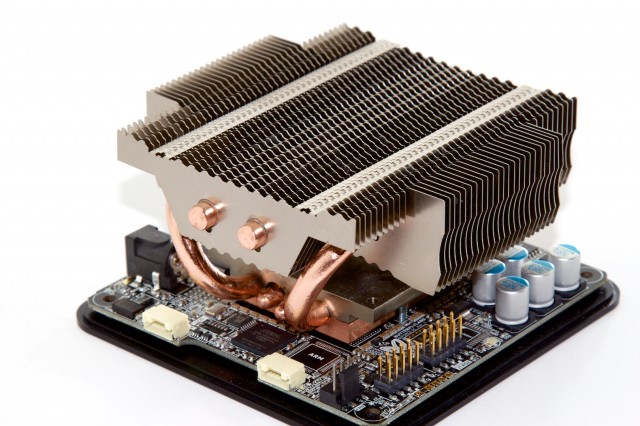 Close-up of the ASIC's heat sink and some of the motherboard components. Lee Hutchinson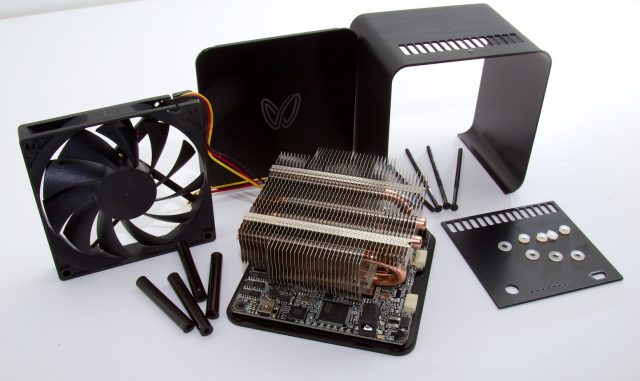 The Miner disassembled. That 80mm fan gets pretty darn loud. Lee Hutchinson
I've got any number of computers around the house here to try the Butterfly Labs box out with, but I took the masochistic route and chose to try it out on OS X. This took quite a bit of back-and-forth with John O'Mara, creator of the popular MacMiner Bitcoin mining application. After several hours of troubleshooting, we eventually arrived at success. Here it is, happily churning away: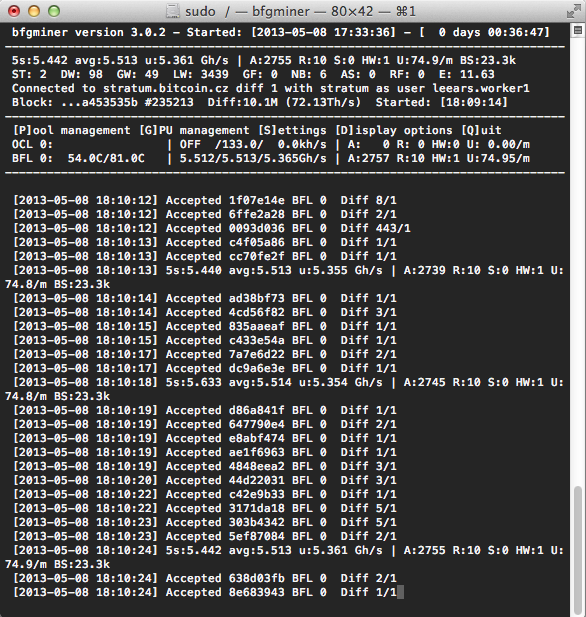 The Butterfly Labs Bitcoin Miner chewing its way through calculations at more than five billion hashes per second. Lee Hutchinson
According to my trusty Kill-A-Watt, the miner is drawing a pretty constant 50 watts at a similarly constant 0.73 amps. Its 80mm fan is whirring at what can only be described as "hair dryer" levels. According to MacMiner, the ASIC is generating a fair amount of heat, too—it's reporting a temperature of more than 80C.
Read 1 remaining paragraphs | Comments