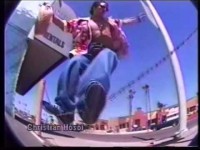 Released in 2001, Collage is the most recent treasure from the Danny Minnick vault. Collage stays true to its title, featuring a boat-load of skaters captured by Minnick over the past several years in plenty of West Coast locations. The terrain varies greatly, with pools, vert, transitions, parks, ditches and street. On skateboards in order of appearance Mike Chin, Rob Welsh, AVE, Fred Gall, Danny Way, Briad Hord, Ryan Stangland, Lavar McBride, Danny Gonzales, Kareem Campbell, Javier Nunez, Eric Pupecki, Steven Cales, Kein Lieu aka Donger, Pat Duffy, Clyde Singleton, John Reeves, Jason Carney, Daewon Song, Pat Washington, Willy Santos, Mike York, Eric Koston, Christian Hosoi & Rune Glifberg.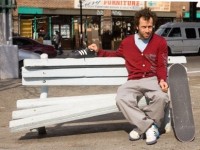 The most influential skater in the history of skateboarding hands down is Mark Gonzales. If you disagree with that then you're wrong. You can pinpoint Mark back to everything, and know that Mark did it first. A, he did it first; and B, he did it like Mark, which is a really psychotic combo. He did it the best. Everything after was not the same. Everything was so all over the place. Look at Mark's feet on his frontside ollies—nobody's got that. It's like his heels are one the board. It's just the fucking greatest thing ever. -Jason Dill
http://skateboarding.transworld.net/1000150173/features/the-30-most-infl...