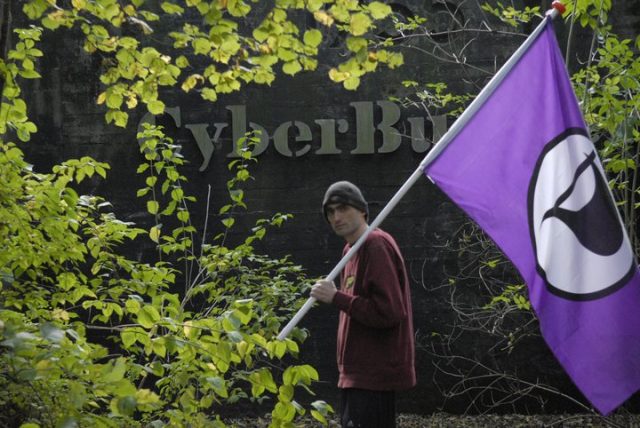 Sven Olaf Kamphuis waving the Pirate Party flag in front of CyberBunker's nuclear bunker.
Over the last ten days, a series of massive denial-of-service attacks has been aimed at Spamhaus, a not-for-profit organization that describes its purpose as "track[ing] the Internet's spam operations and sources, to provide dependable realtime anti-spam protection for Internet networks." These attacks have grown so large—up to 300Gb/s—that the volume of traffic is threatening to bring down core Internet infrastructure.
The New York Times reported recently that the attacks came from a Dutch hosting company called CyberBunker (also known as cb3rob), which owns and operates a real military bunker and which has been targeted in the past by Spamhaus. The spokesman who the NYT interviewed, Sven Olaf Kamphuis, has since posted on his Facebook page that CyberBunker is not orchestrating the attacks. Kamphuis also claimed that NYT was plumping for sensationalism over accuracy.
Sven Olaf Kamphuis is, however, affiliated with the newly organized group "STOPhaus." STOPhaus claims that Spamhaus is "an offshore criminal network of tax circumventing self declared internet terrorists pretending to be 'spam' fighters" that is "attempt[ing] to control the internet through underhanded extortion tactics."
Read 40 remaining paragraphs | Comments
Today, a large collection of Web hosting and service companies announced that they will support Railgun, a compression protocol for dynamic Web content. The list includes the content delivery network and Web security provider CloudFlare, cloud providers Amazon Web Services and Rackspace, and thirty of the world's biggest Web hosting companies.
Railgun is said to make it possible to double the performance of websites served up through Cloudflare's global network of data centers. The technology was largely developed in the open-source Go programming language launched by Google; it could significantly change the economics of hosting high-volume websites on Amazon Web Services and other cloud platforms because of the bandwidth savings it provides. It has already cut the bandwidth used by 4Chan and Imgur by half. "We've seen a ~50% reduction in backend transfer for our HTML pages (transfer between our servers and CloudFlare's)," said 4Chan's Chris Poole in an e-mail exchange with Ars. "And pages definitely load a fair bit snappier when Railgun is enabled, since the roundtrip time for CloudFlare to fetch the page is dramatically reduced. We serve over half a billion pages per month (and billions of API hits), so that all adds up fairly quickly."
Rapid cache updates
Like most CDNs, CloudFlare uses caching of static content at its data centers to help overcome the speed of light. But prepositioning content on a forward server typically hasn't helped performance much for dynamic webpages and Web traffic such as AJAX requests and mobile app API calls, which have relatively little in the way of what's considered static content. That has created a problem for Internet services because of the rise in traffic for mobile devices and dynamic websites.
Read 13 remaining paragraphs | Comments