Think mobile devices are low-power? A study by the Center for Energy-Efficient Telecommunications—a joint effort between AT&T's Bell Labs and the University of Melbourne in Australia—finds that wireless networking infrastructure worldwide accounts for 10 times more power consumption than data centers worldwide. In total, it is responsible for 90 percent of the power usage by cloud infrastructure. And that consumption is growing fast.
The study was in part a rebuttal to a Greenpeace report that focused on the power consumption of data centers. "The energy consumption of wireless access dominates data center consumption by a significant margin," the authors of the CEET study wrote. One of the findings of the CEET researchers was that wired networks and data-center based applications could actually reduce overall computing energy consumption by allowing for less powerful client devices.
According to the CEET study, by 2015, wireless "cloud" infrastructure will consume as much as 43 terawatt-hours of electricity worldwide while generating 30 megatons of carbon dioxide. That's the equivalent of 4.9 million automobiles worth of carbon emissions. This projected power consumption is a 460 percent increase from the 9.2 TWh consumed by wireless infrastructure in 2012.
Read 1 remaining paragraphs | Comments
Here's a name I haven't heard in a while: Anso Labs.
This was the cloud computing startup that originated at NASA, where the original ideas for OpenStack, the open source cloud computing platform, was born. Anso Labs was acquired by Rackspace a little more than two years ago.
It was a small team. But now a lot of the people who ran Anso Labs are back with a new outfit, still devoted to cloud computing, and still devoted to OpenStack. It's called Nebula. And it builds a turnkey computer that will turn an ordinary rack of servers into a cloud-ready system, running — you guessed it — OpenStack.
Based in Mountain View, Calif., Nebula claims to have an answer for any company that has ever wanted to build its own private cloud system and not rely on outside vendors like Amazon or Hewlett-Packard or Rackspace to run it for them.
It's called the Nebula One. And the setup is pretty simple, said Nebula CEO and founder Chris Kemp said: Plug the servers into the Nebula One, then you "turn it on and it boots up cloud." All of the provisioning and management that a service provider would normally charge you for has been created on a hardware device. There are no services to buy, no consultants to pay to set it up. "Turn on the power switch, and an hour later you have a petascale cloud running on your premise," Kemp told me.
The Nebula One sits at the top of a rack of servers; on its back are 48 Ethernet ports. It runs an operating system called Cosmos that grabs all the memory and storage and CPU capacity from every server in the rack and makes them part of the cloud. It doesn't matter who made them — Dell, Hewlett-Packard or IBM.
Kemp named two customers: Genentech and Xerox's research lab, PARC. There are more customer names coming, he says, and it already boasts investments from Kleiner Perkins, Highland Capital and Comcast Ventures. Nebula is also the only startup company that is a platinum member of the OpenStack Foundation. Others include IBM, HP, Rackspace, RedHat and AT&T.
If OpenStack becomes as easy to deploy as Kemp says it can be, a lot of companies — those that can afford to have their own data centers, anyway — are going to have their own clouds. And that is sort of the point.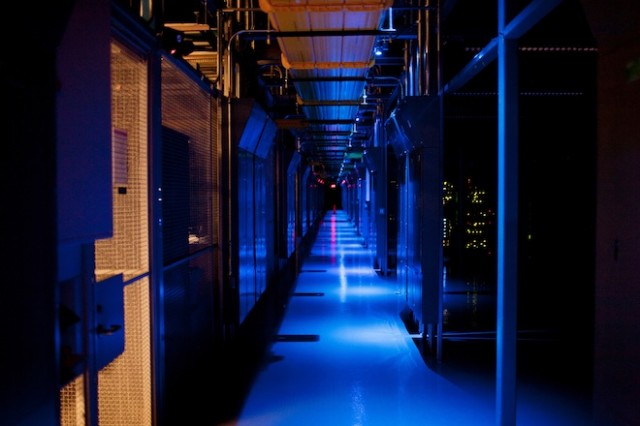 The inside of Equinix's co-location facility in San Jose—the home of CloudFlare's primary data center.
Photo: Peter McCollough/Wired.com
On August 22, CloudFlare, a content delivery network, turned on a brand new data center in Seoul, Korea—the last of ten new facilities started across four continents in a span of thirty days. The Seoul data center brought CloudFlare's number of data centers up to 23, nearly doubling the company's global reach—a significant feat in itself for a company of just 32 employees.
But there was something else relatively significant about the Seoul data center and the other 9 facilities set up this summer: despite the fact that the company owned every router and every server in their racks, and each had been configured with great care to handle the demands of CloudFlare's CDN and security services, no one from CloudFlare had ever set foot in them. All that came from CloudFlare directly was a six-page manual instructing facility managers and local suppliers on how to rack and plug in the boxes shipped to them.
"We have nobody stationed in Stockholm or Seoul or Sydney, or a lot of the places that we put these new data centers," CloudFlare CEO Matthew Prince told Ars. "In fact, no CloudFlare employees have stepped foot in half of the facilities where we've launched." The totally remote-controlled data center approach used by the company is one of the reasons that CloudFlare can afford to provide its services for free to most of its customers—and still make a 75 percent profit margin.
Read 24 remaining paragraphs | Comments