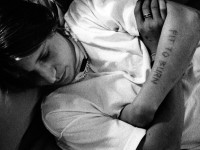 In the mid 90's Ed Templeton started documenting life around him. As a professional skateboarder Ed has been able to travel the world on skate tours, giving him the opportunity to photograph his vision of contemporary culture and life around him. Ed's camera mainly points towards the people he encounters in his everyday life, seeking for truthful moments to capture.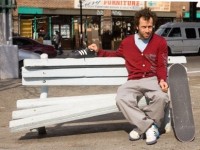 The most influential skater in the history of skateboarding hands down is Mark Gonzales. If you disagree with that then you're wrong. You can pinpoint Mark back to everything, and know that Mark did it first. A, he did it first; and B, he did it like Mark, which is a really psychotic combo. He did it the best. Everything after was not the same. Everything was so all over the place. Look at Mark's feet on his frontside ollies—nobody's got that. It's like his heels are one the board. It's just the fucking greatest thing ever. -Jason Dill
http://skateboarding.transworld.net/1000150173/features/the-30-most-infl...
Name- V.D. (Vincent Delbrouck)
Age- 35
Where are you from?- I am from Brussels (Belgium), but I don't feel rooted here. Maybe I lived somewhere else in a previous life...a tropical place. There, this is my home and my light. I have been living one year in Nepal from 2009-2010. Now, I am back in the old and grey Europe (living in the countryside), but I hope not for long.
Your equipment- I used to work with a Rollei Afm 35 point and shoot film camera and a Polaroid (and sketchbooks, permanent markers, painting, tape,...) and I changed for a Leica Minilux 35mm (and small notebooks). I love film.
Influences and photographers you like- Film directors : Krzysztof Kieślowski, Pedro Almodovar, Michelangelo Antonioni, Kim Ki-duk, Anh Hung Tran,... Writers (I love especially short stories) : Raymond Carver, Charles Bukowski, Pedro Juan Gutiérrez, Reinaldo Arenas, Ernest Hemingway, John Fante, Fernando Pessoa, Wendy Guerra, Marguerite Duras, Aimé Césaire, Duong Thu Huong, Junot Diaz... Photographers : (I started with Raymond Depardon, and other Magnum photographers), William Eggleston, Malick Sidibe, Robert Frank (from Mabou period), Wolfgang Tillmans, Juergen Teller, Mark Borthwick, Bertien Van Manen, JH Engström, Arno Nollen, Ed Templeton, G.P. Fieret, Takashi Homma, Araki, Masao Yamamoto, Paul Graham, Boris Mikhailov,...(and other friends photographers) Painters : Peter Doig, Luc Tuymans, Andō Hiroshige,... Jonathan Meese. Wise men : Ajahn Chah, Krishnamurti, Chögyam Trungpa,... Places : Centro Habana, Kathmandu, Lower Mustang, Gokarna, Veracruz,...
Some of the photographers I love today : Juan Carlos Alom, Viviane Sassen, Seba Kurtis, Chris Shaw, André Cépéda,...
A little about you- I am currently working on a new book about experience in Nepal and I am also studying and practicing shiatsu.
vincentdelbrouck.be 


























ALL PHOTOS BY VINCENT DELBROUCK