If you haven't heard of AnchorFree, then there's a pretty good chance you're just not the type of person who worries about using open Wi-Fi hotspots and the security implications that tend to arise from that.
Today, AnchorFree announced that Goldman Sachs has made a $52 million Series C investment. Prior investors include RENN Capital. The investment brings its total capital raised to $63 million.
AnchorFree makes Hotspot Shield, a simple VPN tool that's in use by some 60 million people around the world. It's the creation of David Gorodyansky and Eugene Malobrodsky, who started the company in 2005 just after finishing college.
During the Tahrir Square uprising in Egypt, the company recorded more than a million downloads of the product in a single night. It's now in use in 190 countries. The point of the capital raise is simple: Push the number of users higher still. There are, after all, some 1.6 billion people using the Internet.
These days there are plenty of other "income generators" on the internet, but porn and "adult services" still generate a boatload of cash.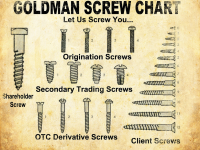 Today is my last day at Goldman Sachs. After almost 12 years at the firm — first as a summer intern while at Stanford, then in New York for 10 years, and now in London — I believe I have worked here long enough to understand the trajectory of its culture, its people and its identity. And I can honestly say that the environment now is as toxic and destructive as I have ever seen it.
http://www.nytimes.com/2012/03/14/opinion/why-i-am-leaving-goldman-sachs...