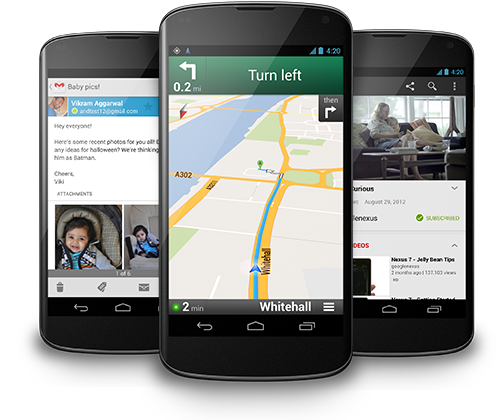 Google reached out to LG for the first time in making a partnership Android device last fall; is it trying to keep its distance from Samsung?
Google
Google is getting concerned about Samsung's dominance in the Android handset scene, according to a report Monday from the Wall Street Journal. Google is allegedly meeting with other companies to work together and help them become more competitive against the runaway Samsung. Samsung currently owns Android phone sales in nearly every important metric, including unit shipments and profitability.
The WSJ noted that Google's senior VP of mobile and digital content, Andy Rubin, stated last fall that Google and Samsung's union had obviously been fruitful, but the company could become a concern if it gained much more footing in sales. Google's specific concern, according to the WSJ, is that Samsung "has become so big… that it could flex its muscle to renegotiate their arrangement and eat into Google's lucrative mobile ad business."
A renegotiation could also afford Samsung perks like earlier access to new versions of Android. It could give Samsung more weight to throw around in creating partnership devices with Google, such that it doesn't feel the need to compromise and then later one-up itself, as happened with the Galaxy Nexus and then Galaxy S III.
Read 3 remaining paragraphs | Comments
Not everyone wants to run their applications on the public cloud. Their reasons can vary widely. Some companies don't want the crown jewels of their intellectual property leaving the confines of their own premises. Some just like having things run on a server they can see and touch.
But there's no denying the attraction of services like Amazon Web Services or Joyent or Rackspace, where you can spin up and configure a new virtual machine within minutes of figuring out that you need it. So, many companies seek to approximate the experience they would get from a public cloud provider on their own internal infrastructure.
It turns out that a start-up I had never heard of before this week is the most widely deployed platform for running these "private clouds," and it's not a bad business. Eucalyptus Systems essentially enables the same functionality on your own servers that you would expect from a cloud provider.
Eucalyptus said today that it has raised a $30 million Series C round of venture capital funding led by Institutional Venture Partners. Steve Harrick, general partner at IVP, will join the Eucalyptus board. Existing investors, including Benchmark Capital, BV Capital and New Enterprise Associates, are also in on the round. The funding brings Eucalyptus' total capital raised to north of $50 million.
The company has an impressive roster of customers: Sony, Intercontinental Hotels, Raytheon, and the athletic-apparel group Puma. There are also several government customers, including the U.S. Food and Drug Administration, NASA, the U.S. Department of Agriculture and the Department of Defense.
In March, Eucalyptus signed a deal with Amazon to allow customers of both to migrate their workloads between the private and public environments. The point here is to give companies the flexibility they need to run their computing workloads in a mixed environment, or move them back and forth as needed. They could also operate them in tandem.
Key to this is a provision of the deal with Amazon that gives Eucalyptus access to Amazon's APIs. What that means is that you can run processes on your own servers that are fully compatible with Amazon's Simple Storage Service (S3), or its Elastic Compute cloud, known as EC2. "We've removed all the hurdles that might have been in the way of moving workloads," Eucalyptus CEO Marten Mickos told me. The company has similar deals in place with Wipro Infotech in India and CETC32 in China.