Oh, my goodness this video is sweet. Uploader "jefcharles" explains,
After being sent home from work the first thing I did on getting home was to check outside the back door to see if there were any cat paw prints. There weren't, so I thought I'd introduce Fletcher to the snow and film the results..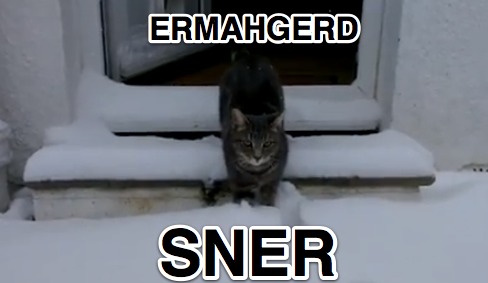 (thanks, Joe Sabia!)
[Video Link]. Yes, this remix video is months old, but you probably missed it—and it's not like stuff this weird ever grows old. The song is here. (Thanks, Tara McGinley!)
U xpect adorabulness. U gets it. But kittehs also gives u edukashun n' sientific nuance.
That's all the LOLcat speak I can muster in one go. Seriously, watch this video from Big Cat Rescue. It's fascinating. And, you should know, at the end, they link you to a slightly less educational feature about ocelots and lynx chasing laser pointers. Just sayin'.
Thanks, Andrew Balfour!