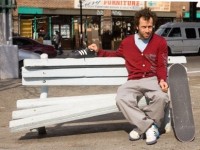 The most influential skater in the history of skateboarding hands down is Mark Gonzales. If you disagree with that then you're wrong. You can pinpoint Mark back to everything, and know that Mark did it first. A, he did it first; and B, he did it like Mark, which is a really psychotic combo. He did it the best. Everything after was not the same. Everything was so all over the place. Look at Mark's feet on his frontside ollies—nobody's got that. It's like his heels are one the board. It's just the fucking greatest thing ever. -Jason Dill
http://skateboarding.transworld.net/1000150173/features/the-30-most-infl...
Can you make a 22 minute commercial? Well yeah, if you are Nike and you have athletes like Paul Rodriguez, Julian Wilson and Danny Kass to support your brand. Nike 'just does it'.