In its first year, TIME's photography blog, LightBox, has published well over 500 posts—an average of ten a week. We hope that the strength of LightBox has not only been evident in the quality of the work but also in the variety of photography showcased.
The site's intent was established from the first post, a multimedia piece about Eugene Richards' eloquent and moving War is Personal. Original essays by TIME's contract photographers, most notably James Nachtwey in Japan and Yuri Kozyrev in Libya, set the bar for LightBox in its first weeks—and for photojournalism in general—in an unprecedented year of extraordinary consequence.
Alongside the work of art world luminaries including Rineke Dijkstra and Cindy Sherman was an essay on poverty by Joakim Eskildsen, which continued the tradition of publishing original work, commissioned for TIME, on the site. The eclectic mix of photography published on LightBox has ranged from rediscovered buried treasures (like the work of Joseph Szabo and Stephane Sednaoui) to stories supporting the work of young photographers, through pieces on the Magnum Foundation Emergency Fund and profiles of photographers like Justin Maxon and Krisanne Johnson, as well the Next Generation photo contest. Alongside the work of professionals both young and old, there was work by amateur practitioners—an astronaut photographer, an accountant photographer of the homeless and the wonderful photographic memories of 1960s pre-Gaddafi Libya by Jehad Nga's father. There have been the crowd-pleasing, unpublished photos of Johnny Cash and creative galleries edited from the wires, including Two Takes and Surprising Photos. And, of course, there was the daunting undertaking of 365: A Year in Photographs.
In the gallery above, some of TIME's photo editors reflect on a year of tremendous images and recommend posts that are worth a second look. We'll also be highlighting selections from more of the staff behind LightBox throughout the day on our Tumblr blog. We welcome suggestions from our readers as well, either in the comments below or on Twitter.
From all of us at LightBox, thanks for being a part of our beginning—and here's to another year of great photography!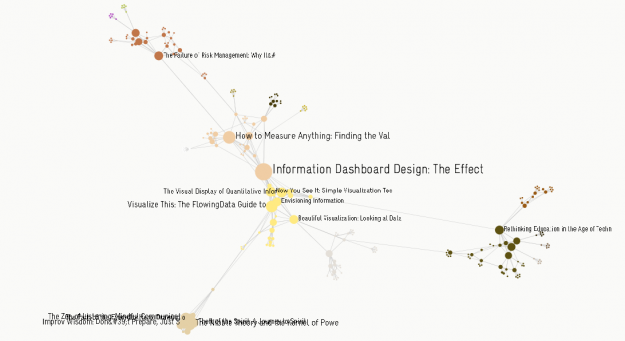 Whenever you look at an item on Amazon, the site recommends related items that you might be interested in. So in a way, these items are connected by how people buy. Artist and designer Christopher Warnow uses the metaphor to create a network of Amazon products, where each node represents an item, and connections, or edges, represent common bonds of recommendations. Simply enter an Amazon link, and Warnow's software generates a network.
For example, the image above is the network for Edward Tufte's Visual Display of Quantitative Information, although Stephen Few's Information Dashboard Design seems to have more connections for some reason. My quick guess is that book's that are less niche have more connections, because when I entered Visualize This, the network was pretty small. Although I would've thought that Tufte's book would have a larger network than Few's.
In any case, the application and Processing code is free to play with. Warnow uses Gephi for network connections and grouping. Or if you don't feel like downloading a 60mb file, you can just watch it in action in the video below.
You might also be interested in Yasiv. It's a web app with a similar idea, but not quite as slick of an implementation.