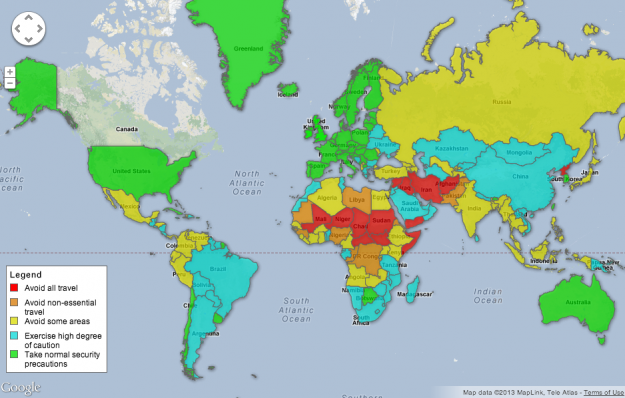 As summer rolls around here on this side of the planet, CBC News mapped countries to avoid in your travel plans, based on foreign travel advisories from the Canada Department of Foreign Affairs and International Trade.
Naturally, Canada isn't colored on the map because the map was made for Canadians, but I think it's safe to assume that they'd be colored green too and most, if not all, of the advisories apply to those of us here in the United States. [Thanks, John]
A year after the deaths of Tim Hetherington and Chris Hondros, a new program aims to teach freelancers how to save lives. Sebastian Junger, who started the program to honor Mr. Hetherington, his friend, hopes to make it an industry standard.
Perhaps you're saving a child from a burning building, or perhaps you're up to more nefarious schemes—but one way or another, you have to break down a door. Weblog The Art of Manliness shows us how to do it effectively and safely. More »