Clint Eastwood and Warner Bros. decided to skip this fall's festival circuit with the biopic J. Edgar. While a good many of the other major fall studio releases have been seen and reviewed in the past three weeks via Telluride, Venice and TIFF, we've seen nothing from this biography of America's most powerful lawman, the first director of the Federal Bureau of Investigation, J. Edgar Hoover.
Now the shroud is off the film as Warner Bros. released the first trailer for Clint Eastwood's latest directorial effort, in which Leonardo DiCaprio plays the FBI chief and Armie Hammer (The Social Network) appears as his second-in-command and rumored love, Clyde Tolson. See the trailer below.
The trailer opens with an in-character narration by DiCaprio as Hoover, before going into a montage of Hoover's young life and early days with the Bureau. Clyde Tolson is shown as a starry-eyed fan of Hoover, but their relationship isn't so one-sided, as suggested by a later shot. We see Hoover's obsession with information and the power it gives him over political figures. In all: looks like more or less the biopic one would expect.
And, just in case you thought Clint Eastwood might change up the measured, calm style he has practiced in the past, forget it: this is pure, deliberate Eastwood. In this case, that's probably a good thing. Too early to judge the overall impact of the film based on just this bit of footage, but the period recreation appears to be spot-on without feeling put on.
Apple has the HD trailer.
After Frank Miller wrote the end of Batman's story in The Dark Knight Returns, he and the brilliant comic artist David Mazzucchelli took to the pages of Batman's regular comic series to remap the character's origin in Year One. Those issues (Batman #404-407 in 1987) became one of the landmark Batman stories. For almost twenty-five years Year One has had a lasting effect on major Batman storylines, even instigating  the scuttled Darren Aronofsky Batman film a decade ago, and eventually providing a good deal of inspiration to Christopher Nolan's subsequent film Batman Begins.
Warner Premiere is continuing its series of animated DC Comics films with a direct to DVD animated take on Batman: Year One, starring Ben McKenzie as Batman, Bryan Cranston as Lt. James Gordon, Eliza Dushku as Selina Kyle/Catwoman, and Katee Sackhoff as Detective Sarah Essen. We've already seen some art, and for a moment there was a ten-minute making of featurette that has since been taken offline. Now there is a trailer, which you can see after the break.
I love the fidelity to David Mazzucchelli's art, and most of the voice work is great. (It's a bit weird getting used to a new Batman voice every once in a while for these direct to DVD movies, but that's life. Kevin Conroy's voice acting is just too deeply embedded as my ideal animated Batman.) While I love the art direction, I don't love the relatively low-quality animation, but that's life, too. Better animation would put these adaptations out of the range of feasibility, and I'm willing to live with what we see here.
Still, this generally looks like a very good adaptation of the story. I've found some of the direct to DVD animated DC movies to be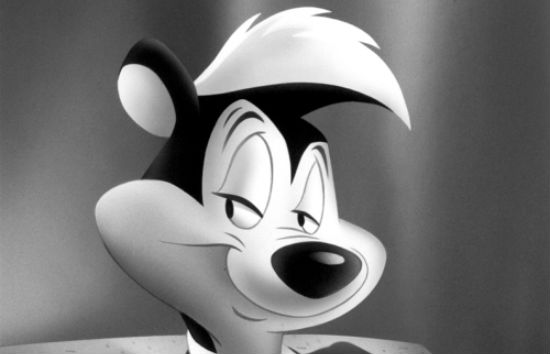 He's French, he's in love and he stinks. Of course, we're talking about Pepé Le Pew, the famously accented Looney Tunes skunk who strolls around Paris looking for beautiful women. Well, it seems that everyone's favorite lovelorn skunk is going to be coming to the big screen and that he'll be voiced not by the late Mel Blanc, but instead by none other than the current man of a thousand voices, Mike Myers. Warner Brothers is developing a film based on Pepé where he and the girl of his dreams, Penelope Pussycat, would be CG characters and everyone else would be real. Hit the jump for more on this turn of events and to see a video of what Pepé Le Pew means in today's popular culture.
Vulture broke the story of Myers' involvement in this project and said that "the decision to reinvigorate the Looney Tunes cast of characters — which includes fading American icons like Bugs Bunny, Daffy Duck, and Porky Pig — is a high priority for Warner Brothers…." Does that mean we're going to get big screen films starring all of the Looney Tunes? Anything is possible, they are shooting a movie based on Battleship after all. Warner Brothers is losing the Harry Potter franchise next year and while they have more Batman and Superman films on the horizon, they've been looking at all their properties to find sustainable franchises to fill Potter's billion dollar hole.. That's why we're getting Green Lantern next year and why other DC characters could be coming in a few years.
The last time the Looney Tunes were on the big screen was Looney Tunes: Back in Action which tanked, making about $20 million domestically against an $80 million budget, according to Box Office Mojo. Part of the reason could be because today's kids simply don't know the Looney Tunes. According to the Vulture article, there's E-Poll Market Research data which says while 68% of audiences over 13 know who Mike Myers is, only 66% of those people know Bugs Bunny and 56% know Daffy Duck. And those are people OVER 13, who probably aren't even the audience for a Pepé Le Pew movie.
Personally, when I think of Pepé Le Pew, I think of the below clip from the Dave Chappelle comedy special Killing Me Softly. It's NSFW but hilarious. After you watch, let me know - do you think this movie is a good idea? Are you surprised a Pepé Le Pew movie is coming before a Bugs Bunny movie?