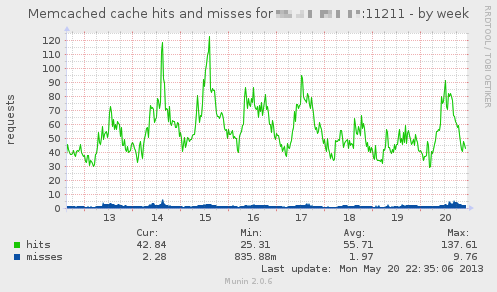 One of Ars Technica's many memcached server graphs. Look at all those misses!
This week, memcached, a piece of software that prevents much of the Internet from melting down, turns 10 years old. Despite its age, memcached is still the go-to solution for many programmers and sysadmins managing heavy workloads. Without memcached, Ars Technica would likely be unable to serve this article to you at all.
Brad Fitzpatrick wrote memcached for LiveJournal way back in 2003 (check out the initial CVS commit here). While waiting for new hardware to help save the site from being overloaded, Fitzpatrick realized that he had plenty of unused RAM spread across LiveJournal's existing servers. He wrote memcached to take advantage of this spare memory and lighten the load on the site.
memcached is a distributed in-memory key-value store that uses a very simple protocol for storing and retrieving arbitrary data from memory instead of from a filesystem. To store a value, a program connects to the memcached server on the default port of 11211 and issues a series of basic commands. (Note: a binary protocol is also supported.)
Read 4 remaining paragraphs | Comments
Today, a large collection of Web hosting and service companies announced that they will support Railgun, a compression protocol for dynamic Web content. The list includes the content delivery network and Web security provider CloudFlare, cloud providers Amazon Web Services and Rackspace, and thirty of the world's biggest Web hosting companies.
Railgun is said to make it possible to double the performance of websites served up through Cloudflare's global network of data centers. The technology was largely developed in the open-source Go programming language launched by Google; it could significantly change the economics of hosting high-volume websites on Amazon Web Services and other cloud platforms because of the bandwidth savings it provides. It has already cut the bandwidth used by 4Chan and Imgur by half. "We've seen a ~50% reduction in backend transfer for our HTML pages (transfer between our servers and CloudFlare's)," said 4Chan's Chris Poole in an e-mail exchange with Ars. "And pages definitely load a fair bit snappier when Railgun is enabled, since the roundtrip time for CloudFlare to fetch the page is dramatically reduced. We serve over half a billion pages per month (and billions of API hits), so that all adds up fairly quickly."
Rapid cache updates
Like most CDNs, CloudFlare uses caching of static content at its data centers to help overcome the speed of light. But prepositioning content on a forward server typically hasn't helped performance much for dynamic webpages and Web traffic such as AJAX requests and mobile app API calls, which have relatively little in the way of what's considered static content. That has created a problem for Internet services because of the rise in traffic for mobile devices and dynamic websites.
Read 13 remaining paragraphs | Comments