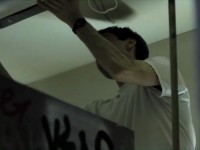 OUTSIDE IN is a celebratory and historical look at street art through the lens of the Museum of Contemporary Art's groundbreaking exhibition Art in the Streets. The film features renowned artists Shepard Fairey, Lee Quiñones, Swoon, Futura, Mister Cartoon, Revok, Martha Cooper, Invader to name a few. Director Alex Stapleton (Corman's World: Exploits of a Hollywood Rebel) documents the artist's creative process, their pitfalls with the law, the poetic impermanence of their craft and the artists' evolution from the back seat of a cop car to the walls of a well-respected institution.
David from Torontoist sez,
Torontoist has been doing our best to cover the crap out of the G20 -- our writers, photographers, and readers have all been filing live updates for us, and we've been distilling and collecting the most important pieces of information as best we can, all weekend.
Here, for one thing, is our exclusive video from the ground of that cop charge into a crowd that'd just finished singing "O Canada" on Sunday.
We also have video from the moment that a cop car was torched on Saturday.
Photo timelines of each of the two bigger days:
And our live coverage is all collected here: