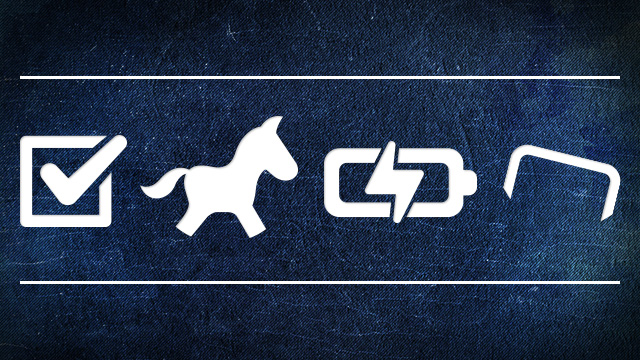 Thanks to the XKCD comic, every password cracking word list in the world probably has correcthorsebatterystaple in it already.
Aurich Lawson
In March, readers followed along as Nate Anderson, Ars deputy editor and a self-admitted newbie to password cracking, downloaded a list of more than 16,000 cryptographically hashed passcodes. Within a few hours, he deciphered almost half of them. The moral of the story: if a reporter with zero training in the ancient art of password cracking can achieve such results, imagine what more seasoned attackers can do.
Imagine no more. We asked three cracking experts to attack the same list Anderson targeted and recount the results in all their color and technical detail Iron Chef style. The results, to say the least, were eye opening because they show how quickly even long passwords with letters, numbers, and symbols can be discovered.
The list contained 16,449 passwords converted into hashes using the MD5 cryptographic hash function. Security-conscious websites never store passwords in plaintext. Instead, they work only with these so-called one-way hashes, which are incapable of being mathematically converted back into the letters, numbers, and symbols originally chosen by the user. In the event of a security breach that exposes the password data, an attacker still must painstakingly guess the plaintext for each hash—for instance, they must guess that "5f4dcc3b5aa765d61d8327deb882cf99" and "7c6a180b36896a0a8c02787eeafb0e4c" are the MD5 hashes for "password" and "password1" respectively. (For more details on password hashing, see the earlier Ars feature "Why passwords have never been weaker—and crackers have never been stronger.")
Read 52 remaining paragraphs | Comments
Raspberry Pi, the $35 Linux computer that's just a tad bigger than a business card, has been phenomenally well-accepted in its first year on the planet.
First released in February, 2012, it's makers say they will soon sell their one millionth unit.
Thanks to its low cost (there's also a $25 version), the tiny computer has become very popular with hobbyists, or "makers," who prefer to create their own gadgets. It's even got its own app store.
It turns out, you can do a lot with a very basic PC. Each Pi includes an ARM-based CPU; a graphics processor; and a few ports and pins to connect it to other electronics.
Phone-activated coffee machine
German developer Sascha Wolter got together with a few friends and hacked a Nespresso coffee machine by connecting it to a Raspberry Pi.
They set it up so they could call the coffee maker on the phone and order it to start brewing. 
Wearable computer glasses
These may not look as cool as the wearable computers that Google is whipping up, but they did win developer Jarred Glickstein first prize in the the Instructables Raspberry Pi contest last month.
The total project cost him $382, including a wireless keyboard and mouse. His glasses are the monitor. Together, it's a fully functional PC.
Old-fashioned coin-operated arcade game
A lot of people use Pi to run old-fashioned arcade games. But Darren J and his buddies took it one step further and built a whole coin-operated video-arcade cabinet, complete with buttons and joysticks. It wasn't easy.
Here's a picture of the arcade cabinet running the vintage game "Track And Field."
A commercially available Pi arcade cabinet is in the works thanks to this Kickstarter project.
See the rest of the story at Business Insider
Please follow SAI: Tools on Twitter and Facebook.