The intro for yesterday's video interview with Don Marti started out by saying, "Don Marti," says Wikipedia, "is a writer and advocate for free and open source software, writing for LinuxWorld and Linux Today." As we noted, Don has moved on since that description was written. In today's interview he starts by talking about some things venture capitalist Mary Meeker of Kleiner Perkins has said, notably that people only spend 6% of their media-intake time with print, but advertisers spend 23% of their budgets on print ads. To find out why this is, you might want to read a piece Don wrote titled Targeted Advertising Considered Harmful. Or you can just watch today's video -- and if you didn't catch Part One of our video conversation yesterday, you might want to check it out before watching Part 2.
Hide/Show Transcript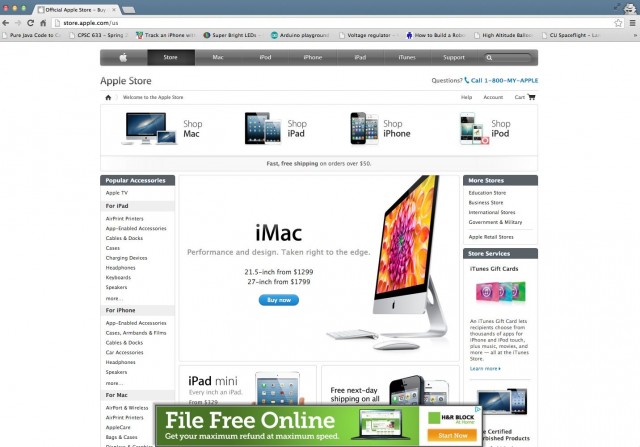 The ghost of Steve Jobs will not be pleased to see this.
Zack Henkel
Robert Silvie returned to his parents' home for a Mardi Gras visit this year and immediately noticed something strange: common websites like those belonging to Apple, Walmart, Target, Bing, and eBay were displaying unusual ads. Silvie knew that Bing, for instance, didn't run commodity banner ads along the bottom of its pristine home page—and yet, there they were. Somewhere between Silvie's computer and the Bing servers, something was injecting ads into the data passing through the tubes. Were his parents suffering from some kind of ad-serving malware infection? And if so, what else might the malware be watching—or stealing?
Around the same time, computer science PhD student Zack Henkel also returned to his parents' home for a spring break visit. After several hours of traveling, Henkel settled in with his computer to look up the specs for a Mac mini before bedtime. And then he saw the ads. On his personal blog, Henkel described the moment:
But as Apple.com rendered in my browser, I realized I was in for a long night. What I saw was something that would make both designers and computer programmers wince with great displeasure. At the bottom of the carefully designed white and grey webpage, appeared a bright neon green banner advertisement proclaiming: "File For Free Online, H&R Block." I quickly deduced that either Apple had entered in to the worst cross-promotional deal ever, or my computer was infected with some type of malware. Unfortunately, I would soon discover there was a third possibility, something much worse.
The ads unnerved both Silvie and Henkel, though neither set of parents had really noticed the issue. Silvie's parents "mostly use Facebook and their employers' e-mail," Silvie told me, and both those services use encrypted HTTPS connections—which are much harder to interfere with in transit. His parents probably saw no ads, therefore, and Silvie didn't bring it up because "I didn't want [them] to worry about it or ask me a lot of questions."
Read 30 remaining paragraphs | Comments