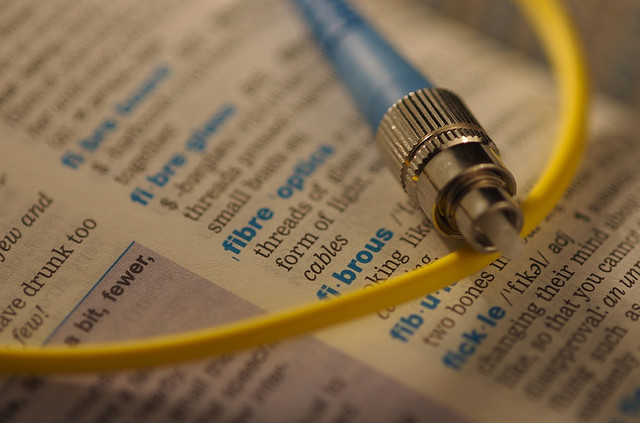 In the past few years, there have been a regular series of announcements about devices that cloak something in space. These typically bend light around the cloak so that it comes out behind the object looking as if it had never shifted at all. In contrast, there's just been a single description of a temporal cloaking device, something that hides an event in time. The device works because in some media different frequencies of light move at different speeds. With the right combination of frequency shifts, it's possible to create and then re-seal a break in a light beam.
But that particular cloak could only create breaks in the light beam that lasted picoseconds. Basically, you couldn't hide all that much using it. Now, researchers have taken the same general approach and used it to hide signals in a beam of light sent through an optical fiber. When the cloak is in operation, the signals largely disappear. In this case the cloak can hide nearly half of the total bandwidth of the light, resulting in a hidden transmission rate of 12.7 Gigabits per second.
The work started with the Talbot effect in mind, in which a diffraction grating causes repeated images of the grating to appear at set distances away from it. The cloaking device relies on the converse of this. At other distances, the light intensity drops to zero. The key trick is to convert the Talbot effect from something that happens in space to something that happens in time.
Read 6 remaining paragraphs | Comments
It's hard to remember life before we were bombarded with notifications throughout the day on all manner of devices, for everything from Twitter replies to earthquake alerts in Japan. With very few exceptions, though, these all have one limiting factor in common: you're relying on someone else's software to interpret data and relay it to you. What if you could program your own notifications from objects or conditions in your physical environment, set to tell you anything you want to know, when you need to know it?
That's the proposition offered by Supermechanical's Twine, a small turquoise box crammed with sensors. Launched on Kickstarter last year, it takes standard accelerometers, thermometers, and other sensors, and fits them into...