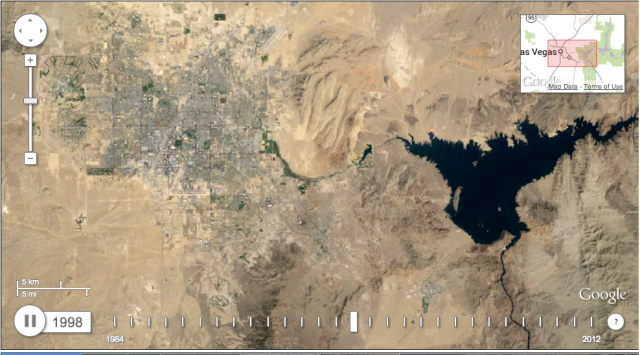 A frame of Timelapse's view of the growth of Las Vegas, Nevada.
This story has been updated with additional information and corrections provided by Google after the interview.
In May, Google unveiled Earth Engine, a set of technologies and services that combine Google's existing global mapping capabilities with decades of historical satellite data from both NASA and the US Geological Survey (USGS). One of the first products emerging from Earth Engine is Timelapse—a Web-based view of changes on the Earth's surface over the past three decades, published in collaboration with Time magazine.
The "Global Timelapse" images are also viewable through the Earth Engine site, which allows you to pan and zoom to any location on the planet and watch 30 years of change, thanks to 66 million streaming video tiles. The result is "an incontrovertible description of what's happened on our planet due to urban growth, climate change, et cetera," said Google Vice President of Research and Special Initiatives Alfred Spector.
Read 19 remaining paragraphs | Comments

TEDxKatuah - Ned Gardiner - Communication Through Visualization

Ned Gardiner is the Visualization Manager for NOAA's (the National Oceanic and Atmospheric Administration) Climate Program Office and a producer of www.climate.gov, a flagship web site providing cutting-edge, accurate climate information. For a decade, he has used scientific visualization to help make complex scientific information understandable. Recently, he has focused on helping decision-makers around the country use climate data products make well-informed decisions about climate, climate change, and interactions with living systems. Earlier in his career, Ned advanced the use of satellite data and digital maps to produce biodiversity and Earth science video programming for museums around the world.
From:
TEDxTalks
Views:
175


4
ratings
Time:
13:03
More in
Science & Technology