There's no single culprit responsible for deforestation: around the world, forest cover is lost because of fires, disease, logging, clear-cutting, and myriad other factors. And the environmental consequences threaten to be severe, especially given that deforestation causes an estimated 15 percent of global greenhouse gas emissions.
And before experts can effectively mitigate the problem, they need to know where it's happening — and to what extent. Now, a collaborative effort led by the University of Maryland (and including both Google and NASA) has created the first-ever high-resolution map that tracks forest gains and losses over time. Described this week in the journal Science, the map's creation depended on more than a decade of satellite imagery provided by Landsat — a satellite program operated by the US Geological Survey to capture and store images of Earth — combined with the processing prowess of Google Earth Engine.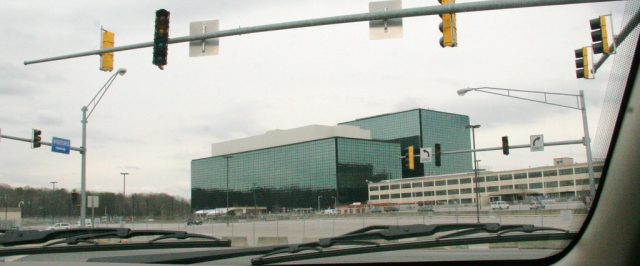 NSA Headquarters in Fort Meade, MD.
One organization's data centers hold the contents of much of the visible Internet—and much of it that isn't visible just by clicking your way around. It has satellite imagery of much of the world and ground-level photography of homes and businesses and government installations tied into a geospatial database that is cross-indexed to petabytes of information about individuals and organizations. And its analytics systems process the Web search requests, e-mail messages, and other electronic activities of hundreds of millions of people.
No one at this organization actually "knows" everything about what individuals are doing on the Web, though there is certainly the potential for abuse. By policy, all of the "knowing" happens in software, while the organization's analysts generally handle exceptions (like violations of the law) picked from the flotsam of the seas of data that their systems process.
I'm talking, of course, about Google. Most of us are okay with what Google does with its vast supply of "big data," because we largely benefit from it—though Google does manage to make a good deal of money off of us in the process. But if I were to backspace over Google's name and replace it with "National Security Agency," that would leave a bit of a different taste in many people's mouths.
Read 31 remaining paragraphs | Comments
Clothes make the commander.
There's this famous scene in the movie Patton. No, not the one where he stands in front of the American flag and talks about shooting the Hun in the belly. I'm talking about the scene where two tanks get stuck in mud during the Third Army's march across France, and General Patton hops out of his Jeep to direct traffic. The image switches to a close shot of Patton, and he's beaming. He revels in his conception of a great commander: one who's willing to put his own boots in the muck.
In Anomaly: Warzone Earth, you play a traffic cop in the Patton mould. When an alien invasion sets down in Baghdad, you're the commander on the ground, scampering around the battlefield in an exhausting effort to will your convoy of tanks and missile launchers into victory. Your character never fires a weapon; in fact, you're the tiniest thing on the screen – a mere mortal dancing through massive weaponry. Yet at the end of a battle, the smoking earth seems to bear your outsized thumbprint. Now I see what Patton enjoyed so much.
Anomaly is a reversal of the standard tower defence format: the evil, faceless aliens place towers along a path, and your troops attempt to survive their gauntlet. The switcheroo could be considered a gimmick if the developers at 11 bit studios weren't so clever about it. They haven't simply swapped roles; they've re-engineered the form.