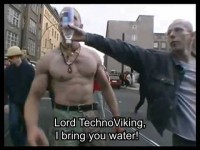 In a Berlin courtroom earlier today, the Technoviking met his maker. The star of one of the most emblematic Internet cultural phenomenons of the past decade issuing the artist who surreptitiously filmed him, claiming he stole his image and profited from the results. Fritsch let the video collect dust on his personal website for six years, until he finally uploaded it to YouTube in 2006, where it continued to exist in obscurity for months. It took until 2007 for it to really take off. Fritsch has traced the origins of its viral path to an obscure Central American porn site. From there it jumped to Web communities and humor blogs, and at one point racked up 2 million views in a single night. In 2009, the star of the video, whose real identity is still a mystery, hit Fritsch with a legal notice asking him to stop using the video and all derivations of it.
http://www.dailydot.com/news/technoviking-german-lawsuit-matthias-fritsch/
An anonymous reader writes "A court in Hamburg, Germany, has granted an injunction against a user of the anonymous and encrypted file-sharing network RetroShare. RetroShare users exchange data through encrypted transfers and the network setup ensures that the true sender of the file is always obfuscated. The court, however, has now ruled that RetroShare users who act as an exit node are liable for the encrypted traffic that's sent by others."
Read more of this story at Slashdot.