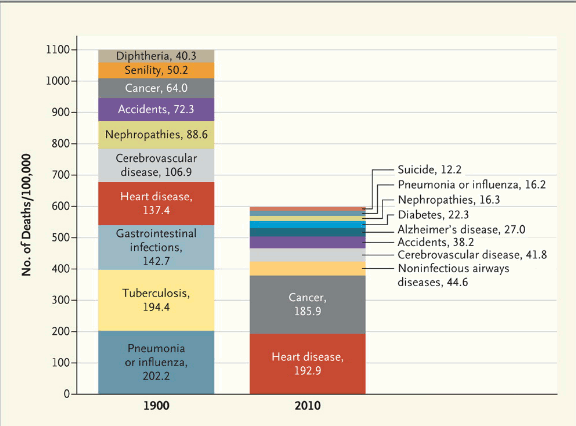 An editorial in the 200th anniversary issue of the New England Journal of Medicine looks at mortality and health through the centuries, and includes this chart of causes of death from the turn of the last century, which makes for quite a comparison. We're doing great on kidneys, but hearts not so much.
During the 20th century, heart disease, cancer, and other chronic conditions assumed more dominant roles (see bar graphTop 10 Causes of Death: 1900 vs. 2010.), although outbreaks of infectious disease — from eastern equine encephalitis (1938) and kuru (1957) to legionnaires' disease (1977), AIDS (1981), and multidrug-resistant tuberculosis (1993) — necessitated ongoing vigilance against microbes. New concerns also came to medical attention, from the terrifying consequences of thermonuclear war (1962) to the indolent but devastating effects of environmental pollution (1966) and climate change (1989). Optimism about prospects for the health of future populations persisted but remained tempered by concern about the pathologies of civilization. An obesity epidemic, feared in 1912, has come to pass. Our previously steady increase in life expectancy has stalled and may even be reversed (2005).
The Burden of Disease and the Changing Task of Medicine
(via Beth Pratt)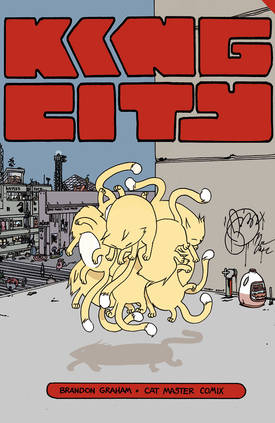 King City collects Brandon Graham's magnificent Tokyo Pop comic serial in one mammoth, $11 (cheap!) trade paperback edition, and man, is that a deal.
Take the sprawling, weird, perverse cityscape of Transmetropolitan, mix in the goofy, punny humor of Tank Girl, add ultraviolent gang warfare, the impending resurrection of a death-god, and a secret society of cat-masters whose feline familiars can serve as super-weapons and tactical material, and you're getting in the neighbourhood of King City.
Graham's black-and-white line drawings have the detail of a two-page spread in MAD Magazine and a little bit of Sergio Argones in their style, if Argones was more interested in drawing the battle-scarred veterans of a Korean xombie war who consume each others' powdered bones to drive away the madness.
Despite the fact that this is a very, very funny story, it manages to be more than a comedy. Joe the cat-master's lost love, Pete the bagman's moral crisis, and Max the veteran's trauma are all real enough to tug at your heart-strings, even as you read the goofy puns off the fine-print labels on the fetishistically detailed illustrations showing King City and its weird and wonderful inhabitants.
JWZ wrote "It's the best comic-book-type thing I've read in quite some time. The trade is a huge phonebook-sized thing and it's awesome." He's right.
(via JWZ)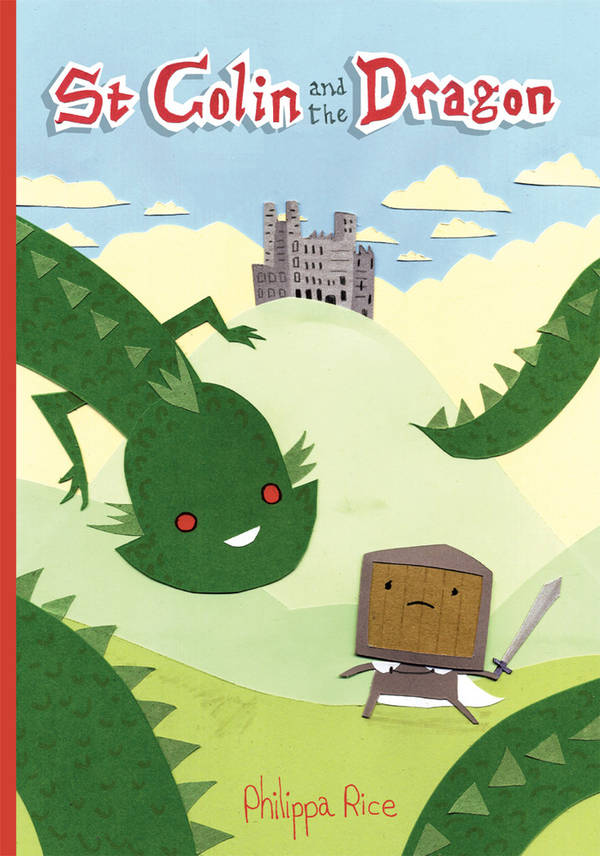 St Colin and the Dragon is a perfectly great 27-page kids' comic about a dragon that hatches in a faraway kingdom and the dumb things that the residents of the kingdom try to get rid of it. They give it an endless parade of sheep to eat, in the hopes that it will mature, grow wings and fly away. But no such thing happens. So Colin, the king's disgraced ex-squire, decides to join the knights who ride out to challenge it. All the big, tough guys are defeated, but Colin figures out what the dragon really wants and saves the kingdom. And then things get weird. In a good way.
St Colin was created by Philippa Rice, whose long-running My Cardboard Life comic (more aimed at grownups) uses the same torn-paper style that makes St Colin such a treat.
I read St Colin to my four-and-a-half-year-old at bedtime earlier this week, and it's had two re-reruns since, because she loves it. There's also plenty of grown up fun in the humorous and sometimes wry dialogue.
You can buy St Colin on its own for £6.50, or together with the massive, perfect-bound My Cardboard Life book for £15.00, should you want one book for the kid(s) and another for the grownup(s). I certainly recommend both to you.