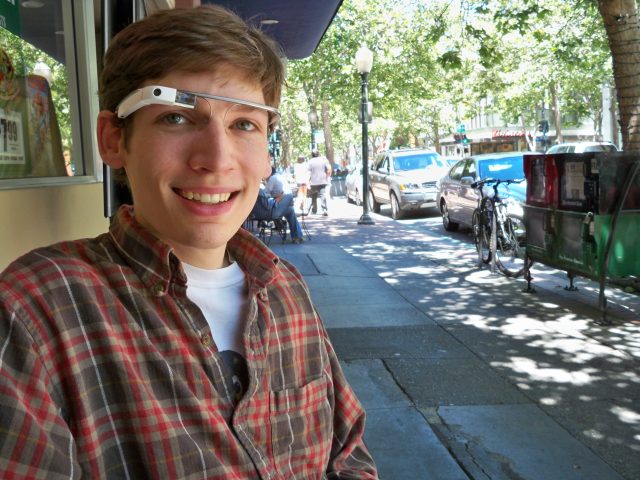 Stephen Balaban is a co-founder of Lambda Labs, based in Palo Alto and San Francisco.
Cyrus Farivar
PALO ALTO, CA—Even while sitting in a café on University Avenue, one of Silicon Valley's best-known commercial districts, it's hard not to get noticed wearing Google Glass.
For more than an hour, I sat for lunch in late May 2013 with Stephen Balaban as he wore Google's new wearable tech. At least three people came by and gawked at the newfangled device, and Balaban even offered to let one woman try it on for herself—she turned out to be the wife of famed computer science professor Tony Ralston.
Balaban is the 23-year-old co-founder of Lambda Labs. It's a project he hopes will eventually become the "largest wearable computing software company in the world." In Balaban's eyes, Lambda's recent foray into facial recognition only represents the beginning.
Read 31 remaining paragraphs | Comments
Imagine installing a service on your cellphone that lets you see all the data – from location to address book info – transmitted by your phone. Or a simple website where you and your friends could have private chats that couldn't be read by the most aggressive spying agencies. Or a service that lets you know how many tracking codes are on a site before you clicked on it.
Lam Thuy Vo
One of the coders at the Data Transparency Weekend models the official T-shirt from the event.
Over the weekend, more than 100 computer programmers built those tools and many more at the Wall Street Journal's first-ever Data Transparency Weekend in New York.
The event was an outgrowth of the Journal's extensive reporting about how companies and government's are increasingly using technology to collect personal data. The event was designed to promote the creation of tools that let people see and control their personal data.
After a weekend of coding, nearly 20 projects were submitted for judging on Sunday. The entries were judged by Alessandro Acquisti, professor of information technology and public policy at Carnegie Mellon, Sid Stamm, Web security and privacy strategist at Mozilla and Andrew McLaughlin, former deputy chief technologist at the White House and vice president at Tumblr.
Danny Weitzner, the deputy chief technologist at the White House, handed out the certificates to the winning teams. The winners were:
Outstanding Scanning Project: TOSBack2 – a project to scan the Web to build a "living archive" of all privacy policies online.
Outstanding Education Project: PrivacyBucket – software that lets users of the Chrome Web browser view the type of demographic estimates that Web tracking companies make about them based on their Web browsing history.
Outstanding Control Project: Cryptocat – an instant messaging service that lets people engage in encrypted chats inside their Web browsers or on their phones. Extra bonus: the program lets people generate random numbers (which are needed for encryption) by shaking their phone – allowing the creators to say that their program is powered by dance moves.
Judge's Choice Award: Site Scoper – a website that scans for tracking files and sensitive content on websites before you visit it.
"Ready for Primetime" Award: MobileScope – a service that lets people see what data is being transmitted without their knowledge by their cellphone. It also offers ad-blocking and do-not-track services for cellphones.
The judges also dreamed up their own three award categories:
The Zuckerberg/Systrom Memorial Award for Opportunistic Optimism Award: Pestagram, for its blatantly commercial mashup of hot Web technologies Instagram and Pinterest.
Best Listener Award: The Price of Free, for the fact that the project was generated by Professor Acquisti's speech kicking off the weekend, in which he challenged participants to find ways to quantify how much people are paying with their data for free services.
And, finally, The Soup Cans and String Winner: Ostel, for its work on technology that allows people to make encrypted cellphone calls using voice-over-the-Internet technology.
For more photos and news from the weekend, check out the Storify coverage: