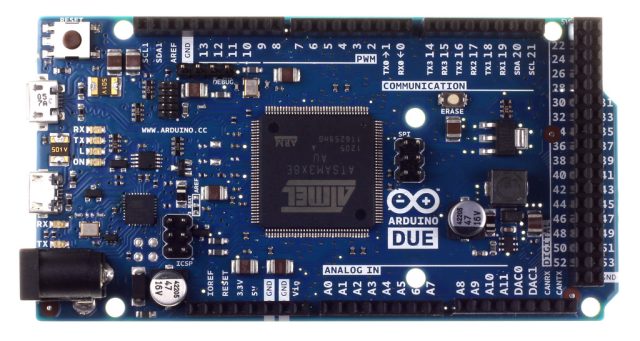 The Arduino Due.
Raspberry Pi has received the lion's share of attention devoted to cheap, single-board computers in the past year. But long before the Pi was a gleam in its creators' eyes, there was the Arduino.
Unveiled in 2005, Arduino boards don't have the CPU horsepower of a Raspberry Pi. They don't run a full PC operating system either. Arduino isn't obsolete, though—in fact, its plethora of connectivity options makes it the better choice for many electronics projects.
While the Pi has 26 GPIO (general purpose input/output) pins that can be programmed to do various tasks, the Arduino DUE (the latest Arduino released in October 2012) has 54 digital I/O pins, 12 analog input pins, and two analog output pins. Among those 54 digital I/O pins, 12 provide pulse-width modulation (PWM) output.
Read 64 remaining paragraphs | Comments
An anonymous reader writes "In late 2011, Cornell University won a prize from NYC Mayor Bloomberg's contest to design a new science school. Google donated some space in Manhattan, and since January this year students have been enrolled in the school's 'beta class, a one-year master's program in computer science.' The beta curriculum is designed to equip the students with all the knowledge they need to jump right into a tech startup: there's a mandatory business class, the U.S. Commerce Department stationed a patent officer on-site, and mentors from the private sector are brought in to help with design. 'The curriculum will not be confined to standard disciplines, but will combine fields like electrical engineering, software development and social sciences, and professors will teach across those boundaries. In fact, no professor has an office, not even the dean, and Dr. Huttenlocher insists they will not when the campus moves to Roosevelt Island, either. Instead, each person has a desk with low dividers, and people can grab conference rooms as needed — much like the headquarters of a small tech company.' It's a long, interesting article about how they're trying to turn 'tech school' into something a lot more rigorous and innovative than something like ITT Tech."
Read more of this story at Slashdot.