Apologies for no updates in nearly three weeks…just been busy with own work… But here we go again. Loads to share…
Features and Essays
Brilliant…Full edit of Gene Smith's classic 'Country Doctor' online for the first time on LIFE.com….
Eugene Smith: Country Doctor (Life.com)
Finally received the first issue of my annual National Geographic Magazine subscription..Bought annual deal in NatGeo's Regent Street store in London in August…Found out in December my activation hadn't gone through, and then told should start receiving issues from January….Got on my nerves…Five months wait… oh well… Glad to finally being able to enjoy print issues on regular basis…From the February 2012 issue….
Amy Toensing: Papua New Guinea's Cave People (NGM)
Gerd Ludwig: Astana, Kazakhstan (NGM)
This week's Time International cover story…Christopher Morris has been back to the White House…
Christopher Morris: Inside Barack Obama's World (Lightbox)
Republican primaries…
Two series by Charles Ommanney for Newsweek…
Charles Ommanney: South Carolina Trail (Newsweek)
Charles Ommanney: The Granite State Weighs In (Newsweek)
Chris Morris from New Hampshire for TIME…
Christopher Morris: New Hampshire Primary (Lightbox)
Brooks Kraft: Running Romney (Photo Booth)
Mark Makela: How to Run for President (zReportage)
One year since the Egypt revolution…Ed Ou video and slideshow on NYT
Ed Ou and Ben Solomon: Reflections on an Unfinished Revolution (NYT) video
Ed Ou: Youth in Egypt (NYT Lens)
Ed Ou: The Ongoing Revolution (Photographer's website)
Denix Dailleux: Egyptian Artists (Newsweek)
Nice series by Adam Dean…
Adam Dean: Kachin Come Under Siege in Myanmar (NYT)
Erika Larsen's beautiful Sami work on NYT Lens…
Erika Larsen: Sami People (NYT Lens)
Alejandro Chaskielberg:  Horn of Africa (BBC)
Eunice Adorno: The Flower Girls: Mennonites in Mexico (Lightbox)
Ed Kashi: Turkey (VII)
Nikos Economopoulos: India in Colour (Magnum)
Ron Haviv: The Devastating Costs of the Amazon Gold Rush (Smithsonian)
Glenna Gordon: Living with the Past in Liberia (Lightbox)
Greg Girard: Lifestyle on U.S. Military Bases (NYT Lens)
Rina Castelnuovo: In Israel, a Clash Between the Secular and Ultra-Orthodox  (NYT)
Steve Shelton: Sudan's Secession Crisis (zReportage)
Richard Tsong Taatarii: Baby Buddha (zReportage)
Mimi Chakarova: Sold for Sex in Eastern Europe (CNN Photo blog)
Luigi Baldelli: Afghanistan (Corriere.it)
Leon Borensztein: American Portraits (Lightbox)
Sean Gallagher: The Smog That Ate Beijing (Foreign Policy)
Louise Serpa: Sweetheart of the Rodeo (NYT Lens)
Brian Cassey: Hong Kong's Poor Living in Cages (CNN Photo blog)
Leonard Freed: Behind New York City's 'Police Work' (Lightbox)
Jeff Harris: 4,748 Self-Portraits and Counting (Lightbox)
Giuliano Camarda: Jahalin Bedouins in East Jerusalem (Photographer's website)
Åsa Sjöström: Turkana Draught (Moment Agency)
Ragnar Axelsson: Greenland (Polka)
Joel Sternfeld:  First Pictures (Photo Booth)
Kalpesh Lathigra: From the Film Set of 'Coriolanus' (Photobooth)
Jessica Ingram: Following the Trail of Civil Rights (NYT Lens)
Joseph Szabo: Coming of Age in America (Lightbox)
Davide Monteleone: Red Thistle (VII)
NPR photographer David Gilkey has been discovering Russia by rail…
David Gilkey: Russia By Rail (NPR)
Larry Racioppo: New York Housing Pictures (NYT Lens)
Peter Mcdiarmid: Year in Pictures 2011 (Photographer's Vimeo)
Kieran Dodds: The Scottish Highland Games (The Atlantic)
Lee Jeffries: Homeless (Guardian)
Interviews
Chris Johns, Editor, National Geographic Magazine (burn Magazine)
Patti Smith (BBC)
Steve McCurry on fall of Kodak (BBC)
Alejandro Chaskielberg (BBC)
Adam Dean (Digital Photo Pro)
Luca Sage (Sojournposse)
Guy Martin (BBC) Starts at around 17 mins.
Toni Greaves : Radical Love, The Promise (BJP)
Jason Larkin : Cairo Divided (BJP)
Joel Sartore (NPR)
Heidi Levine on working in Libya (laurenmwolfe.com)
Chris Floyd (Hungry Eye Mag Vimeo)
Maggie Steber (NPR)
Ron Haviv (TV4.se)
Jim Wilson (NYT Lens)
Umit Bektas, Reuters photographer ,  reflects on the essence of war (MSNBC)
Rineke Dijkstra (PDN)
Shelby Lee Adams : An Ode to Appalachia (PDN)
Christopher Manson (NYT Lens)
Errol Morris : 'We've forgotten that photographs are connected to the physical world' (Guardian)
Sebastian Liste (GUP Magazine)
John McDermott (PDN)
Antonio Faccilongo (KL Photoawards)
Sean Gallagher (Asiasociety.org)
Articles
photo: William Eggleston
Guardian: The Month in Photography |The Observer New Review's monthly guide to the 20 best photographic exhibitions and books, featuring Pieter Hugo, Eve Arnold, William Eggleston, Don McCullin and Annie Leibovitz|
photo: Simon Roberts
FT: A New Beginning(FT Magazine) | "After the disasters of the past year, we asked photographers to look at the people and places putting themselves back together again in 2012″ |Toshiki Senoue,  Davide Monteleone, John Davies, Jim Dow, Antoine Doyen,  Massimo Vitali, Simon Roberts, Laura Pannack,  Michael Collins, and Marcus Bleasdale
NYT: Blame Photoshop, Not Diabetes, for This Amputation
Radu Sigheti: The Problem with Prizes (Reuters photo blog)
BBC News: Syria unrest: French journalist Gilles Jacquier killed
World Press Photo: Preparing for Judging
David Burnett: Talent Added: Photojournalism
Ed Kashi: 3 Qualities of a photojournalist
Little Brown Mushroom blog: On Marrying a Photographer
AP: AP opens full news bureau in North Korea
Guardian: Why newspapers are closing the shutters on staff photographers
Guardian: Is photography the most influential medium for environmental awareness?
Guardian: Decisive moment? Smartphones steal focus from point-and-shoot cameras
Congratulations to Danfung Dennis for being nominated for an Oscar for Hell and Back Again…
Oscar.go.com: Documentary Feature Nominee: Hell and Back Again
Aidan Sullivan to Replace David Friend as World Press Photo Jury Chair (Reportage Tumblr)
Wayne Ford: The Suffering of Light: Thirty Years of Photographs' by Magnum Photographer Alex Webb
David Gonzalez: Life — and Kodak — Remembered (NYT Lens)
Ben Roberts: Exposure Don't Buy You Shit! (Photographer's blog)
Poynter: Washington Post raises eyebrows, questions with 'composite' photo on front page
NYT Lens: The Radical Camera: New York's Photo League
NYT Lens: William Gedney's View of Myrtle Avenue
NYT Lens: Parting Glance: Eve Arnold 
Sean O'Hagan writes on Eve Arnold's touching photograph of a bar girl in Havana…
Guardian: The big picture: Bar Girl in a Brothel in the Red Light District, Havana, 1954
Guardian: Happy birthday, Firecracker: the site for female photographers | In an industry still dominated by men, Firecracker promotes and supports women working in photography
NYT: After an Arrest, Civil Rights Questions
CNN: CNN Digital Names Simon Barnett As Photography Director 
Guardian: Leo Maguire's Best Shot
BJP: Christopher Anderson signs with New York Magazine
BJP: AFP v. Morel: Both parties moving for summary judgment
BJP: Photographer Lauren Greenfield sued for defamation
BJP: How are the Tate, V&A and National Media Museum investing in photography?
BJP: London Underground apologises for DSLR ban blunder
photo: Chris Hondros
Foreign Policy: Photos that mattered in 2011
NYT Mag 6th floor blog: Entering Weegee's World
DuckRabbit: Cameras, communication and the intimacy of a moment.
David Campbell: Thinking Images v.25: Iran as perpetual enemy
Miniature helicopter in new use…
NGM: Field Test: Serengeti Lions
Comments on crowdfunding…
Joerg Colberg: Crowdfunding is not a cash cow (Conscientious)
Pete Brook: The Etiquette of Crowdfunding (Prison Photography)
Verve: Birthe Piontek
Verve: Kevin Kunishi
Verve: Dimitri Stefanov
Verve: Tomasz Lazar
How to make a Magnum in Motion-style essay
7 Tips for HD Color Correction and DSLR Color Correction
multiMedia
photo: Joachim Ladefoged
Once Magazine Issue 4 is for sale in the App store
The cover story is by Joachim Ladefoged… If you don't have an iPad and thus no access to Once Magazine, you can view Ladefoged's terrific 2003 Newfoundland series on his agency VII's website here.
British Journal of Photography – iPad App
Crowd funding
'McCullin' – Feature Documentary (indiegogo)
Exhibitions
The Last Days of Mubarak : Photos by Guy Martin and Ivor Prickett : Host Gallery : London : 9 February – 10 March 2012
Peter diCampo: Life Without Lights : 6 -12 February 2012 11am – 6pm at The Strand Gallery : London
Nobel Peace Center to present Hetherington, Addario exhibition
Awards, Grants, and Competitions
Lumix Festival for Young Photojournalism 
Renaissaince Photography Prize Calling for Entries
Useful site for grants and awards etc. …The Curator Ship
PDN Photo Annual : Deadline: 25 January
Hasselblad's Masters Award winners announced
Events
UK Premiere: Under Fire: Journalists in Combat, February  8 :  7pm :  Frontline club : London
Sneak preview of the above on YouTube here
powerHouse Portfolio Review : NYC
Agencies
Magnum Photos January 2012 Newsletter
VII Photo Newsletter January 2012
BJP: VII Photo appoints new director of business development
Jobs
UPI : senior staff photographer in LA
Summer internship on NPR's Social Media Desk
Photographers
Simon Roberts has updated his website….
Equipment
CPN: Gary Knight introduces the new Canon G1X
BJP: Fujifilm goes back to its professional roots, releases the X-Pro 1
To finish off… Fotoshop by Adobe
and This is Brighton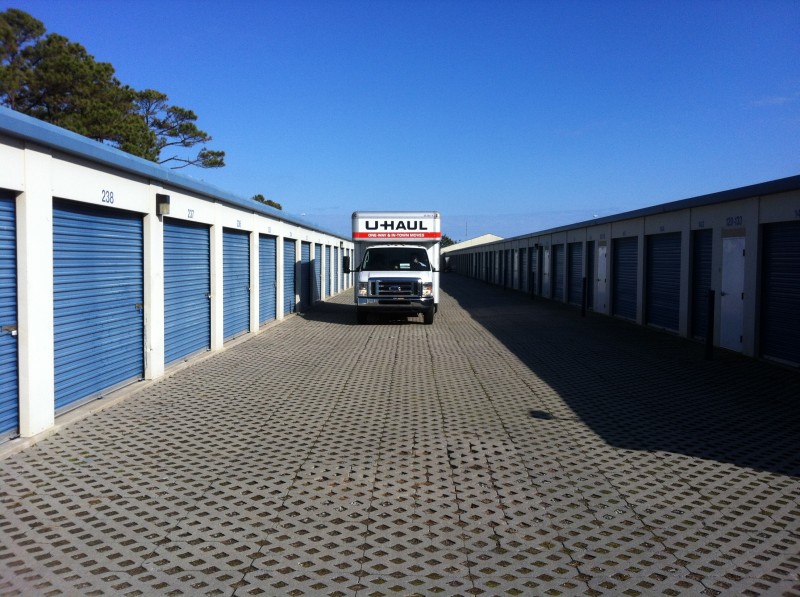 I have been trying to get this job done for about 7 years. Get my archive, that was stored in a garage in downtown Washington, a bit closer to my home.  A long but rollicking ride from D.C. to OBX with an old friend and a multi media intern ended with getting all my stuff in one place.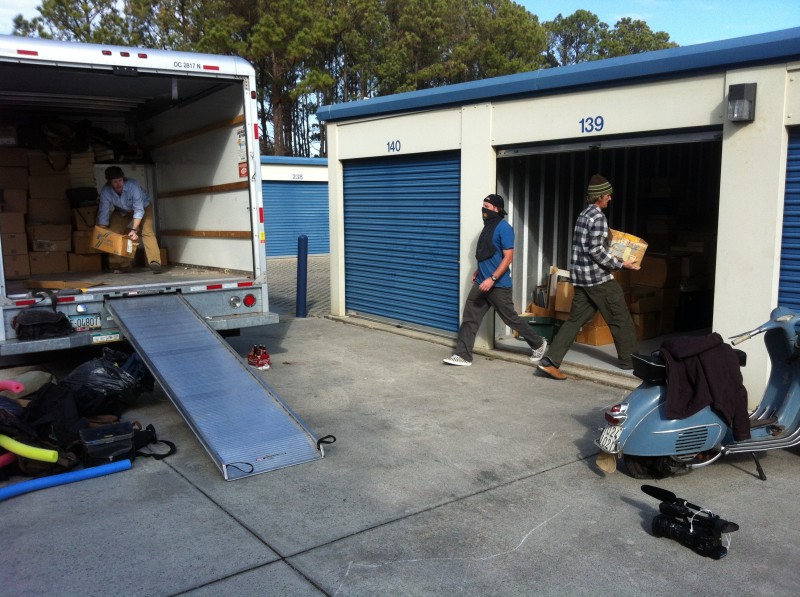 I took pictures and found old pictures. My excuse for little heavy lifting.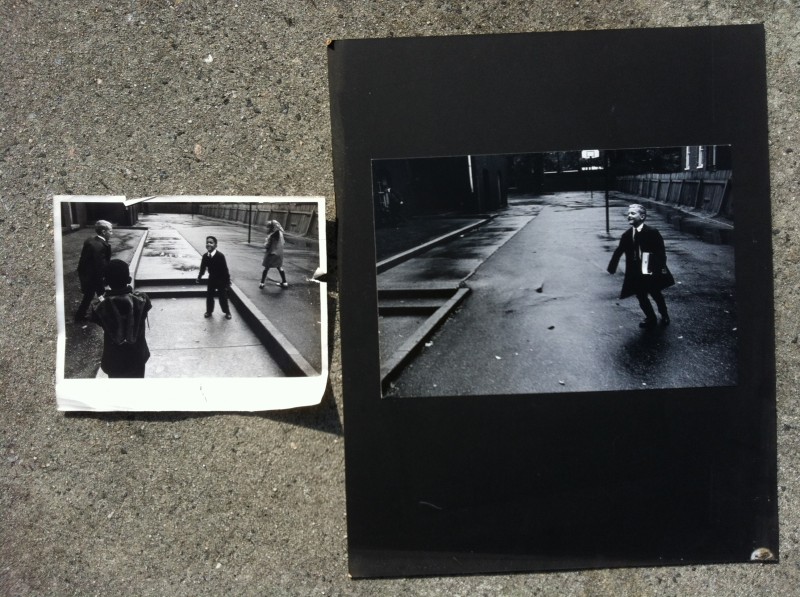 An old case I had not seen for about 40 years was opened. Not by me, but by one of my helpers. Gold. The picture on the right, shot when I was 19 or 20 and accepted to a juried show at the Va. Museum of Fine Arts, and what I considered to be my first successful picture was found today along with a "second". Yes, to the left here, my first print of the situation. Later changing my find for the mounted photo above. You can see the same boy far left in the tattered picture with four children.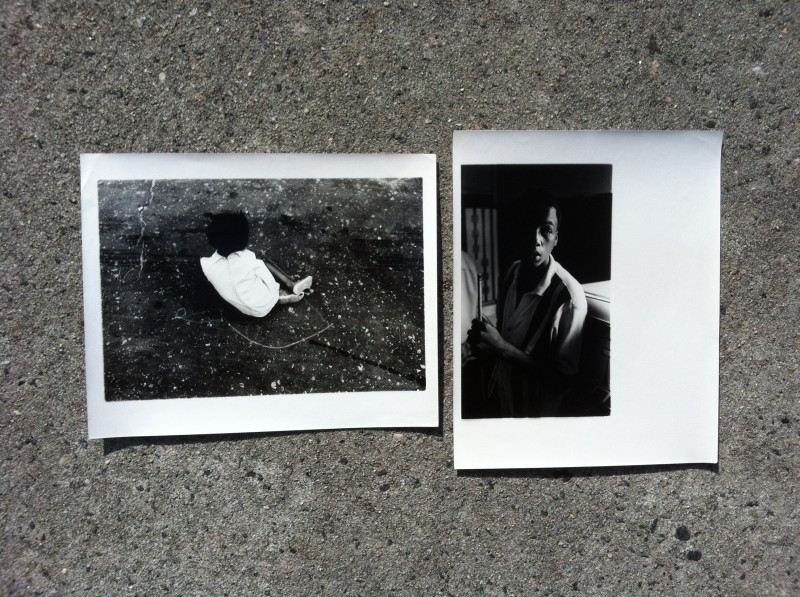 An even more truly serious find. My original fiber prints from Tell It Like It Is. I did not even know these still existed until today. Thought these prints were lost. 40 years lost. Yes, I must say beautifully carefully printed by me in the darkroom set up not far from where I was shooting. Back in 1967. As Bruce Davidson himself pointed out to me were shot 4 years before East 100th Street.  I was shooting by day and printing by night. Obsessed.
I am not sure how many times I moved as a kid, but it was a lot. My stuff has been packed up and moved from one space to another so many times that I honestly would have to spend some serious time thinking about it to come up with a number. Sometimes multiple moves even in the same city. So since I starting accumulating negatives, slides, prints, you know pictures I wanted to keep, I have moved dozens of times. Somehow from those earliest years until today everything is intact. Sort of. It is all there, but where is it? This is the problem. Lots of hasty moves. Cardboard boxes full of treasure in some cases, and marked on the outside with magic marker "selects" or "look again". Nightmare. Yet today , as seen in the sequence above , treasure. Not for anyone else , but for me.
We just got everything moved in. I plan to rent a small house at the beach. Get all my stuff there. And offer work/study programs to say 5 young photographers, to come an help organize my archive in exchange for a great place to live at the beach and a full on career workshop for them. Evaluate their portfolios, get them going on projects, help them edit, and generally mentor as I most often do.
Road Trips was my personal diary. Burn has been set up to feature this audience. Yet many from this audience have asked me to jump in with my own work just a bit more. Yet when I decided to take an online audience with me while I shot in Rio last month  www.theriobook.com   I took that effort away from Burn and on to its own site. The good vibes and karma were so good with riobook that I thought I might try  a bit more mix and match here on Burn. Just more of what most folks are asking for. Solid photography from emerging photographers and insights into process. This is what worked so well on riobook.  If you were not there, honestly you missed something. Matter of fact , many are signing up now even though they know the day by day is finished, it still stands as a unique experience. An authentic experience. No way to manipulate they way it all came down.
Yet the emphasis here on Burn is still you. Burn 01 and Burn 02, our print magazines, will be followed by Burn 03. You should try to get your work in 03, the place to be.
We are also in the dreaming planning stages for SURFING WORLD. Yes, the art of the art of surfing. A book about surfing for surfers and non surfers alike. Martin Parr will shoot some of it. Top notch surf action photographers will shoot some of it. Maybe one of you can convince me to let you shoot part of it. Show me what you can do and I am up for anything.
We are also planning  a handsome book SOUTH AMERICA, a group essay shot by 80% South American photographers. It will not be what you imagine. I will be looking at portfolios soonest.
In the wings for new books are Laura El Tantawy for  IN THE SHADOW OF THE PYRAMIDS, Panos Skoulidas for DEATH IN VENICE, and an epic by Jukka Onnela and few nice surprises to be announced soonest.
Our Emerging Photographer Fund grant of $15,000. will be announced soonest. The new emphasis on the EPF grant will be to do work for Burn. Rather than a reward for past work, the shift will be to create new work , then to be  published on Burn. More of a commission than a award.
This coming May , Burn  Magazine will have an exhibition at the HeadOn Festival in Sydney, Australia alongside my own One Night in Rio. I will be doing a workshop at Bondi Beach at the same time, and I have asked Imants Krumins to curate a small show featuring young Australian photographers under 18.
So I am trying to keep things interesting for all of us.  It is only the right frame of mind and the right karma and the right space and the right place and the right mood that well makes things right…feel good, feel right….be right.
We will never get there, but we will always be on our way….
Peace, dah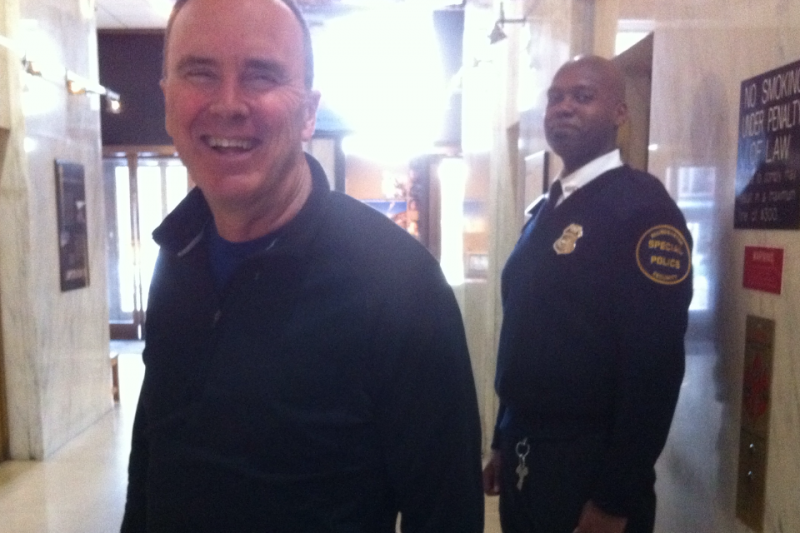 This is the entrance to National Geographic and this is the Editor of National Geographic Magazine. Yes, Chris Johns a field photographer with "more than 20″ published essays to his credit who became THE editor of NatGeo. We are on our way to his office after being cleared by 7 year security officer D'Won Addison, 35, who grew up right here in Washington and served in the U.S. Army. Chris hung up his cameras and now has an elegant office with a nice view of downtown Washington and about 5 blocks from the White House. Johns has a power job. You will read my exclusive interview with him right here on Burn just as soon as I can get it transcribed. He will tell you from his viewpoint what it takes to make it as a photographer shooting for a major magazine.  Stay tuned.