Bradley Manning's court-martial reached an end today, with Army Colonel Denise Lind sentencing him to 35 years in prison. She also ordered a reduction in rank to private, a forfeiture of all pay and allowances, and a dishonorable discharge. He will receive credit for 1,294 days for time served. According to an Army spokesman, Manning would be eligible for parole after serving 1/3 of his sentence; with additional credit for time served, he could face 8-9 years. Manning also has the possibility of a clemency finding that would reduce his sentence.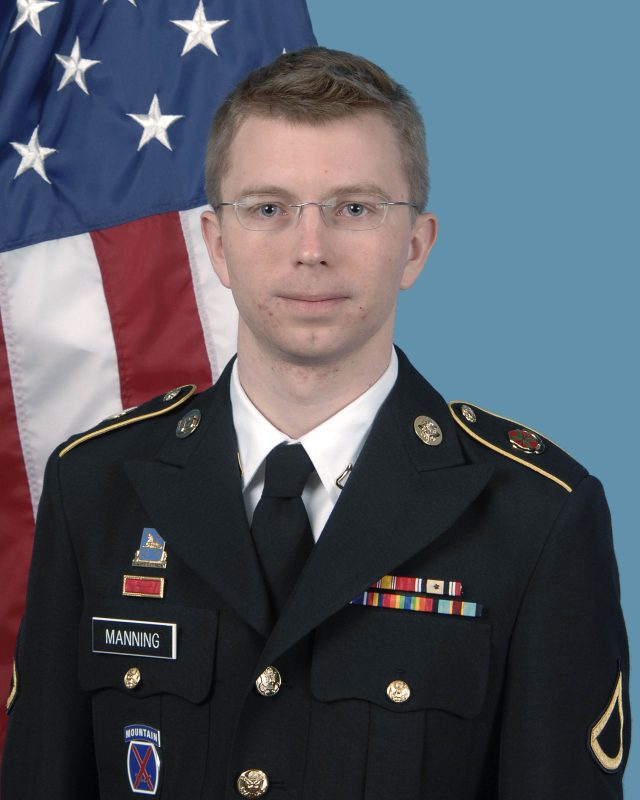 Bradley Manning.
Over the course of two hours in a military courtroom today, Bradley Manning explained why—and in precise detail, how—he sent WikiLeaks confidential diplomatic cables and "war logs." Bradley's 35-page statement, read over the course of a few hours this afternoon, followed the news that he had pleaded guilty to 10 lesser counts among the many charges against him. The admissions were not part of a plea bargain; Manning still faces trial in June on the most serious charges, such as "aiding the enemy."
The Guardian's Ed Pilkington sets the scene:
Manning was flanked by his civilian lawyer, David Coombs, on one side and two military defence lawyers on the other. Wearing full uniform, the soldier read out the document at high speed, occasionally stumbling over the words and at other points laughing at his own comments.
The American people had the right to know "the true costs of war," Manning said in court today today. He continued:
Read 11 remaining paragraphs | Comments