This SlideShowPro photo gallery requires the Flash Player plugin and a web browser with JavaScript enabled.
Hover over the image for navigation and full screen controls

Lost & Found
Family photos swept by 3/11 East Japan Tsunami
All these pictures were found in a town named Yamamoto-cho, in Miyagi Prefecture. On March 11th, 2011 at 2:26 PM, Yamamoto-cho was hit by a huge earthquake with a magnitude of 9.0, 50% of the town was flooded when the tsunami came after the earthquake hit. The tsunami not only swept the harbor away, but also many houses, cars, trains, as well as people. 614 people died out of the town's population of 16,700, 4 are still missing, and 2,209 buildings were completely destroyed, 1,062 buildings half destroyed, and 1,110 buildings were partially destroyed. Yamamoto-cho was a peaceful small town, just like any other in rural Japan.
The project "Salvage Memory" was started by a team of young researchers from The Japan Society for Socio-Information Studies. We are trying to return 130,000 pictures that were damaged by the tsunami to their owners, by sweeping the dirt off, rinsing them with water, and taking pictures of the photographs to create digital data. More than 500 people volunteered for this project, and 1100 photo albums and 1900 photographs were returned to their owners. As of November 2011, the project was still going on and we were using the digital data to find owners of still unclaimed photographs. Unfortunately, about 30,000 photos were too badly damaged and could not be returned. They were supposed to be thrown out, but instead we decided to exhibit them to give people an opportunity to see them in the belief that these photos carry powerful messages. This is how the "Lost and Found Project" began.
The "Lost and Found Project" was first launched to give people the opportunity to see the photographs swept away by the tsunami in the East Japan Earthquake disaster. These photographs draw us into their presence and make us become aware of their silent voices. This awareness is very important for us who are living in the present and will continue to live into the future. This exhibition should give us an opportunity to think about the relationship people have with their photographs and also to think about the significance of photographs themselves.
"Lost and Found Project" was previously shown in Tokyo, Los Angeles, NY, Melbourne, parts of it in San Francisco and now in Rome, with different installations in each location, making each exhibition a unique and personal experience.
~ Sako Shimizu
The exhibition
The XI edition of Fotografia – Festival Internazionale di Roma, this year dedicated to the theme of work, shows  the project "Lost & Found 3/11″, supported by Doozo Gallery , who has set up a structure for the MACRO Testaccio in Rome.
For the occasion, the gallery in collaboration with 3/3 have produced a small volume, which pieces together an ideal family album, symbol of the deep link between personal and collective memory that enters the work of recovery and conservation of photographs.
Project President and vice-Chairman: Munemasa Takahashi e Kazuto Hoshi.
With the patronage of the The Japan Cultural Insttute in Rome.
Responsible for the project in Italy: Annalisa D'Angelo, Stefano Ruffa and 3/3.
Editor's note
Photographers want to tell stories. Sometimes stories demand attention through the images. And usually, what is depicted inside the frame, is somehow related to the story told. But in these images there is no relation between them whatsoever, because the images were made for a completely different reason and tell stories unrelated. The story they tell happened outside them. There is nothing sad in these pictures besides the fact that we can see them, NOT being part of a family album anymore.
As Burn magazine we look at this project with big admiration and respect for the work done by the ones who decided to save and present these images. In its dramatic beauty this project is an extraordinary homage to life,  full of meanings for identity of photography.
~ Diego Orlando
Related links
Free beer!    No sorry, free portfolio reviews
It is past midnight.. It is late and it smells late..I leave for France in the afternoon tomorrow…I have not packed, nor have I ever learned to pack for any trip in all these years. Always get it wrong. Working on it. I am headed for four days of Magnum meeting followed by four days of Les Rencontres d'Arles arguably one of the most important international photography assemblages. After days of biz meeting with Magnum I am sure many would cut both ears off instead of one as did VanGogh in this fair charming south of France town.
Yet I always go. Never missed an annual gathering of the tribe since 1993 when I became a Magnum nominee and forever changed my life. I have already been to two photo fests this spring, am burned out on the social scene, and would not go to one now were Magnum not meeting on this 65th year in this historic Arles. The vibes in Arles buzz in way as in no other place.
My little book from 1967, Tell It Like It Is,  gets its two minutes of fame along with 10 other Magnum photographers who are participating on a presentation called "First Time". Addressing the evening audience on July 3 with their first work, their first important work. The work that took them forward. For me this is bracketed with my recent Rio novella (based on a true story) entering the prestigious Library Actes Sud and a book signing at Les Rencontres. So my "first time" and my most recent. All the while surrounded by terrific exhibitions and evening presentations.
Burn will also have a stand where we will do free (buy me a beer) portfolio reviews. "We" being the entire Burn staff: Anton Kusters, Diego Orlando, Eva-Maria Kunz, Candy Pilar Godoy and Claudia Paladini. I do not think we have EVER had all of us together in one place. We work by remote control. By Skype. By text message (should be illegal) and by brain debilitating email. Fate has brought us all together. We are electric. On fire. BurnMagazine, BurnBooks, and BurnUniversity are all happening. Details on all will follow after the Burn gang meets after the Magnum meeting.
It all blends anyway. Magnum's new website may unleash a whole new Magnum. For sure exciting times. Times to reinvent, times to invent, times to push push the proverbial envelope just as far as we can without losing the thing Magnum members care about the most. A place in history. A seat at the table. Burn seeks to help find new talent and celebrate the icons who may be a beacon for those forging ahead with oftentimes a wrinkled map.
If you are anywhere near the south of France June 3-8 please stop by. If you are on the other side of the world and have a lot of miles to cash in, now is the time. Everyone in this Burn audience knows well they have input in what goes on around here. Either with their voice or their pictures. Burn eliminates a lot of excuses. If you have something to say, you can say it right here and you are reaching an impressive cross section of our craft. Both the photographers and the editors and a lot of well versed serious photographer who choose photography as an avocation, rather than as a business.
I only write tonight and rambled this long to avoid the inevitable packing I must do. So let me get to it. Wishing all of you a pleasant morning/evening and ask you to stay tuned as I report from Arles in the week upcoming to flow alongside our EPF finalists.
-dah-
Williston, North Dakota, from the Magnum project Looking For America, May 2012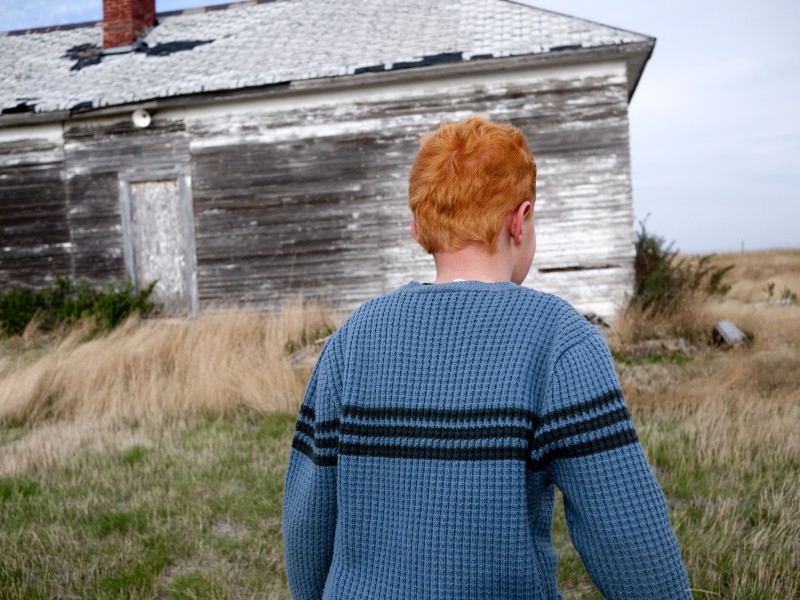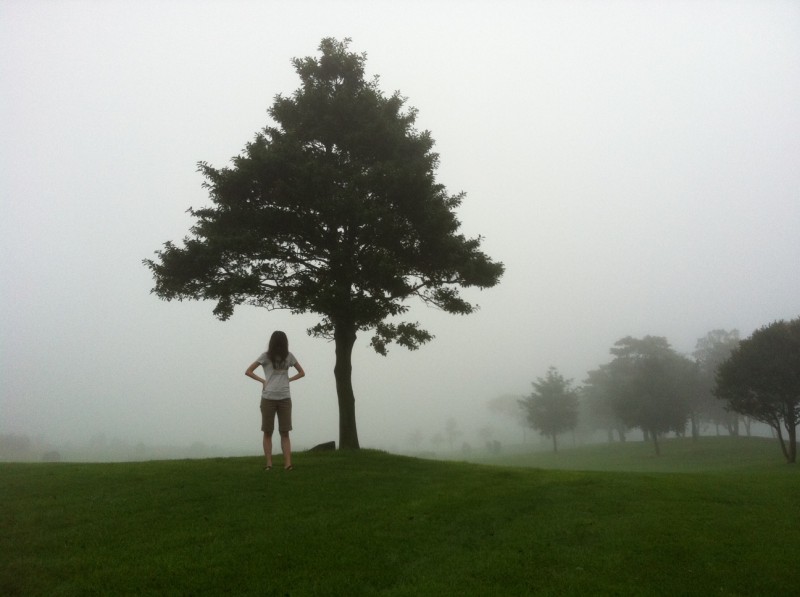 I have always viewed fog as an aesthetic friend. Cozy like a blanket. Mostly I like fog because it turns my color pictures into black and white. Well, almost. One can simply de-saturate the color, but for those of us who shoot color film or who like to print it as we saw it, fog is a blessing welcomed for softening a landscape or simply taking the color out, rendering the photograph monochromatic. For me, the less "color", or the fewer the band of colors, the better. Besides I love the romance and mystery of fog. It is not just about light dispersion. You can touch fog, smell it, feel it.
So when I see fog, I grab a camera. Fast. As I did here while eating my cornflakes in a hotel buffet breakfast and saw this out the window. Gotta move on it. For those little water droplets will evaporate quickly with a rising warming sun. Pictures are everywhere, all the time. If you are in the right mood, there is for sure a picture right in front of you. Any time, all the time. It is never necessary to go someplace else. Where you are is THE place to be.
I know this. I teach this. Yet I must re-learn this every day of my life. Why can't I just learn a lesson and then that is that? Life just doesn't seem to work that way. I think all of us must constantly re-learn the obvious. What is right in front of us. Hidden perhaps by a "fog" but right there. Or right here. Or both.
Some of you were on hand last week in Perpignan for the launch of Burn 02. By all accounts, the buzz on Burn and Burn 02 was palpable. In all my years in the business, I never saw quite this sort of "big warm". Was it the slide show? Was it the new in print magazine? Perhaps those things helped. But it was way more than a function of display. It was about YOU. This audience. This audience who supported new and original work by Paolo Pellegrin and Alisa Resnik and Bruce Gilden and others to be seen now first in Burn 02.
Burn 02 is not a repeat of Burn online. Burn 02 is its own original work. A 1500 copy limited editon. Online is terrific, but when you hold 02 in your hand, you will know what photography is all about from our perspective. I am not published in it. I wish I was. The place to be published for sure.
Yes, 02 was a collaboration. But there is always one person who is THE driving force. Diego Orlando, our special projects editor, is that person for 02. Anton and I were in the background on this baby. Designed and printed and bound with loving care in Italy by the very best, you will quickly see why there is pride all around.
I am proud of this magazine/book…I can say this in a way I could never say with my own work. That requires silence. But I can say that this feels like my best effort so far  as the director/coach and not in it as a direct "player"…Yet  I made something happen..Put the talents of others to work..Gave them all the rope they could handle. Kept an eye out..Mostly to set a standard….And to push everyone just a bit further than they wanted to be pushed..I knew they would thank me later …laughing…I will say no more now. On the front flap I wrote this:
We are the photo equivalent of the garage band. Can this last/should this last? No. There is a curve on any creative endeavor. We are not at the peak yet. When we get there, then we will do something else and start the whole process over again. Could be an evolution, or could be a revolution. So let's enjoy this moment. Now is the time to appreciate what we have, seek out new ways of doing things, celebrate our mutual language and push it just as far as we can possibly go.
-dah-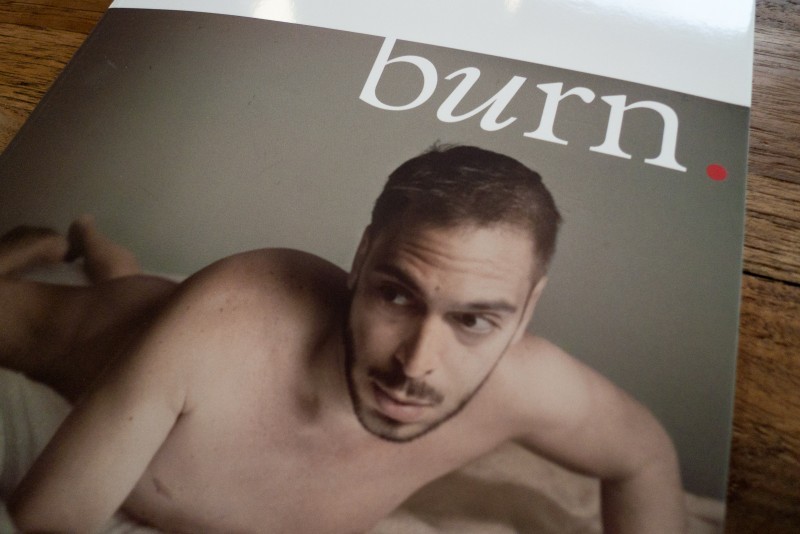 Buy BURN.02 here:
USA, Canada, Mexico

Rest of World
Shipping will commence on September 15.
For volume puchases (over 10 copies), please contact Diego Orlando directly at diego@burnmagazine.org