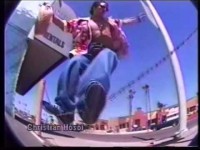 Released in 2001, Collage is the most recent treasure from the Danny Minnick vault. Collage stays true to its title, featuring a boat-load of skaters captured by Minnick over the past several years in plenty of West Coast locations. The terrain varies greatly, with pools, vert, transitions, parks, ditches and street. On skateboards in order of appearance Mike Chin, Rob Welsh, AVE, Fred Gall, Danny Way, Briad Hord, Ryan Stangland, Lavar McBride, Danny Gonzales, Kareem Campbell, Javier Nunez, Eric Pupecki, Steven Cales, Kein Lieu aka Donger, Pat Duffy, Clyde Singleton, John Reeves, Jason Carney, Daewon Song, Pat Washington, Willy Santos, Mike York, Eric Koston, Christian Hosoi & Rune Glifberg.
Skateboarding website The Berrics, owned and run by Steve Berra and Eric Koston, have teamed up with sports drink manufacturer Gatorade to produce a short film entitled Go All Day. Set in your average American school, the clip starts at 7:58am and follows pro skateboarder Chaz Ortiz until 3:00pm when school if finally out. There was a brief lead up to the video a few weeks ago when one of The Berrics' staff suggesting a new idea to Steve Berra, which would star young Ortiz. Whether that was all set up and paid for by Gatorade we'll never know, but we don't really care, the filming in this video makes us instantly forget that it's basically one long advertisement.
If the YouTube video below gets taken down, you can watch the clip on The Berrics here.