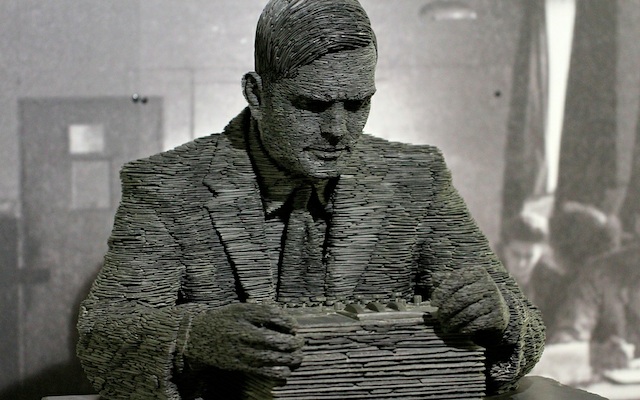 Alan Turing slate statue at Bletchley Park museum
June 23 marks the 100th birthday of Alan Turing. If I had to name five people whose personal efforts led to the defeat of Nazi Germany, the English mathematician would surely be on my list. Turing's genius played a key role in helping the Allies win the Battle of the Atlantic—a naval blockade against the Third Reich that depended for success on the cracking and re-cracking of Germany's Enigma cipher. That single espionage victory gave the United States control of the Atlantic shipping lanes, eventually setting the stage for the 1944 invasion of Normandy.
Alan Turing's Year
2012 is billed as the "Alan Turing Year," and a lengthy compendium of past and future Alan Turing events can be found at the Centenary site hosted by the United Kingdom's Mathematics Trust. The big gathering taking place right now is the Alan Turing Centenary Conference in Manchester.
Annie Jacobsen, an editor at the Los Angeles Times Magazine, has written a book purporting to tell the real history of Area 51 and the Roswell Incident. Her book, which is based largely on interviews with people who lived and worked at Area 51, manages to simultaneously explain why the site would be so highly classified, while also trading in kind of mundane Cold War shenanigans—in other words, it's fairly believable. That is, except for the explanation one source gave her for Roswell, which is possibly the most insane story I have ever heard about that supposed alien crash landing. (And I watched the WB teen drama.) Scroll down to the section on "Interview Highlights" to read it.