This SlideShowPro photo gallery requires the Flash Player plugin and a web browser with JavaScript enabled.
Hover over the image for navigation and full screen controls
ESSAY CONTAINS EXPLICIT CONTENT
Conversation with Joe McNally
David Alan Harvey: You and I met because we were in an educational environment, and here we are twenty-five years later in Dubai for a workshop,  and still in an educational environment  and yet earning our living as photographers. Gulf Photo Plus has brought us together again.
Well Joe, I know some things about you. I know you are great at lighting. I know you like to stand up on top of tall buildings!!I know you are a great guy.
But I want to ask you a couple of questions that I don't know. I don't know exactly how you got started in photography or exactly where you got started in photography.
Joe McNally: It was accidental, as these things happen. I knew I wanted to be a journalist and so when I was in school I was literally forced to take a photography class in addition to my writing classes. I borrowed my dad's old range finder camera. It was called a Beauty Light 3 and I did a couple of classes, and it worked for me.
DAH: In conjunction with your writing? Was it going to be supplemental to your writing?
JMcN: At that point I really decided I wanted to be a photographer, which as you know, back in the day, photographers weren't really allowed to write anything for anybody (newspapers and what not) generally speaking. So, I stayed in school and I did a master's in photojournalism.
DAH: Where was that?
JMcN: At Syracuse University. And then I came straight to New York City and my first very grand job in journalism was being a copy boy at the New York Daily News in 1976.
DAH: Oh, that would be an education!
JMcN: I ran Breslin's copy when he was writing letters to the "Son of Sam". You know, Pete Hamill was writing at the time.
DAH: Oh really? The classic.
JMcN: I used to take the one star, which came around about seven or eight o'clock at night. Tomorrow's newspaper..tonight.. and I would go to the third floor press room. I would take fifty papers, put them on my shoulder…
I would not go back to the newsroom…I would continue down the stairs and go across to Louis East and then I would just start putting the papers out on the bar because all the editors were in Louie's and they had phones, so they would phone in their corrections for the two star from the bar.
DAH: That was back when journalism was journalism.
JMcN: Yeah, it was pretty gritty back then.
DAH: Well okay, did you work for a newspaper? Did you shoot pictures for a newspaper after that?
JMcN: Well, I got fired by the Daily News three years in. I was a studio apprentice. I had made it to being what they called a "boy" in the studio. I was running Versamats and processing film for the photographers, captioning, etc. And I learned a lot about the business.
There was a great New York press photographer name Danny Farrell who took me under his wing. He said "Kid, you have any eye…I don't think you're going to make it here, but let me show you a few things". Danny is a great man. He is 82 now…I just did his portrait.
You know, the Daily News kicked me out the door and I ended up stringing for the AP, UPI and the New York Times. That became kind of a full time gig for about two years.
DAH: How old are you are that point?
JMcN: Lets see, that would be late '70s, so I am kind of in my late twenties at that point. I was born in '52. And then, all of a sudden, I got this offer of the strangest job you can imagine. I became a staff photographer at ABC television in New York.
DAH: Really?
JMcN: And that was what introduced me to the world of color and light, because I had been a straight up black and white street shooter prior to that, and my boss at ABC looked at me and said:"We shoot Kodachrome. And we light a lot of stuff". I was thinking at the time 'I don't even know how to plug in a set of lights!'. So thankfully, it was a job that routinely expected failure, and I routinely delivered.
As a still photographer for a television network you're always the caboose of the operation, the last consideration…they are always doing TV first and foremost and you have to try to squeeze your way in to a set, like a television-movie set or maybe on a news set, shooting the anchors. Or shooting Monday night football. And the interesting part about the job, the things that kind of made me think about technique and be a little bit faster on my feet than I had been before is that I had to shoot everything in color and black & white.
DAH: You had to do both. Now these pictures are going as publicity pictures?
JMcN: Publicity pictures, releases to magazines, covers of television magazines, you name it. On the average week I would shoot sports…I would go down to Washington and shoot Frank Reynolds at the Washington Bureau, and then I would come back up and shoot Susan Lucci on "All My Children". So it was fast paced, and it really got my feet under me in terms of color.
DAH: So you had two cameras… a black & white and a color camera.
JMcN: Yeah.
DAH: Sounds like my worst nightmare.
JMcN: Yeah, sometimes I would have four cameras at a political convention…I did the Reagan campaign, I did the political conventions and such because they would send me out. I would have four cameras and sometimes I would be juggling three ISO's or what we used to call ASA.
DAH: So when I see you working now and I was listening to you yesterday talking to your students, and I see you working with your assistants…I mean you've got a lot of stuff on your mind. But I guess obviously you are used to it. You grew up multitasking.
JMcN: Yeah, kind of. For whatever strange reason I always allude to the fact that I got raised Irish-Catholic, and editors found out about that and so they knew I was intensely conversant about the whole idea of suffering. Being raised the way I was…if a day passes without some largely undeserved measure of suffering, it's not a day worth living.
DAH: No good deed goes unpunished.
JMcN: Exactly. And then, if you know how to use lights even a little bit, editors sometimes will zero in on you and say "Okay, that guy is lights". So, I ended up doing a lot of big production work for whatever weird reason. I did these big gigs for Life …They threw something at me once, a hundred and forty seven jazz musicians all at once. Largest group of jazz musicians ever assembled. It was a riff on Art Kane's photo, "A Great Day in Harlem".
DAH: Yeah, I remember that.
JMcN: And my boss at Life was a big jazz fan. And so he engineered this massively expensive thing where all these jazz guys came in to New York to recreate that photograph. We even found the kid who was sitting on the stoop in the original Kane photo, and was probably ten or eleven years old at that time. We found him as an adult and had him into the picture as well.
And one of the great honors of my career during that assignment was that they brought in G0rdon Parks to shoot the original scene on the street, and I got to assist Gordon.
DAH: Wow! Were you with Gordon up at Eddie Adams when he was there?
JMcN: Yeah..
DAH: Yeah, because we were all with Gordon there at one point because he came up there for two or three years at one point.
JMcN: Well, that was the great thing about the early days of Eddie's, because Carl Mydans would come up and Eisie was there. Eisie would go the podium and lecture, remembering f/stops of pictures he had shot about forty or fifty years ago. The guy was just extraordinary. And that I think is why we still remain educators, because we grew up being mentored.
DAH: We grew up being mentored and then I think we started also teaching at the same time we were being mentored. I mean, both things were happening simultaneously I think.
Okay, it would be great to talk about the good ole days. They weren't all that great, there were some negative things about the good ole days, but we both picked up the sense of an extended family that we have with each other. It's amazing. I am seeing Heisler and you and Burnett here for example. And plus meeting a lot of new people, but neither one of us seems to be the type to dwell on the good-ole-days. I mean we are in the new days, and you've got young photographers, and people who want to move forward in the business, and here you are as the mentor. How do you account for that? What is that? What is that about for you, personally?
JMcN: For me it is a way to give back, to kind of return that educational base that I sprang from. That is certainly it. It is also part of the mix as a photographer. I always tell photographers now, if they ask, you have to have a lot of lines on the water if you're going to survive. You shoot for sure, but we also teach, we lecture, publish books, do a blog, the whole social media thing…you have to be as broad based as you possibly can.
For example, I've got a couple of young assistants in my studio, and I say look, you're future is very vibrant…a lot of people are saying doomsday stuff right now, but I think the future is vibrant, it's just going to be very different from mine. Talk about multitasking! They have to be good on the web, they are going to have to know video, audio, all that stuff. They'll have to be kind of their own multifaceted entertainment-information package. They are going to have to bring lots of skills to the party. We learned how to do one thing well, and that was how to tell a good story with a camera in our hands.
DAH: Right. Yeah, I never worried too much about the technology changes because I could see always that technological change took people out of every business. Look at radio. Television came along and a whole bunch of radio people just immediately died. And then others, like Jack Benny segued right into it. I never worried about it because I figured there was always some new way to tell the story.
JMcN: Exactly. Heisler was here and Greg being as smart as he is said something to me a couple years ago. He very wisely said:"Joe, this was going to happen whether we liked it or not. This whole digital revolution. So either adapt with it and change with it, or we sit at home and get angry".
DAH: Well that's right, and besides that you can still shoot film if you want to for yourself and the stories that you want to tell and the ways that you are going to work are the same. And, you've been benefited with a lot of things by the digital ages as well. I mean you're not running Polaroids just now when you're taking my picture. I mean those good-ole-days weren't that great.
JMcN: No, there was a lot of hard work! And auto focus came in at about the right time for me and my eyes, you know. Things change and you have to change with it. I look now at the digital technology and the way its expanded and what you can do imaginatively, and I embrace it. I think it's a beautiful thing.
DAH: Well, everybody is into still photography right now. Everybody is a photographer. It's a common language, which means you've got a lot of people to mentor. You've got to be a huge influence. You've got an entire audience for your blog, there is a whole Joe McNally fan base out there and picking up all the time because people are really, really interested, and I think lighting is the big mystery.
They can take pictures with their iPhone, they can take pictures with whatever camera right out of the box, but the one thing they can't do is light stuff. Tell me a little bit about how you look at lighting in the first place.
JMcN: Well, one of the first things I say if I am teaching is you've got to think about light as language. Right from the ancient descriptions photography…photo-graphos — the original Greek term — to write with light. Some people are a little surprised by this.
I say "Look, light has every quality you associate with the written word or the verbal expression of speech. It can be angry, it can be soft, it can be harsh, slanting. I mean all those things…it has emotion and quality and character. And you have to look for it".
One of the things about if you work technically with light, for instance if you experiment with flash, one thing that also develops at the same time is your overall awareness of light in general. Just your sense of light keeps going forward. So the more you experiment, the better you are going to get, and the better you're going to get with you means your confidence level raises. And if you are more confident you can approach your subject and your subject matter more confidently.
DAH: It's not just technical because you are telling a story ultimately. You are saying something about somebody by the way that you light them.
JMcN: Exactly. I always say that when you're lighting something, what you are doing is you are giving your viewer — who you are never going to meet, that person is looking at the Geographic or some web image a million miles away, and is never going to meet you — so you're speaking directly do that person.
You are giving them a psychological roadmap to your photograph in the way you use light. You're saying this is important, this is not so much…this is just context, look here, don't look there. You are not there with your picture. The picture, all on its own, has to speak to them.
DAH: Great. Now that we've had this conversation I need to figure out how I am going to light you. I think I am going to use available light.
Well, I think people don't think about me so much in terms of light, but I always appreciate it because when I was in high school I worked at a studio, so I learned basic studio lighting, and then of course with the studio closed down for the day, I'd make friends with these guys and say "Hey, can I play with the lights after work?".
JMcN: But your stuff has such a beautiful quality of light. You have feet in all these worlds, you really do.
DAH: Well, I think it is because I learned at an early age at least how to use lights, and I think that helps me with available light because I do look at it the same way you look at light, I just tend to do it with a smaller kit. I am the emergency medical team, you've got the whole crew, you've got the hospital.
I am the EMS truck out there trying to save a life on the highway. You know, patch it together. You know, put a band aid over the flash, shoot through a beer bottle, do all these things. But it's still the same thing.
JMcN: Sure. Jimmy Colton, who used to be at Newsweek, which always had a smaller budget than Time but would compete with Time intensively, he would always say that Time was a hospital and Newsweek was a MASH unit.
DAH: I hadn't heard that, but that's an exact analogy.
So, I am looking at your assistants who seem to be about thirty years old, and you've got one who is moving into your first assistant position, and Drew is moving out on his own…so what do you tell Drew? And what do you tell the readers of Burn Magazine? What is the main thing they need to be thinking about? I know they've got to multitask. You have mentioned that already. What is the main thing they need to have going in their head?
JMcN: I think as they take a step into this market place, if you want to call it that, I tell Drew just concentrate on that which he loves, and work will eventually grow to you.
First of all, make it accessible. Too many young photographers think they have to go to Afghanistan to make their mark. I don't think you have to do that. I think the best pictures live right around you, and are things you grew up with, and are things that you love. And for instance, Drew grew up with rock & roll, and he was a drummer in a band. They actually toured and what not, so he grew up in the world of music and he is absolutely passionate about that. So I said go for it! Do it. No matter the people who tell you, you can't make a living being a rock & roll photographer…I think you can, because he is already working it in a way that is unique to him, and he is making strides, he is getting success.
The main thing to remember as a young photographer out there is that there is always naysayers, and there is a lot of them out there now, but when you and I broke in there were naysayers as well.
DAH: There have always been naysayers!
JMcN: There are always folks saying, "This ain't what it used to be!"
DAH: With every move I ever made in my life, even my closest friends would say, "Harvey you've really fucked it up this time". And then, a few months later they would say, "Harvey you're the luckiest son of a bitch. How do you luck out like that?". You know, they flip on it. And that is the same thing I tell photographers too. Do what you love, and then let it happen. Somehow it will happen. Listen mostly  to yourself. Even (maybe especially) your closest friends do not really want you to change.
JMcN: It will. And you'll have to do stuff along the way. To me there is always food for the table and food for the soul. And sometimes, some jobs you're going to have to do are food for the table.
DAH: Just do it.
JMcN: You've got to do it, swallow hard, go make yourself some money, keep yourself alive, so then you can feed your soul. It's not all like roses out there, that's for sure, it's like a patchwork quilt, but you can make it.
DAH: Yeah, well you have and thanks for this conversation. It has been great to see you again.
Related links
Joe McNally: The Estimable Mr. Harvey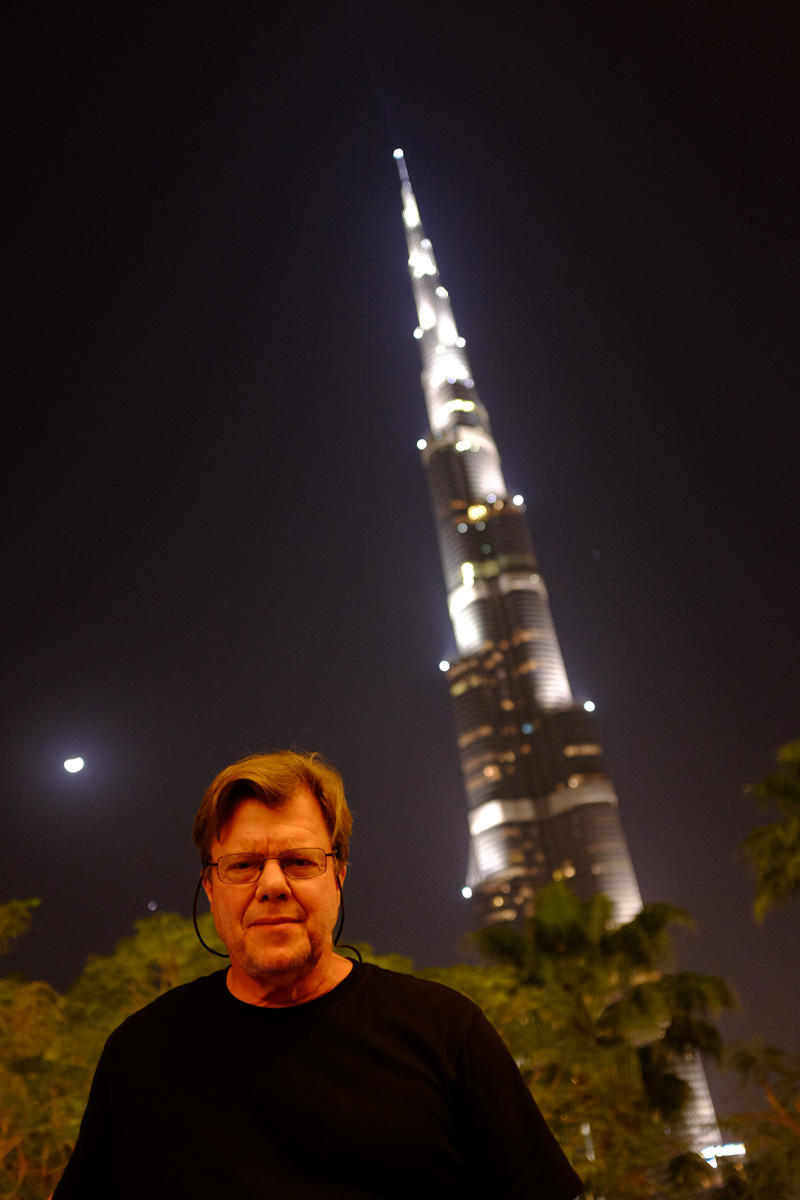 Joe McNally, in front of the Burj Khalifa, Dubai, tallest building in the world, which he climbed the same day this picture was taken.
This SlideShowPro photo gallery requires the Flash Player plugin and a web browser with JavaScript enabled.
Hover over the image for navigation and full screen controls

Virgil DiBiase
One Man
"You should not learn your lines, you should not hit your mark, and you should never follow your light. Find your light — that's my opinion." — Joaquin Phoenix (actor)
"Some people never go crazy. What truly horrible lives they must lead." — Henry Chinaski (barfly)
We've seen these men. We've seen them as we pass through dilapidated downtowns, probably within a few blocks of the bus station where transients congregate; hard lean men, cigarettes hanging from their lips, maybe a half pint in their back pocket. We've seen them under a bridge or pushing a shopping cart filled with meagre possessions through the trash-strewn vacant lots that pollute the urban landscape. The sight of these men makes us feel discomforted, nervous, maybe a little scared. If we have a camera, we are probably tempted to use it on them, if we think we can get away with it.
What do we find so attractive about these men that we want to capture their image? Photographers are overwhelmingly middle class, probably upper-middle class, if not trust-funded children of great wealth; as are most gallery owners, museum curators, publishers, editors and audience for high-end photography. Yet somehow we are hopelessly attracted to images of these gritty "others," especially when they are framed by staggering poverty. The result is far too many photos that say, in essence, "Look ma, poor people!" Or black people, foreign people, disabled people, mentally disturbed people, and so on. The rough is more pleasing than the smooth. The face with the stubble more attractive than the clean-shaven. Dark skin more pleasing than the light. The unruly hair more interesting than the well-coifed. We want images of people with some kind, any kind, of problem or difference that sets them apart from, if not below, our comfortable middle class existence.
We tell ourselves and anyone else who will listen that we photograph these men to draw attention to their plight, to help them though the publicity the photos provide. Suffice it to say, I'm skeptical, both about the purity of the motive and the likelihood that any help will be forthcoming. Some no doubt see these kinds of images as a career opportunity, a chance for self-aggrandizement. For most, taking these kinds of photos will end up, at best, as a learning experience. Of course there's rarely a single motive for our actions. But whatever the differing motives for photographing these men; whatever the differing opinions about how they have become what they have become; whatever any of us may think should be done about it; just about all of us share one thing in common: These men should not be as they are. We think something is wrong.
At this late stage in photo history, it's nearly impossible to make photographs of men like these, or have any kind of photographic vision about them that has not been done before. To shoot the subjects that everyone wants to shoot, the ones that have been done the most, it becomes ever more difficult to produce original work. See what I mean. And it's not just that the photos we are likely to make of these men are clichés. Much more often than not, the photographers who take them become clichés. Go out and take a picture of a sleeping bum and tell me you don't feel at least a little embarrassed.
Given all that, when I saw the first photo in Virgil DiBiase's series "1 Man," my first thought was "oh no, more pictures of bums."
But as the slideshow progressed, I couldn't help noticing the eyes of these men.
Against expectations, the photos did not seem to show men who had lost everything. They were not about men who had become what they had become. They were about men being who they Are. They showed men who had found something. Men who had found freedom. You could see it in their eyes.
And I realized those eyes said something about the photographer as well. These men were not objects of pity. They were objects of esteem. They had found freedom. The photographer was seeking it. Again, you could see it in their eyes.
Their freedom is much more than simple freedom from dull jobs, asshole bosses and office politics; of soul deadening social obligations and the bills that everyone else finds stuffed in their mailboxes every day. These men seem free of regrets, guilt or any kind of embarrassment about their situation, unlike most the rest of us who are, at best, free only to the extent we can choose our own prison. These men, rather than choose prison, choose the open sky. That their faces mirror the trashed out dwellings of the urban landscape through which they roam tells us the price of that freedom was steep. Their eyes tell us it was worth it.
I know Virgil would like me to end this right there. "1 Man" is  about the photographs, not about the photographer. But since I've opined at such length about other photographers' motives, I feel I should tell you something about his.
He didn't set out to make a photo project of homeless men or drifters, much less to photograph any nebulous abstraction such as freedom in the eyes of "others." He sought a friend of his who had become mentally ill and disappeared. He made many trips looking for that friend and over many years got to know the seedy downtowns, vacant lots, bridges and underpasses throughout the urban American landscape. Sometimes he found his friend, sometimes he didn't. Along the way he met a lot of similar people, saw something special in them, and photographed what he saw. That's the story behind the story. Those are the facts.
Those facts are interesting, but only as a footnote or sidebar. I think they partially explain the success of the work. Only by having no interest in photographing street people, of actually being hostile to the general idea, could he so successfully photograph street people. But that is not central to the story, or even necessary. It's the realities and fictions we see in these men's faces and in their eyes that are the tale. That, and how we see, or fail to see, something about ourselves in them. Facts have nothing to do with it.
— Michael Webster
"How many hypocrites are there in America? How many trembling lambs, fearful of discovery? What authority have we set up over ourselves that we are not as we Are?" — Allen Ginsberg (poet)
"What goes through my heart and soul as I meet these guys is my longing for the freedom they seem to have. On the surface we all are so quick to judge. Wouldn't it be nice to be the rich guy with a house and car. Or how sad to be homeless with no shoes. Neither is true. So we are all on this personal journey to find freedom. Truth is, all we need to do is choose freedom. Anywhere. Anytime." — Virgil DiBiase (photographer)
Bio
Virgil DiBiase is a photographer living in northwest Indiana.
Related links
Virgil DiBiase was a student in the Miami 2012 workshop. Some of these photographs were taken during the workshop.