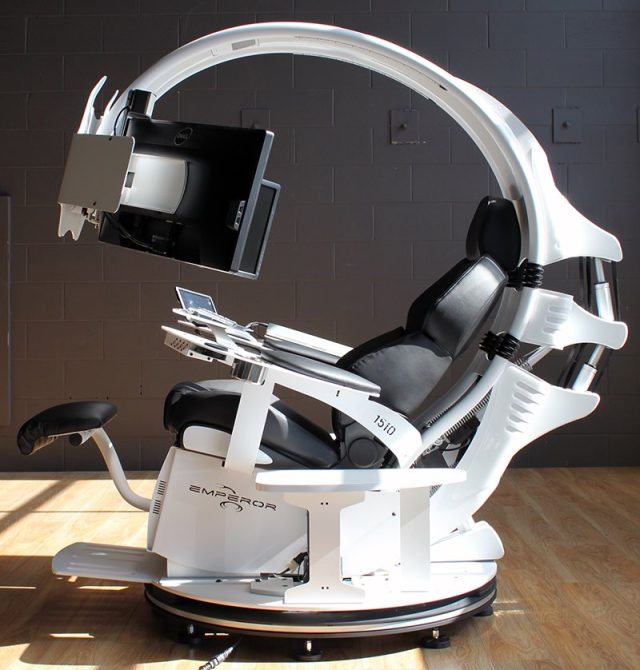 MWE Lab's Emperor 1510 LX—don't call it a chair.
MWE Labs
Science fiction is filled with cherished seats of power, workstations that put the universe a finger-touch or a mere thought away. Darth Vader had his meditation pod, the Engineers of Prometheus had their womb-like control stations, and Captain Kirk has the Captain's Chair. But no real-life workstation has quite measured up to these fictional seats of power in the way that Martin Carpentier's Emperor workstations have.
The latest "modern working environment" from Carpentier's Quebec City-based MWE Lab is the Emperor 1510 LX. With a retractable monitor stand that can support up to five monitors (three 27-inch and two 19-inch), a reclining seat with thigh rest, a Bose sound system, and Italian leather upholstery, the Emperor 1510 LX looks more like a futuristic vehicle than a workstation.  And it's priced like a vehicle, too—it can soon be yours for the low, low price of $21,500.
Tale of the Scorpion
In 2006, Carpentier was slaving away as a web designer when he reached a breaking point. He was tired of his tangle of cables, the struggle to manage multiple monitors, and the horrible ergonomics that came with a standard computer desk. Inspired by the emperor scorpion, Carpentier modeled his workstation after its tail, with the monitors suspended at the stinger.
Read 12 remaining paragraphs | Comments
Remember Hot or Not, the scandalous website which invited you to rate people on their appearance—and helped inspire Facebook?
Now a 27-year-old startup guy has taken Instagram—the photo-sharing website Facebook just paid $1 billion to buy—and used it to resurrect the concept. Meet Captain Kirk, the creator of Hotstagram.
We tracked down Kirk, who declined to give his last name, in the San Francisco offices of Tracks.by, a startup which helps musicians make their tracks go viral. He's 27 and works for a startup—that's all we could get out of him.
Coding Hotstagram, which asks users to rate two photos plucked from Instagram, took Kirk a weekend. Instagram users who'd like to get rated can add the hashtag "#hotstagram" to automatically submit their photos. And Kirk just added a feature which lets people remove their photos in case they'd rather not appear on the site.
Isn't he worried Instagram will shut down the site? Kirk says he's read Instagram's terms and is confident he's in compliance.
Hotstagram, which was teased on Twitter by blogger Ben Parr, appears to be a hit. Kirk says he's seeing 150 ratings a second.
(Hot or Not, by the way, is still alive—and is now run by Badoo, a dating-oriented social network which recently hired high-profile Google executive Ben Ling as COO.)
Please follow SAI on Twitter and Facebook.