It was a late night in May. Renderman, the computer hacker notorious for discovering that outdated air traffic control software could be used to reroute planes mid-flight, was feeling shitty. The stress of digging himself out of debt he'd accumulated during years of underemployment was compounded by the feeling of being trapped in a job he hated. He was forgetful and couldn't focus on anything. "Depression has sapped my motivation and lust for life," he later wrote. "I can't remember the last time I worked on a project ... it's like I'm a ghost in my own life. Just existing but with no form ... I'm most definitely not myself."

Feeling slightly buzzed after a few beers, he decided to speak out. "My name is Renderman and I suffer from depression," he tweeted.
Within minutes, other hackers started responding.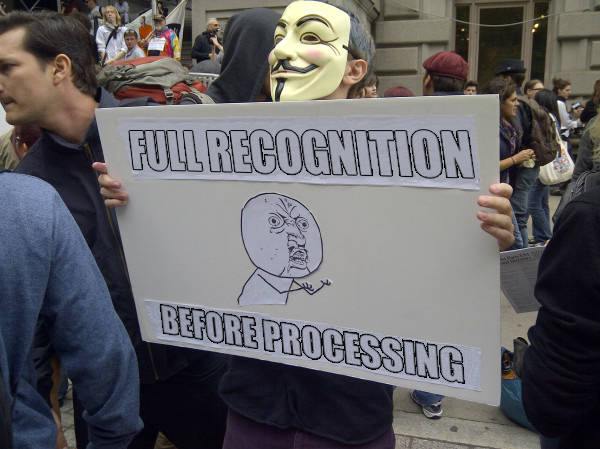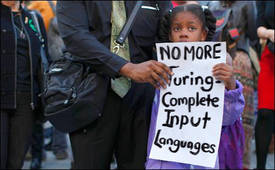 Yesterday's keynote at the 28th Chaos Computer Congress (28C3) by Meredith Patterson on "The Science of Insecurity" was a tour-de-force explanation of the formal linguistics and computer science that explain why software becomes insecure, and an explanation of how security can be dramatically increased. What's more, Patterson's slides were outstanding Rageface-meets-Occupy memeshopping. Both the video and the slides are online already.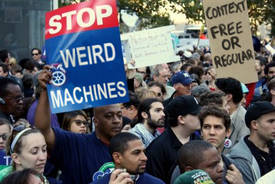 Hard-to-parse protocols require complex parsers. Complex, buggy parsers become weird machines for exploits to run on. Help stop weird machines today: Make your protocol context-free or regular!
Protocols and file formats that are Turing-complete input languages are the worst offenders, because for them, recognizing valid or expected inputs is UNDECIDABLE: no amount of programming or testing will get it right.
A Turing-complete input language destroys security for generations of users. Avoid Turing-complete input languages!
Patterson's co-authors on the paper were her late husband, Len Sassaman (eulogized here) and Sergey Bratus.
LANGSEC explained in a few slogans