Mary Ellen Mark has been shooting with the 20x24 Polaroid Land Camera for about 15 years. In an interview about "Prom," her new book, she talked about the process.
Mary Ellen Mark and her husband spent four years going to proms. They weren't recapturing their lost youth, but working on "Prom," a personal project about an enduring teenage ritual.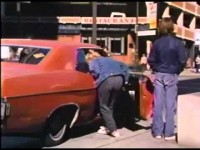 Gritty documentary film by director Martin Bell which looks at the life and lives of teenagers living on the streets of Seattle in 1984.